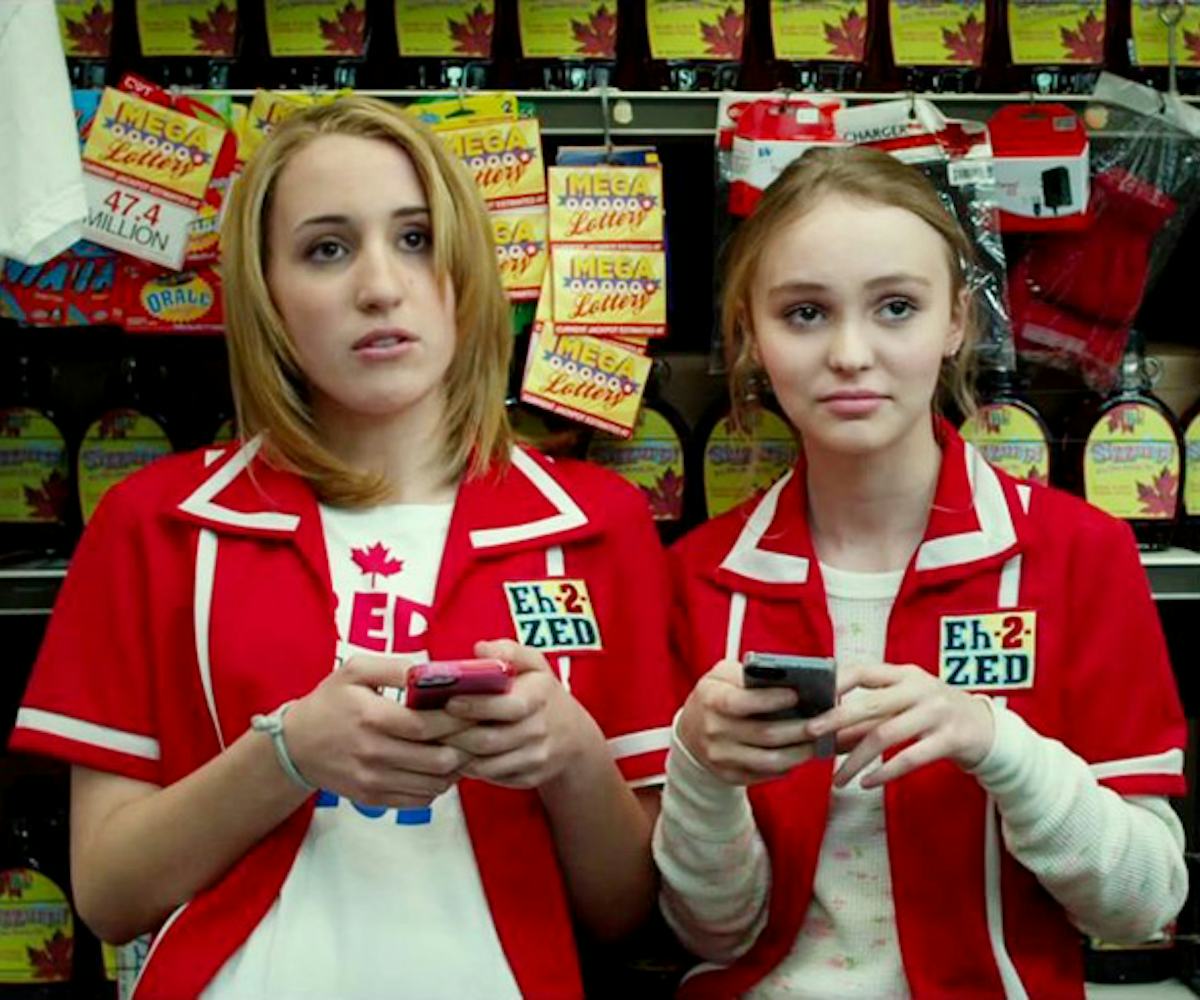 Photo via Abbolita Productions
see lily-rose depp and harley smith in 'yoga hosers'
As soon as Lily-Rose Depp hit the red carpet at the Chanel Métiers d'Art show, it felt like the Internet would never be the same. With a new celebrity obsession, we waited anxiously for the 16-year-old to make her next move. But unlike most celebrity spawn, Depp isn't relying solely on her parents Johnny Depp and Vanessa Paradis' fame, or waiting for a reality TV show to come her way — she's making a name for herself on her own, in the new Kevin Smith horror film Yoga Hosers. 
In the film, a follow-up to last year'sTuskand part of Smith's so-called Truth North trilogy, Depp and her co-star Harley Quinn Smith (the director's daughter) play two yoga-obsessed teenagers on their way to a senior party. But shit gets cray when an ancient evil emerges from under the convenience store where they're working. It's up to them — and a ghostbusters-type figure named Guy Lapointe (played by Johnny Depp) — to save humanity before the big bash.
Although the father-daughter duo act alongside each other, don't expect Johnny to carry Lily-Rose through the film. "There's a scene in an interrogation room between the two of them and they're actually trying to out act each other and it's really cute," Smith told People. "Then Lily busts out some French – because she speaks French really fluently – and just shows him up." It's a give-and-take partnership. "They have such a sweet and funny relationship," Kim Leadford, the film's producer said. "They're buddies and they're really sweet with each other." 
Head over to Peopleto see some exclusive pics.
more lily-rose depp, this way:see photos of lily-rose depp's morbid sweet 16johnny depp's daughter wears chanel better than anyone