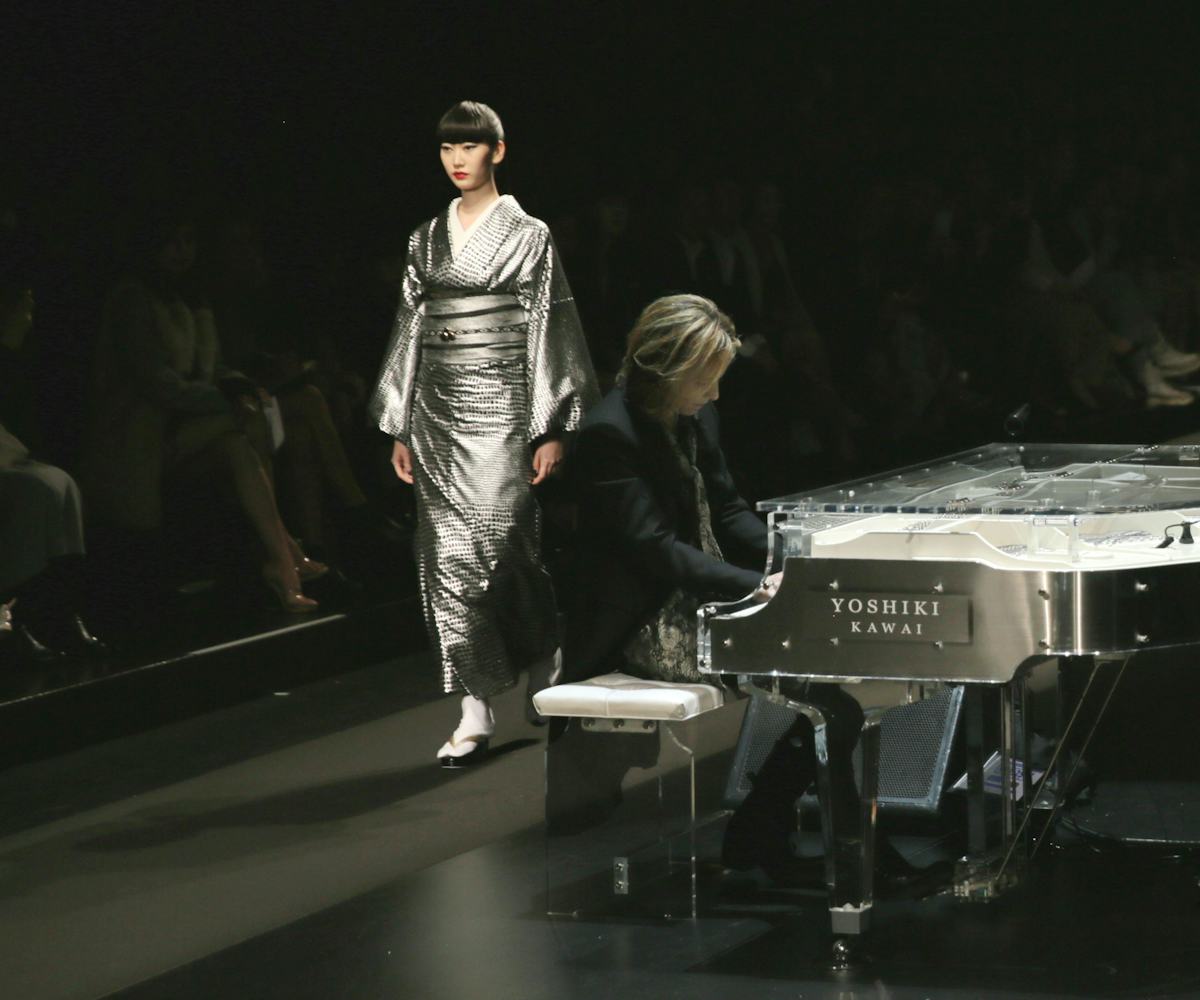 Photographed by Ryland McIntyre
Yoshikimono Is What Happens When Japan's Most Famous Rock Star Becomes A Fashion Designer
Not your run-of-the-mill kimonos
Have you ever wondered what it might look like if Japan's most famous rock star created a line of designer kimonos? Me neither. But I found out the answer to this question after a spontaneous trip to Tokyo, which entailed a six-day binge on heavy metal, avant-garde fashion, and general cultural-immersion radness (with, of course, some traditional karaoke peppered in on the side).
And who doesn't want to know what that's like?
Yoshikimono is the brainchild and kimono line of Yoshiki, the leader of the heavy metal band, X Japan. If you're unfamiliar, let's just say it's impossible to overemphasize their cultural significance. As Gene Simmons, leader of the band KISS, said himself, "If those guys were born in America, they might be the biggest band in the world." Yoshiki and his bandmates created the "Visual Kei" movement, which some compare to Japan's version of Glam Rock, but would more appropriately be described as heavy metal-meets-steampunk-meets-David Bowie, both 100 years into the future and 100 years in the past in an alternate universe mostly renowned for its unlimited supply of makeup. More succinctly, you can't really put a finger on it; and when you see it in person, you sort of don't even care to try. X Japan leads this movement with borderline mythical status, and according to a U.K.-based publicist, the only comparable modern phenomena in terms of fan dedication is "Beatlemania in the '60s."
In other words, Yoshiki is a living legend.
The eldest son in his family, Yoshiki grew up in a small city in Chiba Prefecture where his mother ran a kimono shop. In Japan, it is often expected that the eldest son will take over the family business. But when his father committed suicide, Yoshiki, just 10-years old at the time, discovered a KISS album at his local record store and the rest, as they say, is history. Thirty million albums sold and several decades later, Yoshiki relocated to Los Angeles. When asked, "Why kimonos?" during our video interview, he tells us that living outside of his country changed his perspective. "When you are outside of Japan, you think about Japanese culture more. So I started thinking about how important it was for me to spread this part of Japanese culture, especially as the kimono industry is kind of shrinking right now."
So it was only logical for this musician, songwriter, composer, and record producer to team up with Keigo Kano, one of Japan's most prolific and respected kimono makers to create Yoshikimono in 2011. He closed Tokyo Fashion Week last year with a rock 'n' roll concept show, but this year, he wanted to shift gears and do something more traditional. The latest line embraces the theme of wa, a Japanese cultural concept, which, according to the Yoshikimono's mission statement, "implies a peaceful unity and conformity within a social group, such as the idea of its members pursuing the continuation of a harmonious community over their own personal interests."
In an industry often known for its tired clichés, in which designers often claim they want to do the exact opposite of wa—e.g. "I really wanted this line to stand out," or "This year, it was all about being true to myself and doing something bold"—it was refreshing to read this statement a few minutes before the show, especially amidst the divided chaos of our current political cycle and America's ongoing love affair with individualism. Yoshiki played classical piano and drums during the show, and while, as an American, I certainly hope we don't cease the valuable political discourse in the name of a concept that could, in theory, also just maintain the status quo, I do hope you enjoy the images and video as much as I did while being there to capture them. And maybe, if we're both lucky, we will all take a little bit of wa with us in the process.
A new documentary about the band, We Are X, opened last Friday in Los Angeles at the Landmark Nuart Theatre and in New York on November 4 at the Alamo Drafthouse in Brooklyn. For all dates and cities, visit wearexfilm.com