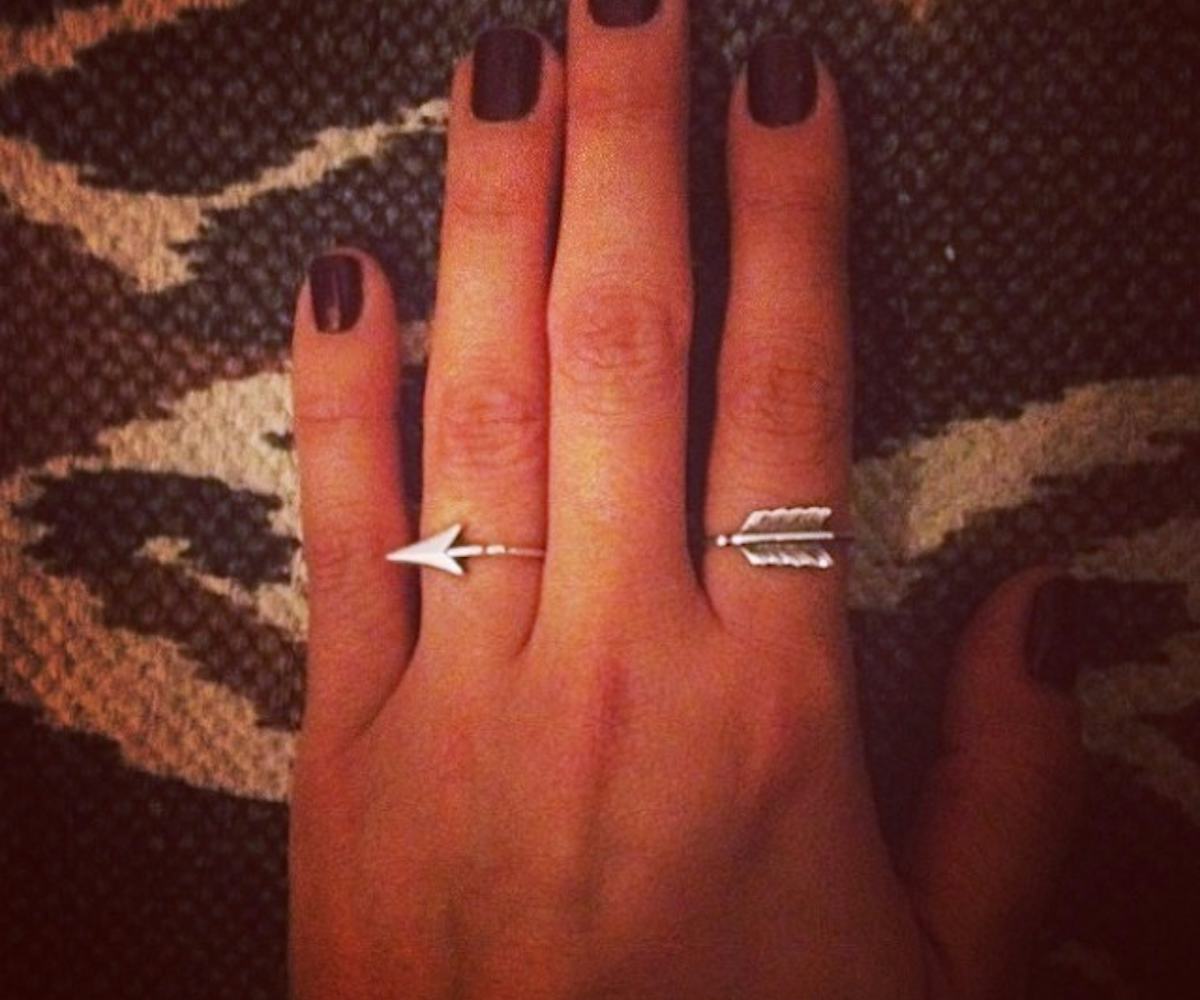 photo via @brazenmade on instagram
you oughta know: brazenmade
thank the jewelry gods for shooting these arrows down from gem heaven.
The best part about owning tons of jewelry is mixing and matching your pieces. When it comes to layering necklaces, and stacking bracelets and rings, I love creating unexpected pairings, playing with hierarchy and textures. But sometimes, you just need one piece that can go well with the others. In my opinion, that would be crystal and arrow jewelry. Both work well together and can easily be mixed and matched with flowers, anchors, nameplates, and turquoise. But with so many arrows and crystals out there, how are you supposed to pick the best one for you?
You can finally stop hunting thanks to Brooklyn's Crystal Benezra. Her hand-crafted jewelry brand, Brazenmade, brings the perfect sized gems and arrows to any stack or layer. And it's a pretty awesome coincidence that her name is the same as her game.
I had the chance to ask Crystal just why her pieces make the ultimate complement to anyone's jewelry collection, what's on her metalworking playlist, and where she got the inspiration for her seriously rad Bonehead rings.
What does the term Brazenmade mean to you?
Brazen, by definition, means "bold without shame." I think it is the perfect way to describe my jewelry. It reminds me everyday how I want to live and what I want to represent.
Who is your ideal customer?
My ideal customers are people who dare to combine the beautiful with the rough.
Where did you get the inspiration for the Bonehead Knuckle Rings?
These are actually carved from cuttlefish bone. They have a very organic texture that's unique to the bone. The design is carved directly into the bone because it is very soft, and molten silver is poured into the carving.
What's on your studio playlist while you create?
My playlist completely depends on my mood! It ranges anywhere from David Byrne and Brian Eno to Pearl Jam to Dirty Beaches to Mozart to Leonard Cohen to Mariah Carrey to WuTang. I mean the list goes on and on and on and on. Sometimes I just listen to podcasts like RadioLab or How Did This Get Made or The Dinner Party. It's relaxing.
Where do you source your materials?
All of my materials are sourced locally here in NYC, except for the quartz and stones I get in Colorado.
What's your number one tip for layering/mixing and matching jewelry?
Honestly, my number one tip is to freak what you feel. [laughs] Some days I wear one simple piece. Sometimes I layer and then layer some more and then layer on top of that. Currently, I'm loving putting brass and silver pieces together. I love how they complement each other!
If you could see your pieces on any celebrity who would it be?
I can really see Rihanna in the Large Pierced Arrow Rings. Maybe Nicole Richie or Mila Kunis, too--they've both got style that's bold and edgy yet still feminine.
Crystal in her studio, Flux Work, in Greenpoint, Brooklyn.