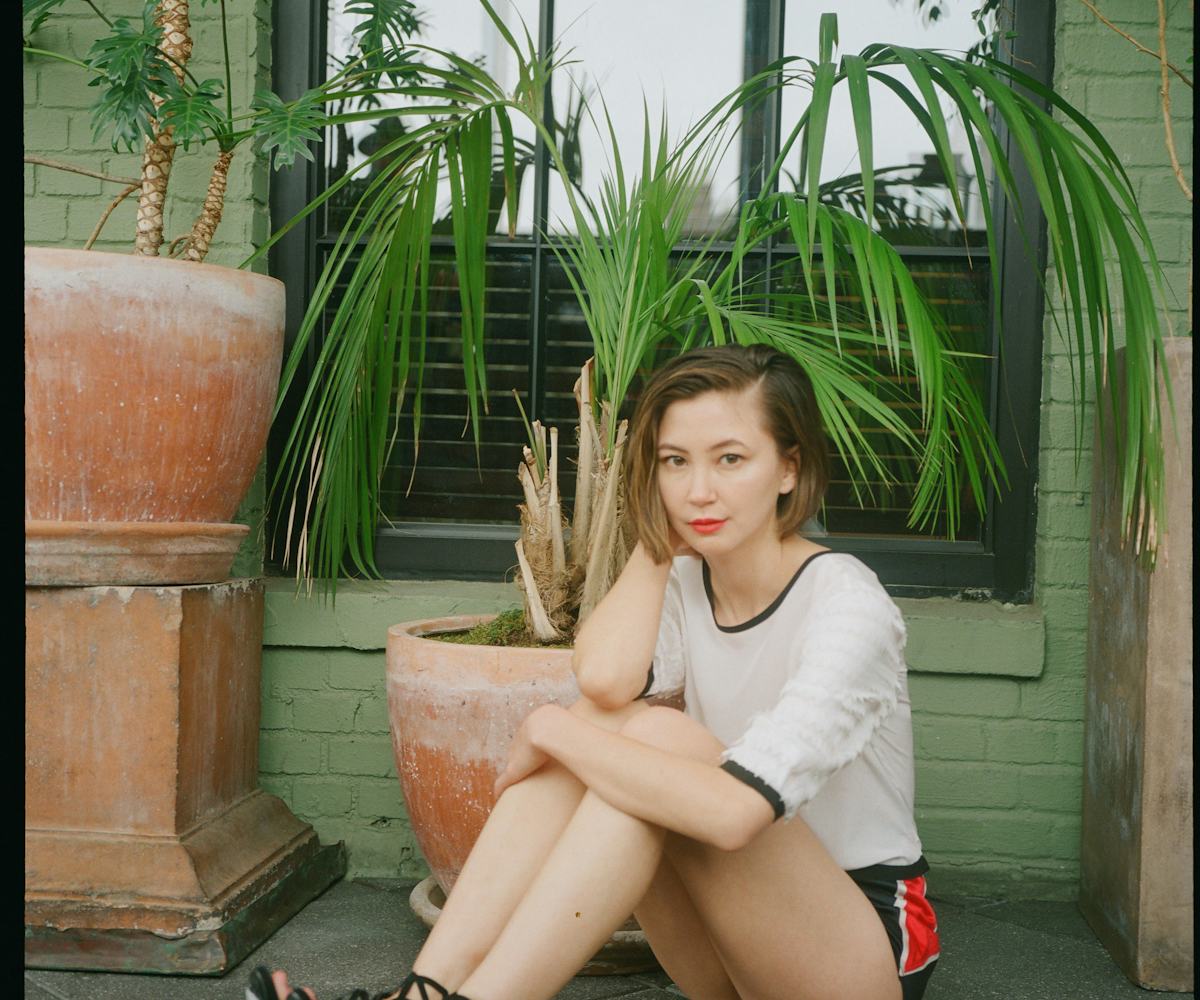 Photographed by Beth Garrabrant. Styled by Wendy McNett. Top by Charles Youssef, shorts by Marc Jacobs.
Don't Count On Kimiko Glenn To Give Away Any 'OITNB' Spoilers
Get to know the Young Hollywood star
The following feature appears in the May 2016 issue of NYLON. 
Every year, we round up the brightest rising stars in film for our Young Hollywood Issue. Check in every day to get to know the actors and actresses who are set to take over the industry.
All of that time spent in Orange Is the New Black's fictional Litchfield Penitentiary may have made Kimiko Glenn just a little bit paranoid,  because the Phoenix-born actress is worried the people sitting next to us at New York City's Rose Bar are listening in on this conversation. "I just feel uncomfortable," she says about protecting the show's secrets, as she gives the foursome major side-eye. It's hard to believe the 26-year-old can be this flappable, especially after watching Natasha Lyonne go down on her—in a church, no less—and then finding out that it was filmed during Glenn's first week on the set of the hit Netflix series. "Nudity is no big deal to me—I have good genes, so I'm not super self-conscious about my body," explains Glenn, whom you may also recognize from the Bleachers video "I Wanna Get Better." She will be returning for more unpredictable debauchery as activist Brook Soso ("like Brooke Shields without the 'e'," her character says) in OITNB's fourth season, premiering June 17. While on hiatus from the show, she's co-starring in the Broadway adaptation of Adrienne Shelly's Waitress, and can be seen this fall in the cyber thriller Nerve with Dave Franco and Emma Roberts.  
Yes, I'm a theater geek. My first audition was for a local production of Snow White and the Seven Dwarfs. I sang "With One Look" from Sunset Boulevard, which is such a weird song for a 10-year-old to sing—and I sang it really, really loudly. The director laughed, and was like, "You certainly know how to project." He cast me as Dopey and I've been acting ever since.
My biggest pinch-me moment was the first day of filming OITNB. I was a fan of the show before I got the job, and here I was seeing the cast without their prison uniforms on, strolling onto set. I was like, "This is so bizarre, because I was literally just watching you on TV two days ago!"
I am obsessed with knitting. I made some scarves for my family, and hats for my dad and boyfriend [Sean Grandillo]. Right now, I'm making my Chihuahua terrier, Arnold, a cable-knit onesie.
Hair: Travis Speck at Sally Hershberger. Makeup: Allie Smith at Sarah Laird using M.A.C Cosmetics. Manicurist: Angel at Opus Beauty using Dior Vernis. Special thanks to the Gramercy Park Hotel.