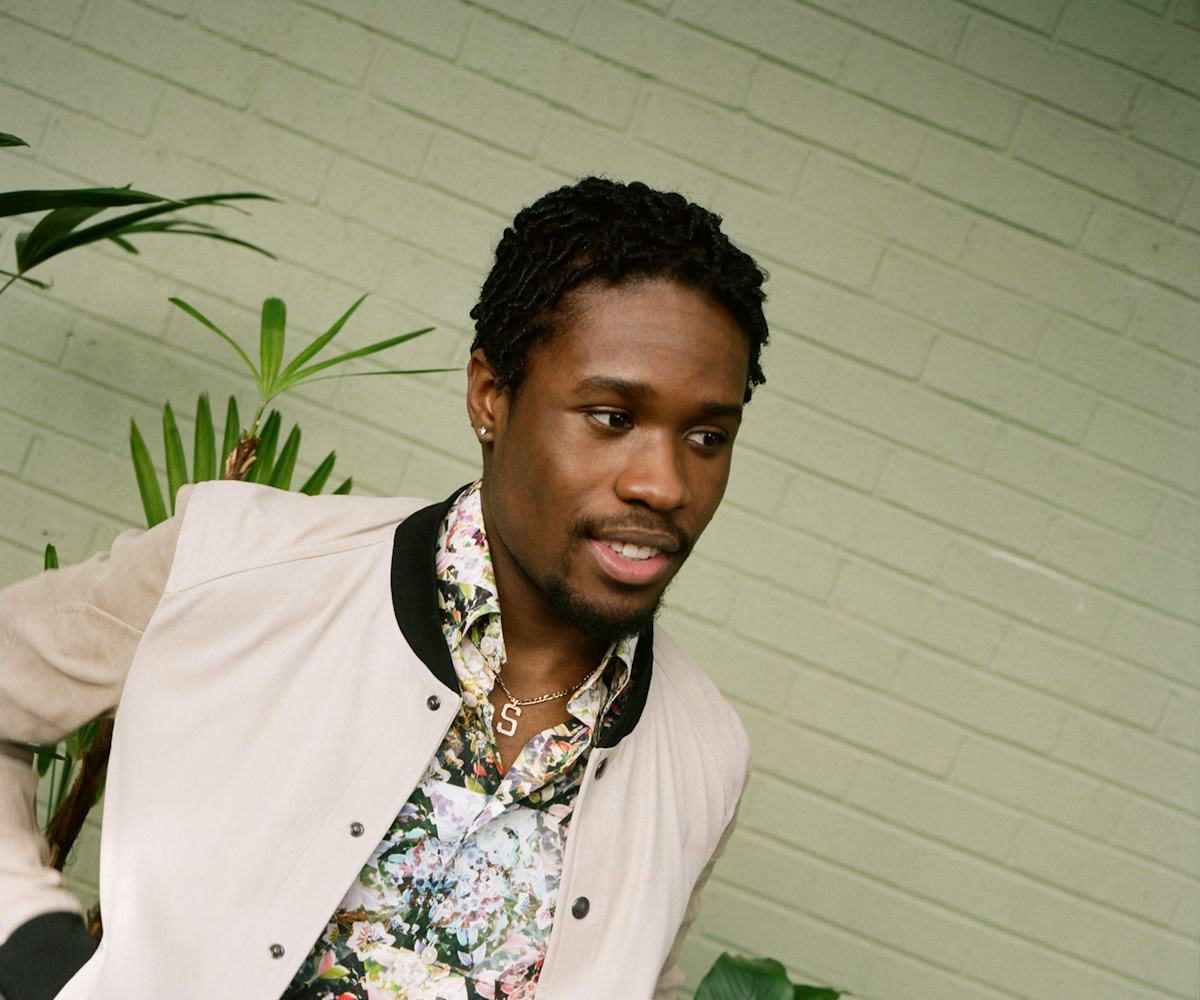 Photographed by Beth Garrabrant. Styled by Wendy McNett. Jacket by Drome, shirt by Eton, Moore's own necklace. Special thanks to Gramercy Park Hotel.
'Dope' Star Shameik Moore Can't Be Stopped
He's dancing, rapping, and singing—and about to take over screens in 'The Get Down'
The following feature appears in the May 2016 issue of NYLON. 
Every year, we round up the brightest rising stars in film for our Young Hollywood Issue. Check in every day to get to know the actors and actresses who are set to take over the industry.
Shameik Moore can't sit still. One minute he's riding his mini Segway hoverboard around set, the next he's showing off his dance moves with some killer one-handed V-kicks. With his breakout role as Malcolm in last year's surprise indie hit Dope, the 21-year-old Atlanta native, who got his start as a music video backup dancer, made people stand up and take notice—literally (the movie got standing ovations at its premieres in Cannes, Sundance, Hollywood, and New York City). Now, Moore has earned a prime role in this summer's Baz Luhrmann-led Netflix series The Get Down, playing Shaolin Fantastic, a streetwise breaker from the Bronx during hip-hop's inception in the '70s. When describing his character, Moore can't help but bust into a boasting rhyme: "Shaolin Fantastic, the lady-killing romantic/ Girls start to go frantic/ I put 'em in a panic/ White, Asian, Hispanic/ They drip like Titanic." Much like his character, Moore has no lack of confidence—nor should he.
You Got Served inspired me to be a dancer. I saw the movie and then went to a street dance battle in Atlanta, eventually earned my respect in that community, and became the king of the child section of those battles. My crew Young Superstars danced in videos for Soulja Boy and Keri Hilson.
I rap and sing. My music is reggae mixed with hip-hop and R&B. My family is Jamaican, so I blend dancehall with Atlanta's 808s and swagger. I have a mixtape coming out this summer called 30058—my hometown zip code—and then I'll release my first album sometime next year.
I'm a very positive person. If you choose to be negative, if you talk down, you will attract negativity. But if you do the opposite, if you focus on what you are, what you want to become, you surround yourself with those kinds of people. That's why I'm calling my album Positive Vibes. I'm putting in a lot of effort to affect history in a positive way and leave a mark. I believe I'm supposed to inspire.
A$AP Rocky is my big bro. I met him while filming Dope, but now when I'm in New York, I stay at his crib. He's an inspirational dude, but we also have a lot of fun even though we're different. He's like, "Lil' bro, always dancing," because if we're at a club, he's somewhere chatting up some fine women while I'm out on the dance floor.
Fan reactions are fly. I was at a Tinashe concert recently and these girls looked up at me and started screaming—that shocked me. I was like, "Oh, snap, they know me!" I'm starting to get people saying, "Yo, I want a picture! Let's do a Snapchat! I love you!" That's very cool.