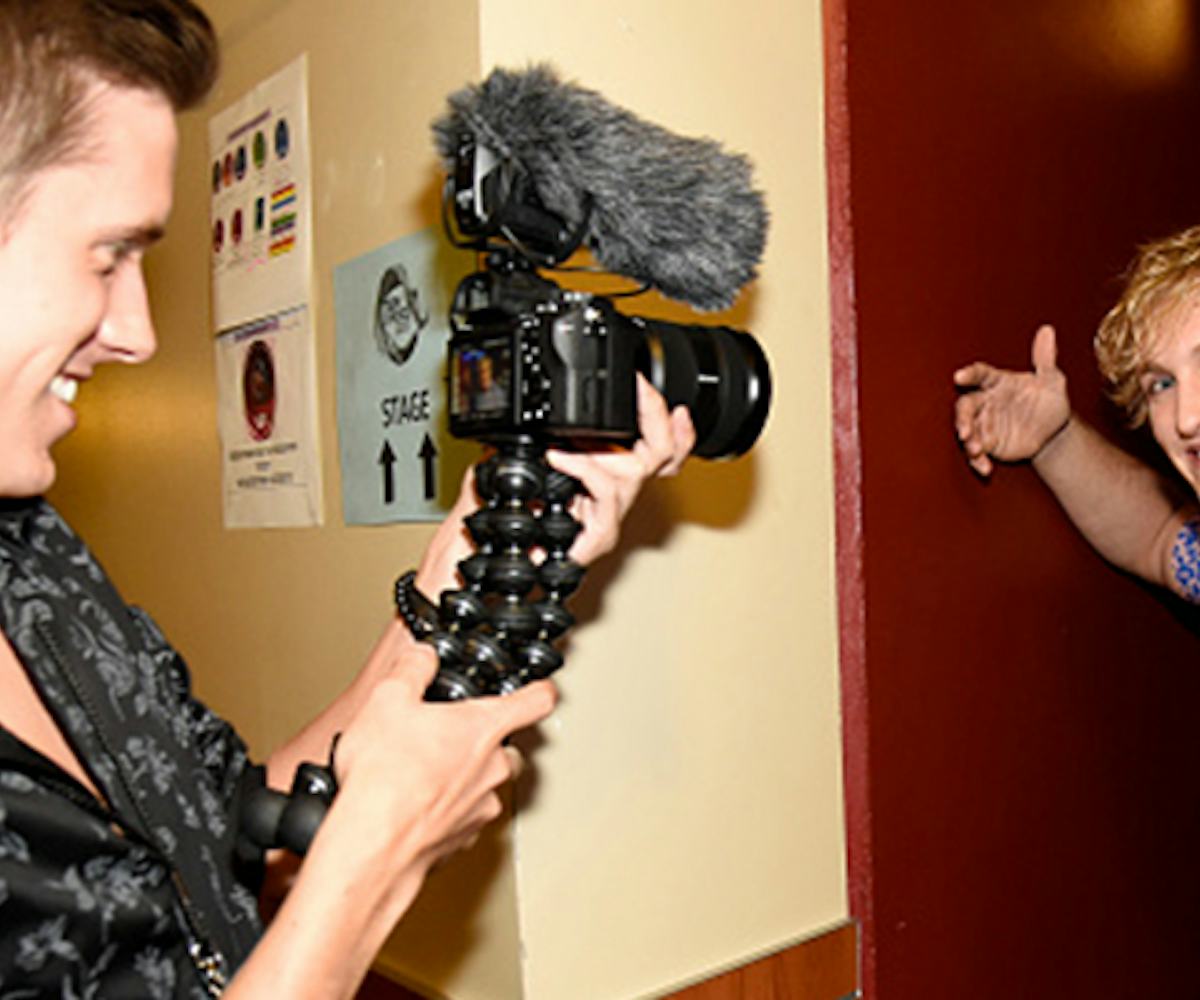 Photo by Kevin Mazur/Fox/Getty Images
YouTuber Logan Paul Attempts To Apologize After Filming Apparent Suicide Victim's Body
When YouTuber Logan Paul and his friends were camping in Japan's Aokigahara forest, known as the "suicide forest," they came across a body hanging from a tree. Instead of turning the camera off out of respect for that person and their family, Paul kept filming. "Bro," he asks, "did we just find a dead person in the suicide forest?"
As the group's guide calls the police, Paul and his friends move closer to the body. Paul shouts, "Yo, are you alive, are you fooling with us?" They proceed to film the person up close, but later blur the victim's face in the video. They show the victim's hands, clothes, and bag, according to The Verge. 
In the video, uploaded with the title "We found a dead body in the Japanese Suicide Forest…" Paul addresses viewers straight-to-camera, saying, "Suicide is not a joke. Depression and mental illnesses are not a joke. We came here with an intent to focus on the haunted aspect of the forest. This just became very real."
Then he and his friends film one another's reactions, and Paul can be seen suppressing a laugh. "This was all going to be a joke, why did it become so real?" he asks. If, as he previously said, "suicide is not a joke," then how he expected a video about the suicide forest to be a joke is confusing. 
Paul continues to film as first responders arrive. He signs off the video by drinking sake and telling his 15 million-plus subscribers, "Guys, I said this in one of my first vlogs, I have chosen to entertain you guys every single day." Once it went live, the video immediately faced backlash. 
What Paul thought would be entertaining about the body of a person who'd killed oneself is beyond me. The 22-year-old claims he made the video to raise awareness about suicide, but while he'd included viewer discretion warnings and information about the American Foundation for Suicide Prevention, the tone of Paul's video feels exploitative and heartless. In the beginning, he tells viewers to "buckle the fuck up," as he and his friends walk into the forest equipped with "binoculars to see the ghosts" and "a football so we can have fun." They're camping on a site where dozens of people kill themselves every year.
In his apology, Paul said he'd "never faced criticism like this before" because he'd "never made a mistake like this before." He goes on to say, "I didn't do it for views. I get views. I did it because I thought I could make a positive ripple on the internet, not cause a monsoon of negativity." Paul explains that he didn't consider the "possible ramifications" of the video. "I do this sh*t every day," he wrote. "I've made a 15 minute TV show EVERY SINGLE DAY for the past 460+ days." 
He then emphasized how popular his YouTube channel is. "I'm often reminded of how big of a reach I truly have & with great power comes great responsibility," he wrote, continuing, "for the first time in my life I'm regretful to say I handled that power incorrectly. It won't happen again." 
A lot of people are not impressed with his apology. 
"If your apology repeatedly mentions how successful or important you are, PLEASE TRY AGAIN," comedian Aparna Nancherla tweeted. 
"Logan Paul's apology contains the sentence 'I get views,' " writer Chase Mitchell said. 
Paul justified his reaction in the video by saying he was "misguided by shock and awe," but others point out that he was obviously amused and making jokes. As surgeon and scientist Eugene Gu wrote, "We need to have a real conversation about depression, mental health, and suicide that revolves around compassion and empathy, not amusement and horrified fascination."
If you or someone you know are experiencing thoughts of self-harm or suicide, please speak up. Please reach out to the Suicide Prevention Lifeline for assistance, even if you just need to talk.