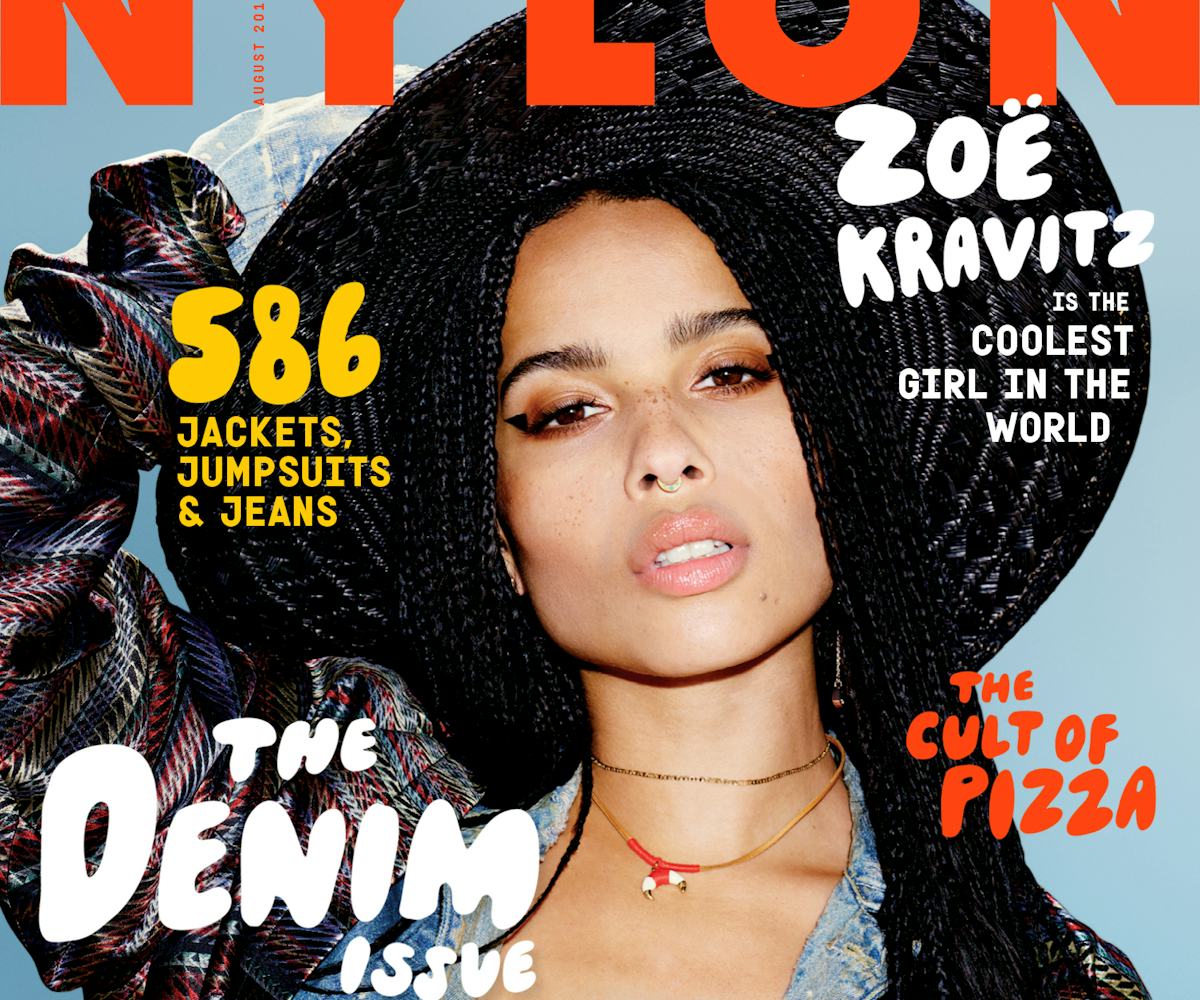 Photographed by Bella Howard
zoë kravitz is our august cover star
read our full august cover story
Photographed by Bella Howard. Styled by Sean Knight.
Few things are as intimate as stripping down nude with someone the first time you meet. But Zoë Kravitz is in Los Angeles, it's her day off, and she wants to go to Olympic Spa in Koreatown. So here we are, toweling off among a packed house of equally buck-naked ladies, and Kravitz could care less who's looking. "It's so good, isn't it?" says the Brooklyn based actress-singer, noticing my blissed-out look after our full-body milk scrubs.
Kravitz knows how to treat herself—but it hasn't always been this way. Growing up as a self-described "chubby, awkward brown girl around a bunch of blonde girls" led to struggles with bulimia and anorexia in her teens. Her famous father's supermodel girlfriends, and the fact that her mom was "the most beautiful woman in the world," she says, didn't help matters. Such self-loathing came from "tons of things," she continues, "including being human."
Earlier, over a drink at a Korean barbecue spot near the spa (fully clothed in a black high-low Reformation dress under a loose black sweatshirt), she acknowledged that "loving yourself is a journey—we're all just trying to figure it out." But at this particular juncture, exfoliation treatments aside, Kravitz is glowing with the self-assuredness of someone who knows she's hit her artistic stride. Since releasing Calm Down, her band Lolawolf's well-received debut album, late last year, she's been on a roll, starring in a string of massive blockbuster films and critically acclaimed indies, including Insurgent,
The Road Within
,
Mad Max: Fury Road
, and
Dope
. Add to that her high-profile crew of supporters—parents Lenny Kravitz and Lisa Bonet and pals Jennifer Lawrence and Miley Cyrus—and it's easy to see why the 26-year-old might finally be feeling comfortable in her own skin.
Kravitz ties her long braids back into a knot and dives into a story about opening for Twin Shadow this past April. The headliners weathered a tour bus crash that hospitalized the band's drummer as well as its bus driver; frontman George Lewis Jr.'s injuries required reconstructive hand surgery. "We were totally supposed to be on that bus," says Kravitz, shaking her head. "It's crazy." Since the accident, she's checked in often on her former tourmates, and Lewis cites Kravitz's "big heart" as her best attribute. "Zoë really is so down-to-earth," he says. "She surprises you with how natural she is."
She's also not one to take anything for granted. Sure, Kravitz has had a privileged upbringing, but her parents took pains to keep her grounded. "We had a chef, but it was never like, 'This is the way the world works, Zoë,'" she explains. "I knew we were very lucky, and my dad raised me in an old-school way. His mom was from the Bahamas, and it was about manners and making the bed. It's that old black shit, really—like, you get smacked if you talk the wrong way. It was about having respect for your elders and being thankful for what we had. He wanted to make sure I had chores, and not because we didn't have a housekeeper, but because of the principle of the thing." Of course, like any child, she tested the waters: "When I was about 11, my dad was trying to make me finish my dinner, but I didn't want any more. He said, 'There are starving kids in Africa.' So I took an envelope and put potatoes in it and was like, 'Send it to them.' He was like, 'You go upstairs right now!' I was dead." By this time, she'd already come to realize that her family was different. "When 'Fly Away' and 'American Woman' came out, I remember asking my cousin, 'Is my dad really famous?'" she says. "There would be this reaction to him. My mom was more low-key." Kravitz recalls an afternoon when her mother pulled out some old VHS tapes with episodes of
The Cosby Show
on them. "I was conscious of the height of her fame," she says. "Later, I came to understand culturally what she meant." As Kravitz puts it, Bonet was one of few celebrities who identified as "half-black, half-Jewish, and hippie-dippy." Now, she adds, "We're everywhere."
These days, the young star and her folks get along, er, famously—so much so, in fact, that she and her dad got matching "Free at last" tattoos about a year ago. But it wasn't only her parents' celebrity that hampered Kravitz's ability to feel like she belonged while growing up. As one of few black kids in her predominately white school, she remembers saying things like, "I'm just as white as y'all," to her classmates. "I identified with white culture, and I wanted to fit in," she says. "I didn't identify with black culture, like, I didn't like Tyler Perry movies, and I wasn't into hip-hop music. I liked Neil Young." But as time went on, her views shifted. "Black culture is so much deeper than that," she says, "but unfortunately that is what's fed through the media. That's what people see. That's what I saw. But then I got older and listened to A Tribe Called Quest and watched films with Sidney Poitier, and heard Billie Holiday and Nina Simone. I had to un-brainwash myself. It's my mission, especially as an actress."
A big tenet of this undertaking involves choosing roles that don't focus on her race. "I don't want to play everyone's best friend," she explains. "I don't want to play the role of a girl struggling in the ghetto. It's not that that story isn't important, but I saw patterns and was like, 'I don't relate to these people.'" Kravitz's agent knows not to pass her scripts where her race is a key factor. But there has been one exception: the Sundance darling Dope. "It hit all the points that I believe in," she says of the hilarious film about a crew of geeky punk- and '90s-hip-hop-loving teens growing up in Inglewood, California. "I know those people," she says. "I got the sense of humor."
Kravitz's friend and tourmate Lewis, an artist who fluctuates between guitar- and synth-based music, and whose ethnicity is a combination of Dominican and Jewish- American, appreciates Kravitz's efforts not to be typecast. "She actively tries to represent herself in a positive way that doesn't pigeonhole her when it comes to race, but also how Hollywood and America see women," he says. "She is picking roles where women are powerful, and she cares so much about changing the norm of the industry. The music industry, the film industry, and the tech industry need to be smashed over the head with the woman hammer, and I think she's making conscious decisions to not be a part of things that take us back."
While Kravitz has had admirable success in this regard, there have been a few roles she's lost because of her race, she says. "In the last
Batman
movie [
The Dark Knight Rises
], they told me that I couldn't get an audition for a small role they were casting because they weren't 'going urban,'" she says. "It was like, 'What does that have to do with anything?' I have to play the role like, 'Yo, what's up, Batman? What's going on wit chu?'" On the other hand, there were certain films she never thought she'd land, like 2007's The Brave One, in which she appeared alongside Jodie Foster. "That part was written for a white Russian girl," says Kravitz. "I auditioned, and they changed the role for me." Toast the Knowing from
Mad Max: Fury Road
was another part she never thought she'd get. "It was the fourth movie I ever booked," she says, her eyes wide. "I saw the trailer last summer and cried. It took a lot out of me. Being in such little clothing in the desert in a car for 12 hours a day—we all started to go a little crazy. But it was worth every second. I can't believe I'm in it."
Kravitz, who studied acting at Purchase College in upstate New York, is the first to admit that certain things, like getting representation, have come easily because of her famous folks. "I'm hyper-aware that people are judging me based on who my parents are," she says. But this only makes her want to sharpen her skills more. "You book jobs like
Mad Max
because of you and not because of your dad," she says. "George Miller doesn't fucking care who my parents are." Still, she's felt pressure to measure up to their talent. "There was a point in my teens where I was very selfconscious and didn't want to make any music because I would get compared to my dad," she says. "But I knew I was working hard. I'm not a fucking genius, but I know who I am as an artist. The one thing about art is you can't question it. Everyone is looking at everyone else to find out what's cool. No one knows what's cool. Just do it with confidence—no one can take that away from you."
Nicholas Hoult, Kravitz's
Mad Max
co-star, never doubted her abilities as an actress. "She's very committed," he says. "She draws from lots of different inspiration around her and is dedicated to learning, growing, and pushing herself." The two have been friends since they starred in 2011's
X-Men: First Class
, and Hoult cites her ability to "hang in a real way" as a big plus. This chill nature came in handy during their six-month stint shooting
Mad Max
in Namibia. "One of the highlights was watching
Breaking Bad
with Zoë while I knitted and she crocheted," says Hoult of their downtime on set. "Definitely old before our time!"
While there have been many roles she fought hard to get, there was one she was hesitant to take: playing a young woman with an eating disorder in April's
The Road Within
. "It scared the shit out of me," says Kravitz. "I was worried about my health. There was, 100 percent, a voice in my head that said, 'You get to be really thin, and it's OK.' I felt that I could be like, 'I'm not eating anything, and it's for a job.'" But the prospect of exorcising old demons won out over the fear of revisiting them, and she took the role. "It wasn't as simple as that before, during, or after, but it made me confront the fact that I still had a problem," she admits. As a result of dropping down to a "scarily thin" 90 pounds for the part, Kravitz got shingles and lost her voice. "I couldn't sing, which was a wake-up call telling me that I couldn't treat my body that way and expect it to be fine. My hatred for my body and the way I looked was backfiring and taking away what I loved. I heard that so loud and clear."
While singing onstage with Lolawolf is one of her favorite places to be, it took a while for her to be comfortable there as well. "It's a battle to do your thing, even when people aren't cheering you on," she says. "I had to learn to deliver no matter what—but there's a freedom that takes over." It's a level her bandmate Jimmy Giannopoulos helped her reach by encouraging her to be more of a character onstage. Hoult is certainly a fan of Kravitz's stage presence: "It's amazing to see her transform like that," he says. Her friend Jaden Smith describes her voice as "just phenomenal" and thinks her onstage swag "pretty much sums up how she feels inside about everything." Smith is also a fan of the band's "literally insane" jagged and glitchy production, citing their "Jimmy Franco" track as his current favorite.
Lolawolf, which in addition to Kravitz and Giannopoulos includes James Levy, took a '90s-hip-hop-influenced turn on their latest recording, a slight departure from the synth-heavy, '80s-tinged sounds on their 2014 EP. "We wanted to get out of our comfort zone, to make people dance—and I wanted to dance to our music," says Kravitz. Clearly, this new vision paid off. In addition to opening for Twin Shadow, the band has gigged with Lily Allen as well as Miley Cyrus, who appeared in Lolawolf's video for "Bitch," a glimpse into the world of two homegirls killing time in a hotel room by playing cards and shooting toy guns—mostly in their underwear. "I was impressed by how much Miley loves music—you never know with pop stars," says Kravitz. "One of my favorite activities is to sit and listen to a record, and at that point I don't need to talk to you. You find that a lot of people don't get that. It's cool when you meet somebody who does."
Eventually, Kravitz would like to step out of the spotlight completely. "I want to have a family," she says, though she understands anonymity might be easier said than done as her star power grows. Still, she's determined to continue doing her own thing, which is clear in the way she reacts to the ongoing speculation about who she's dating. Her history with Michael Fassbender and then Penn Badgley was painstakingly documented by the tabloids, but more recently, she's been romantically linked to both Drake and Chris Pine. "Chris is like my brother," she says. "People will continue to think we're dating because we will continue to hang out. We met through mutual friends years ago, and we just became like bros." There was a "flirtatious moment" with Drake, she admits, and he'd been open about crushing on Kravitz before they met. But the reality of who she is was different from his fantasy, she explains. She maintains that they are "really good friends who respect each other and have a very similar sense of humor."
A week after we talk, the gossip mill will match her up with Yasiin Bey (formerly Mos Def), but Kravitz swears she's been single for two years, which feels great, she says, because she was a serial monogamist for a long time. Her solo status is partly due to the fact that she "doesn't have time to date" and also because "I don't get hit on, ever." Could it be that most guys are too intimidated to step to her? "I'm going to say that they feel intimidated so that I feel better about the fact that no one's trying to hang out," she says with a laugh. But who could blame most men for wanting to play it cool? It takes her close pal Alexander Wang to call it out: "She is the most charismatic, loving, genuine girl I've met in New York in a long time." He especially appreciates her "super-eclectic" style, pointing out that every decision she makes is based on independence. "She wears what she likes, and she doesn't care if she got it at a flea market or if her friend gave it to her," says Wang. "She always makes it her own. She's a complete individual."
She's also not afraid to share a shy smile with a fan who recognizes her at Olympic Spa as we sink into leather couches, postmassage, to sip tea. "The whole fame thing is weird to me, and I struggle with it," admits Kravitz. "But when I see people who see themselves in me, who relate to being different, it makes me happy."