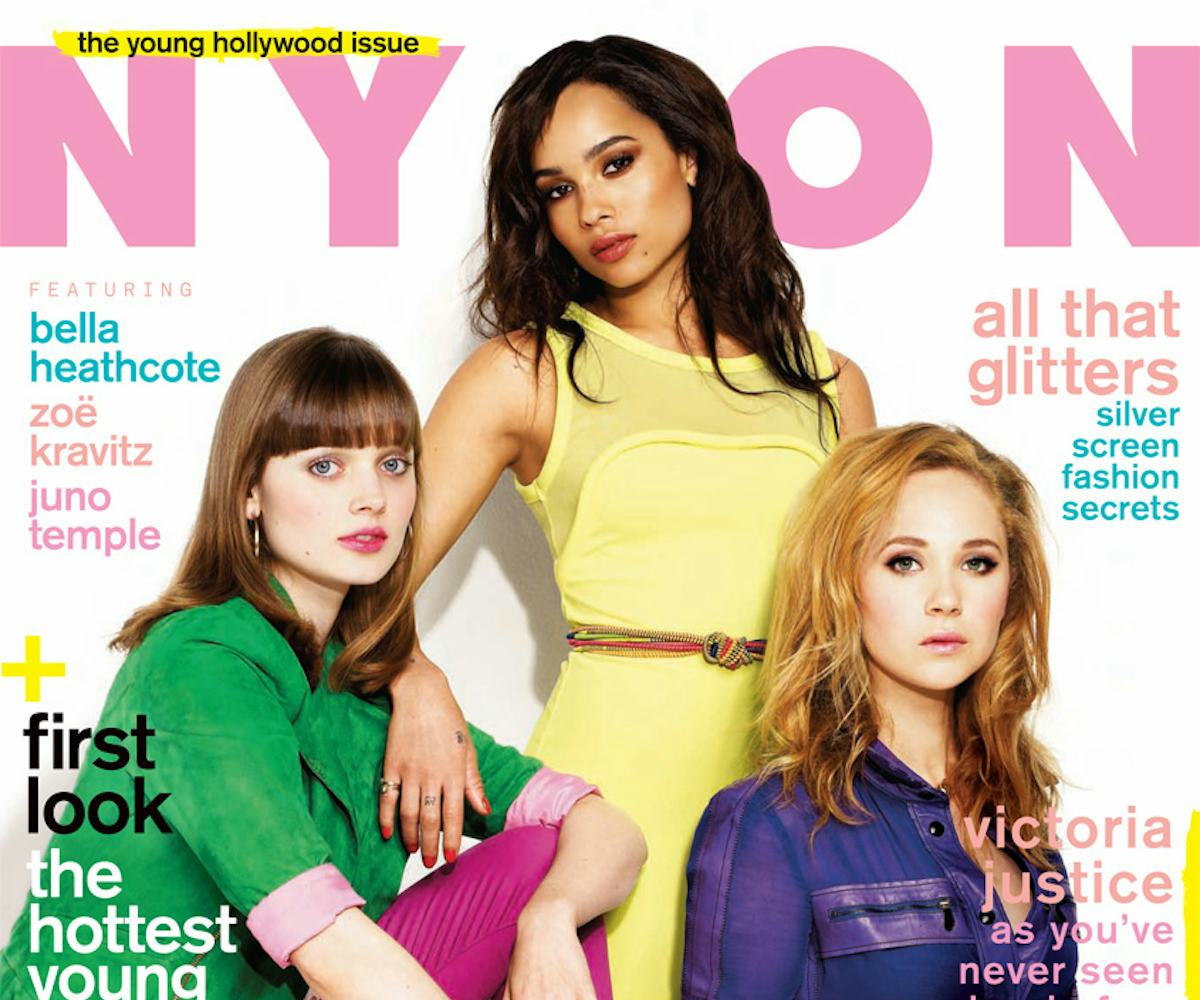 photographed by marvin scott jarrett
flashback friday: three's company
reread our 2012 cover story with zoe kravitz, bella heathcote, and juno temple!
Way back when in 2012 our Young Hollywood issue starred three of the coolest up-and-coming celebs: Zoe Kravitz, Juno Temple, and Bella Heathcote. Now's it's 2014 and Kravitz is starring in this spring's biggest blockbuster, Divergent, Heathcote is a muse to Miu Miu, and Juno Temple is sharing the screen in Maleficent with Elle Fanning and Angelina Jolie. Can we just say, we told ya so?! OK, all humblebrags aside, read on for a refresher on Hollywood's raddest starlets.
ZOE KRAVITZ
Apart from her vast circular bed, which is the size of a small helipad and made from crimson velvet, Zoe Kravitz's apartment, on the ground floor of an old clapboard house in Williamsburg, Brooklyn, is much like all the others rented by the young, creative class in New York City. There's a little kitchen, with a metal table that could fit no more than three dinner plates edge to edge, handwritten note on the window ledge, and dirty dishes in the sink. There's a modest living room with a antique velvet couch, a large American flag hanging upside down on the wall, clusters of vintage pictures, and a stick of incense smoking on a side table. There are even cockroaches. "Oh my God! It's in my bedroom and I think it's still alive," Kravitz squeals, as her friend goes to the rescue, capturing and releasing the bug into her ramshackle backyard. "Well," she says with a laugh, pulling on an Alexander Wang leather jacket over a plaid shirt and an oversized, ripped T-shirt that was once white, but never will be again, "that was a good way to start!" She digs around in a kitchen drawer filled with sunglasses and selects a round, gold-rimmed pair. "Wanna go get a coffee?" she asks, then, more hopefully: "Or maybe a drink?"  A short walk later we are settled into the back of a dive bar up the street--she with a straight Jameson, me with a beer, deep in a conversation that feels so natural I initially forget I'm meant to be recording it. Kravitz fits in here as well as the dilapidated furniture, peeling wallpaper, and stained carpet, and you get the impression that she would act no differently if she were at her friend Jay-Z's house ("I'll go over and watch the Superbowl at his place, stuff like that"); crashing on Jennifer Lawrence's couch in Los Angeles, like she was last weekend; or shooting the next M. Night Shyamalan movie, as she was yesterday, in Philadelphia. In the film, After Earth, which is due out next year, Kravitz plays the daughter of Will Smith's character as they explore a new planet in a future where Earth is no longer inhabitable. "I don't know what I'm allowed to say about it," she says, which, like most of Shymalan's projects, is shrouded in secrecy. "But there are aliens. It's funny--I never thought I was going to do any kind of big-budget action films. I thought I was going to do theater and indie films. But things did not turn out that way." 
Kravitz, who's 23, has lived in her current apartment for two years, and in Williamsburg for four. She came to the city at 15, moving around and staying with family friends while her father was on the road. Lenny Kravitz now splits his down time between his homes in Paris and the Bahamas while Zoe's mom, Lisa Bonet, still lives in her childhood home in Topanga Canyon, Los Angeles. "I love her so much," Kravitz says of her mother, who quit her acting career to raise her. "She's an artist first--she doesn't care about celebrity." As she describes her childhood in Topanga, full of dressing up cutting pictures out of  magazines with her mother to make collages, I point out she's rather lucky. "I am. Totally spoiled," she admits. "I've been blessed to be surrounded by art and love and honesty and openness my entire life, and it's an incredible way to grow up." Bonet put Kravitz through the Waldorf school program, which follows the alternative pedagogic principles laid out by the Austrian philosopher Rudolf Steiner, where imagination and conversation are encouraged, and there are no textbooks; in elementary school, she changed her daughter's last name to Moon for a while. "It was a good time to do it," Kravitz says, "because it was right when 'American Woman,' came out and my dad was super hot." And, apparently, as capable as any dad of embarrassing his daughter. "He would come pick me up from school and it was this whole thing..." she says, with a groan. "He would show up in see-through shirts and I was just like, 'Ugh, can you please just get in the car [a Dodge Viper with racing stripes] and drive away?" She laughs, and drains the last of her whiskey. Another round is quickly agreed upon. 
After small roles in films including X-Men: First Class and The Brave One with Jodie Foster, Kravitz--who just wrapped an indie with the rather unsexy title, The Boy Who Smelled Like Fish, and is about to go to Namibia to film Mad Max 2--seems poised for fame of her own. "This role will definitely be a breakout for her," says Shyamalan. "There's a time in an actor's development where they find themselves and if they're lucky, it becomes effortless and truthful. Zoe has kind of reached that moment." Of course, breakout success comes with its complications, and no one knows these better than Jennifer Lawrence, whom Kravitz met on the set of X-Men and with whom she is currently engaged in a fervent game of Draw Something (an addictive iPhone version of Pictionary). Kravitz's phone lights up: It's her move. As Kravitz shows me how to play, I ask whether Lawrence's sudden ubiquity has served as a cautionary tale. "I think because of the Internet and everyone's obsession with celebrity and paparazzi and blogs and phones being hacked, we have an incredible amount of access into other people's lives," she says. "People now expect more than a performance. They expect to know what you do and what you're wearing and who you're fucking and what you ate that day and what time you took a shit." Recently, Kravitz was staying with Lawrence on the day The Hunger Games opened. "And she was like, 'Can we just stay home and watch TV all night--I can't leave my house.' And I was like, 'Jen, I'm not going to bullshit you: This isn't going away tomorrow.'"
For now, Kravitz, whose outfit today is completed with a neon orange beanie, is most often in the press for her personal style, a refreshingly individual and dressed-down mix of vintage pieces and designer items, which people are often happy to give her (Alex Wang has been one of her best friends since he picked her to be his muse for a presentation at Anna Wintour's house prior to the CFDA awards in 2008, which Wang won). "I like colors, I like textures, so that's what I pay attention to," she says. "I like putting things together, but it's fun--I don't take it too seriously." Our second drinks finished, we head back to her apartment, blinking in the sun as we emerge onto a bustling Bedford Avenue. "I feel like everyone thinks that everyone should look the same--clean cut. If I go to a party and my hair's messy and my shirt's ripped or whatever it's like, 'She's a crackhead!' and I'm just like, 'Do I have to look like a fucking perfect Barbie doll?' The cool thing about fashion is that if you do it right, it's an art form and it's a way to express yourself, but if you try and look like everyone else, you're not expressing anything apart from the fact you want to be accepted." She pushes open the door to her house and shimmies past a bike in the hallway. "I don't think anyone should dress like me, but if people take anything from the way I choose to look, it should be to express yourself. Be individual. Be comfortable, funky, loud--just do whatever you want." 
BELLA HEATHCOTE
"Oh my God, where have I brought you?!" asks Bella Heathcote, shaking her head as she strides towards me wearing long, bell-bottom jeans, an embroidered denim shirt, and little Peter Pan black leather boots. It's a very good question. We are in perhaps the most unappealing, strange little shopping center in the greater Los Angeles area. Wedged into the middle of Little Tokyo, which itself is buried in the forest of skyscrapers in downtown L.A., it's a mass of gray concrete, sad, kitschy little stores selling Maneki Nekos, and sorry-looking tea houses. It's at one of these that a member of her team has decided we should meet. Heathcote, they said, likes tea. Within a few minutes we've decided to drive up to Trails, a cafe in Griffith Park, about 20 minutes away. "At least it's somewhere I go to all the time and love," she says. "And I know the people there."
After we arrive, order some more tea, and Heathcote has greeted the owners, we take a seat on a bench under a canopy of trees. The sunlight is mottling the floor, which is covered in a layer of pine needles deep enough to dampen the footsteps of the few people who are here this afternoon. Heathcote breathes in deeply, and exhales. An extremely healthy looking couple wearing backpacks and sensible footwear pass by and nod to us. Neither they, nor anyone at the tea shop, nor any of my friends who asked me why I was in L.A. this weekend, have any idea who Heathcote is. Aside from eight episodes of the Australian sitcom Neighbours, a few Australian movies that no one in America has seen, and a blink-and-you'll-miss-it part in last year's forgettable In Time, Heathcote has not appeared in anything. She's anonymous. From the outside, she appears to be just another pretty (exceptionally pretty, it must be said) girl in L.A., waiting for her break. Except Heathcote's break has already come, twice. In the past 12 months, she has wrapped leading roles in two of the most anticipated movies of the year: Dark Shadows, this month's Tim Burton-Johnny Depp extravaganza, adapted from the cult '70s TV show, and Not Fade Away, the feature debut from David Chase, creator of The Sopranos, which will be released this fall. Pretty soon, people are going to start caring about what car she's driving and who her boyfriend is. Is she ready for that? "I find it completely inconceivable that that would ever happen," she says, her eyes flashing under her razor-straight bangs. "I mean, how can you ever imagine that? It's like when people talk about large sums of money: It's some very abstract notion that I can't grasp at all." Heathcote is well aware that, for now, she's exempt from the nefarious demands of the Hollywood machine--most of them, at least. "This is the be period--I can just know that I did the work I did and there aren't any other judgments--there's no other voices about it yet," she says, sipping her peppermint tea. "No one knows me, so I figure I should be immune to the weirdness, but there's a Facebook page and a Twitter page that have been set up by people who are pretending to be me.  I get that, if you're, like, Johnny Depp, there are people out there who develop crazy obsessions and stuff, but I haven't done anything!" 
But what about that sordid affair with Brad Pitt? She was, after all, caught in a nude scandal with the actor while they were filming together--something so serious that Angelina had to fly in to deal with it. "I hadn't even met him!" says Heathcote, of the entirely fabricated story which appeared in Star magazine last year and quickly went viral (despite the fact that she's not even in a movie with Pitt). "I was just like, This is the most ridiculous thing I have ever read! The worst thing was, I started getting emails from Australia from family and friends. They were like, 'Oh my God, how could you? You didn't even tell me!'" 
Heathcote first started doing speech and drama classes in her hometown of Melbourne, Australia, when she was 12, after her mother died. "Dad really wanted to encourage anything that was an extra-curricular activity," she says. "Distractions." At high school, guidance counselors told her that acting wasn't a career and that she needed to study something else in college. "But by the end I was like, I'm just gonna do acting, and if that doesn't work out then I'll pursue something else," she says. "Like, why would I aim for the fallback plan? That seemed a bit shit." One day, when she was in the gym with a friend, an agent overheard her talking about her acting. "She came over to me and asked me three questions: 'Are you an actress? How old are you? Are you any good,'" Heathcote recalls with a laugh. "I said, '20, and I'd like to think so.'" In 2010, she found out she'd won the Heath Ledger Scholarship, an award set up by the actor's family after his death to give Australian actors a chance to make it in L.A. 
After relocating, she quickly found a manager and, rather than take the first thing that came her way, decided to play the long game. "I understand that we've all got to make a living, but at the same time I feel like your 'no's' shape your career as much as, if not more than, your 'yeses,'" she says, wisely. Not Fade Away, in which Heathcote plays the girlfriend of the singer (played by John Magaro) of a band in New Jersey in the '60s, was Heathcote's first big role in the States. "I think I was in a constant state of anxiety the whole time I was making it," says Heathcote of the film, which also stars James Gandolfini. "David [Chase] was extraordinary to work with, though. As far as giving notes to actors, he's the best I've ever worked with--not that I've worked with many. It was really comforting being on set with him, because you just feel like he's going to take care of everything."
With Bella, there is no pretension," says Chase. "She's a really, really gifted and nuanced actor and there's no pretension in the way she performs and there's no pretension when you talk with her, either."
Dark Shadows, which tells the story of a vampire who is imprisoned for 200 years and released in the 1970s, is perhaps an even bigger role for Heathcote. "Honestly to this day, I don't even know how that came about," she says. "I remember getting this really strange email from my manager in December 2010 saying 'Tim Burton saw your photo' or something, but I didn't even think about it." Three weeks later she was auditioning for Burton in London. Two days after that, just when she had started work on the David Chase film, she was told she had the part of Victoria Winters, who becomes governess to the children of the family and the love interest of Depp's character, Barnabus Collins. "I think I just honestly went into shock," she says. "Even when I got to London and on to the set, I kept waiting for the job to go away. Then I just realized: Holy shit, this is real. Oh my God, I'm in a Tim Burton movie!" She smiles, brightly and beautifully, her composure slipping, just for a moment to reveal a girl who, clearly, could not be happier to, finally, be here, on the brink of something huge. I'm reminded of something Chase said when we spoke: "You know, any actor who's any good--who's really, really good--has some kind of special quality and she does have that, even though it's hard to put your finger on what it is. She has tremendous emotional depth. And when she smiles it's just radiant. It's like a nuclear bomb."   
As expressive as Juno Temple's face is, it seems to disguise beneath its porcelain beauty as many emotions as it reveals. Her eyes, so wide and ruminative, disclose simultaneously everything and nothing: one moment you're right there with her and everything's immediate and vital, and the next she's lost in some opaque contemplation. On screen, this ambiguity serves Temple incredibly well. It allows her to disappear into characters without losing the individuality that has set her apart from her peers since she first appeared on screen in 2006, as Polly Hart in Notes on a Scandal, alongside Cate Blanchett, and Judi Dench. The same disconcerting otherness is there in Lola Quincey, the character who sets into motion a catastrophic sequence of events in Atonement, the 2007 adaptation of Ian McEwan's best-selling novel. And now, that uniqueness is front and center and, amazingly, as inscrutable as ever as Temple tackles leading roles in some of the best indie films of the moment, including Killer Joe, a black comedy directed by William Friedkin (The Exorcist, The French Connection), which comes out later this year, and Little Birds, a searing drama which opens in June.
"I am definitely an emotional person," she says, over a caprese salad on the patio of a cafe in Santa Monica. "I'm a very sensitive person, too. I get very affected by things. But I want to be honest. And that means I want to be honest through a character. My dad always said to me, 'Oh, my darling, if you are going to do a movie, whether it's for three days, three weeks, three months, you have to be ready to live and breathe that character for every moment of that time. You have to be ready to be so passionate about who you're playing that, even if they're a nut job, you want to jump in their skin and be them.'" It's sage advice: Her dad is Julien Temple, whose friendship with the Sex Pistols in the '70s led to him recording their performances and making documentaries and music videos with the band. He has since made music videos for everyone from David Bowie to The Rolling Stones to Blur, as well as many documentaries and feature films, including one, Vigo: A Passion For Life, in which he cast his daughter when she was just nine years old. "It was my first ever movie and I got cut out!" Temple says, laughing. "I actually can't wait for us to find an incredible project to do together. I can't wait to be directed fully by my father in an adult role that he can mold me into."
Temple's childhood, in the verdant countryside of the south west of England, was bucolic. "I grew up in a 600-year-old farmhouse on a bunch of land, and my dad built me this crazy hedge that starts short and gets higher, so I could feel like Alice in Wonderland when I ran up and down it," she says, pushing her voluminous blond hair out of her face. "My parents"--her mother, Amanda Pirie, is a film producer--"are very much about knowledge is the key to life, so just fill your brain with however much you possibly can. I'm really lucky with them, because they're like, 'Just fucking be you. Stay true to that and see what happens.'" She laughs, then takes a bit of mozzarella. "I have.I'm a bit of a stubborn fuck about that."
Temple--whose name comes from a rocky outcrop in the Grand Canyon, which her parents visited when her mother was pregnant--moved to Los Angeles from England, and currently lives in Los Feliz, within walking distance of her favorite vintage store (the Luella for Target leather jacket she's wearing, which is about two sizes too big for her, is from there). "When you get off the plane in L.A. it's like no one gives a shit what you've done; they wanna know what you're going to do," she says. "It's kind of a great way to look at life." Roles in Dirty Girl and Greg Araki's Kaboom quickly established Temple as an actress who is not afraid to take risks, but now she is pushing herself further. 
Temple has never been better than she is in Little Birds, in which she plays Lily, a girl growing up in the arid sulphuric wasteland of the Salton Sea, a ghost town in the desert outside L.A. A troubled and flawed girl, she decides to escape her rotten home and lush of a mother (Leslie Mann), and go to L.A. to find a skater she fell for when he passed through her town on a road trip. Best friend Alison (Kay Panabaker), whose life is just as tragic and her mom (Kate Bosworth) just as much of a mess, reluctantly agrees to go with her, but when the two arrive in L.A. and track down the skaters, who are squatting in an abandoned hotel, things get dark very quickly. 
A few months after the film premiered to rave reviews at Sundance in 2011, the film's director, Elgin James, was sentenced to a year in prison for the attempted 2006 extortion of a Chicago musician (over 60 letters of support were sent on James's behalf, including from Sundance founder Robert Redford). "There's just something about Juno," says James, a few weeks after being released (he served ten months). "There's something so real and honest, and she seems to have this naked vulnerability, but she's probably one of the toughest and bravest people I know. I'm not saying that just as words. I was in a gang for 20 years, you know, and hands-down this little English thing is the most loyal, tough, brave friend that I have. There was no reason--especially for a young actress starting out--to be tied to me and to what I had going on. And she did the opposite, she just gave more of herself."
"I'm only 22, and sometimes I wonder if shit's gonna get jaded," says Temple, as we go out onto the sidewalk so she can smoke. "I hope not. I get so excited when I book a job. To me, it's like the coolest fucking thing ever. And, you know what, dude? I'm fucking lucky to get any work at all. How many people want to do this?"
If Temple, who describes herself as a "hopeless romantic," weren't doing this, she would be a lingerie designer. She briefly attended London College of Fashion for lingerie design and is especially fond of Agent Provocateur. For now, though, she's more than content, and tomorrow will head to Chile to start work on TK. She also, as has been widely reported, has a small role in The Dark Knight Rises; rumors seem to imply she will play the role of the young prostitute Holly Robinson, who becomes a sidekick to Catwoman. Predictably, she can't talk about it. "At all," she says, grinning widely, and staring right at me with undecipherable eyes. "But I can tell you that I'm really excited, and that it was fucking cool." -- LUKE CRISELL