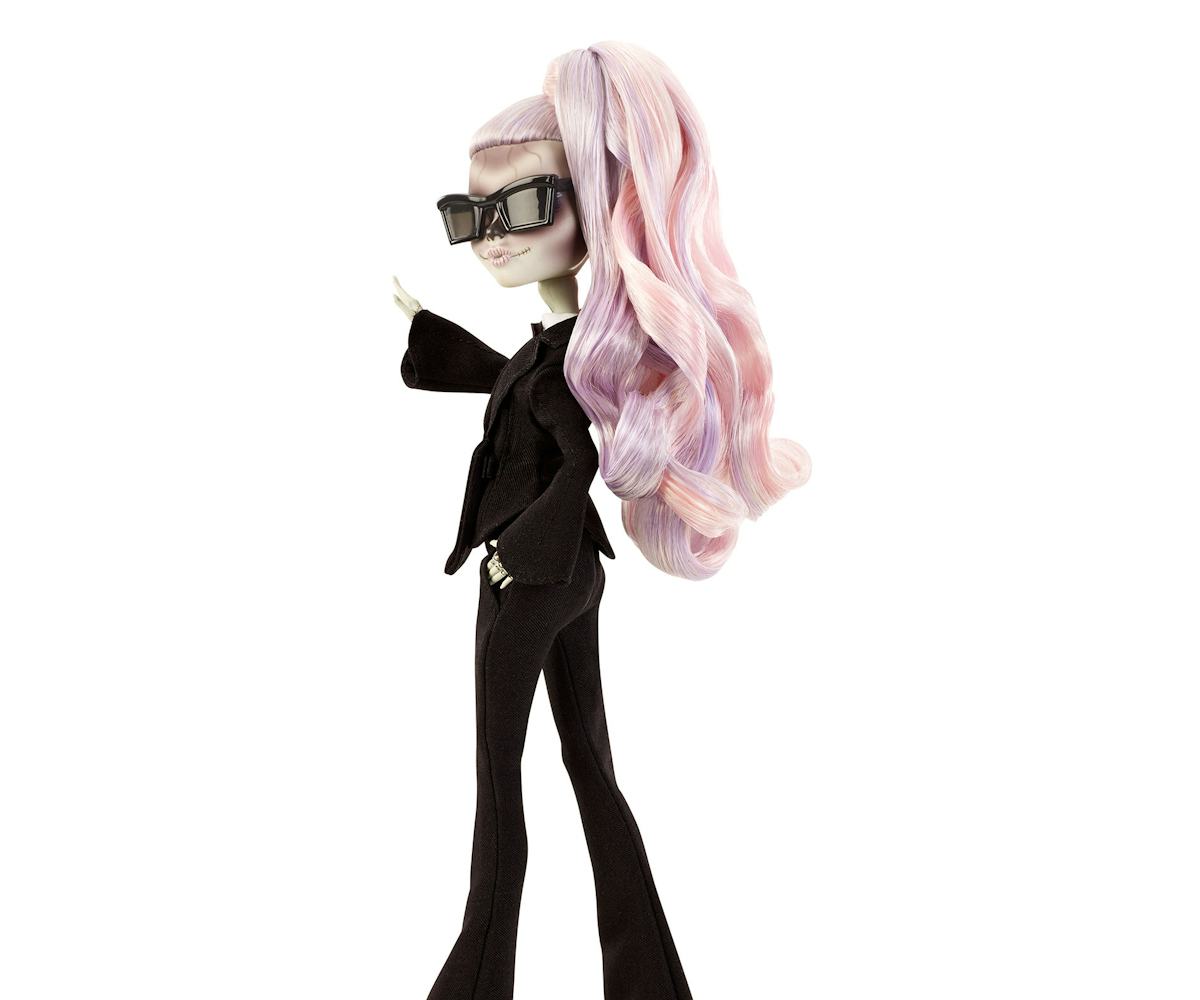 Courtesy of Monster High
Just In Time For Halloween, There Is A Lady Gaga Doll
This year, more than ever, there is a reason to dress up like Lady Gaga for Halloween. In addition to a soon (like, this Friday soon)-to-be released album, a first in three years, today, Lady Gaga has delighted her fans with the release of her own doll, Zomby Gaga. Created by Mattel's Monster High and Lady Gaga's Born This Way Foundation, Zomby Gaga was designed by the Golden Globe-winning actress and her sister, Natali Germanotta, who previously worked on the Lady Gaga x Elton John Love Bravery for Macy's collection.
Inspired by the look in the Lady Gaga "Born This Way" video, Natali styled the miniature ghoul to look like a replica of the tuxedo-donning superstar. "It's really just been a poetic experience for me," Natali tells us about working with Mattel and her family at the Born This Way Foundation (her mom Cynthia Germanotta co-founded it), which aims to support the wellness of young people and empower them to create a kinder and braver world. She captured the look to a T with a sleek wide-leg pantsuit, high ponytail, tattoos, and even skeletal facial features mimicking the ones seen in the video.
"The mask on her face is like having your mask on the outside. To show everyone those differences in your face for who you are, what you stand for, and how great you are, I think that that's a really important message," says Natali of selecting this look out of many other inspiring characters that Gaga introduced us to over the years. "It's very hard to be yourself, and it's very hard to feel comfortable to be yourself in front of other people, and I would really love for young people to feel more comfortable and feel more accepted, and they have to be brave to do it."
Knowing the "Perfect Illusion" singer's penchant for costume changes, Natali made sure that the mini-me came with an extra outfit, a plaid top paired with fishnet leggings. "There are so many different details about her look, and I really wanted to incorporate that plaid outfit as well so that all of the Little Monsters can really play with the doll," Natali says. "It's really about her being alive and having a story." The attention to detail is remarkable even down to the doll's shoes (which are masked and will appear as a surprise to purchasers), geometric sunglasses, a long mane (brought to life in a spectrum of pink and purples that Natali carefully selected to use), and an oversized bubblegum bubble coming out of the doll's mouth.
In addition to serving as a high-fashion collectible to Lady Gaga fans worldwide, Zomby Gaga was conceptualized to act as a role model and spread a message of social kindness among her followers. "I really hope that people are inspired to just go out be more kind and accepting of the young people and what they stand for and the message that they're building for the next generations to come," Natali says. "I hope she encourages fans to join the #KindMonsters movement and connect to contributing to a kinder, more accepting, and braver world."
When Zomby Gaga is not being a style icon or creating positive change, she is just a regular girl, though. "She likes to chew gum for sure. She loves to smack bubblegum and blow bubbles," Natali says laughing. "She loves to be with all her Kind Monster friends, help people, encourage bravery, and to change her outfit."
While Joanne, and its accompanying album artwork, has already been predicted to be a popular "costume" this season, why not go back to Lady Gaga's roots and dress up in one of her older iconic iterations with your own Little Monster, in the form of Zomby Gaga, in tow? Or take your cue from the stellar number below.
Zomby Gaga went on pre-sale this morning at Target, Walmart, and Toys"R"Us for $29.99.