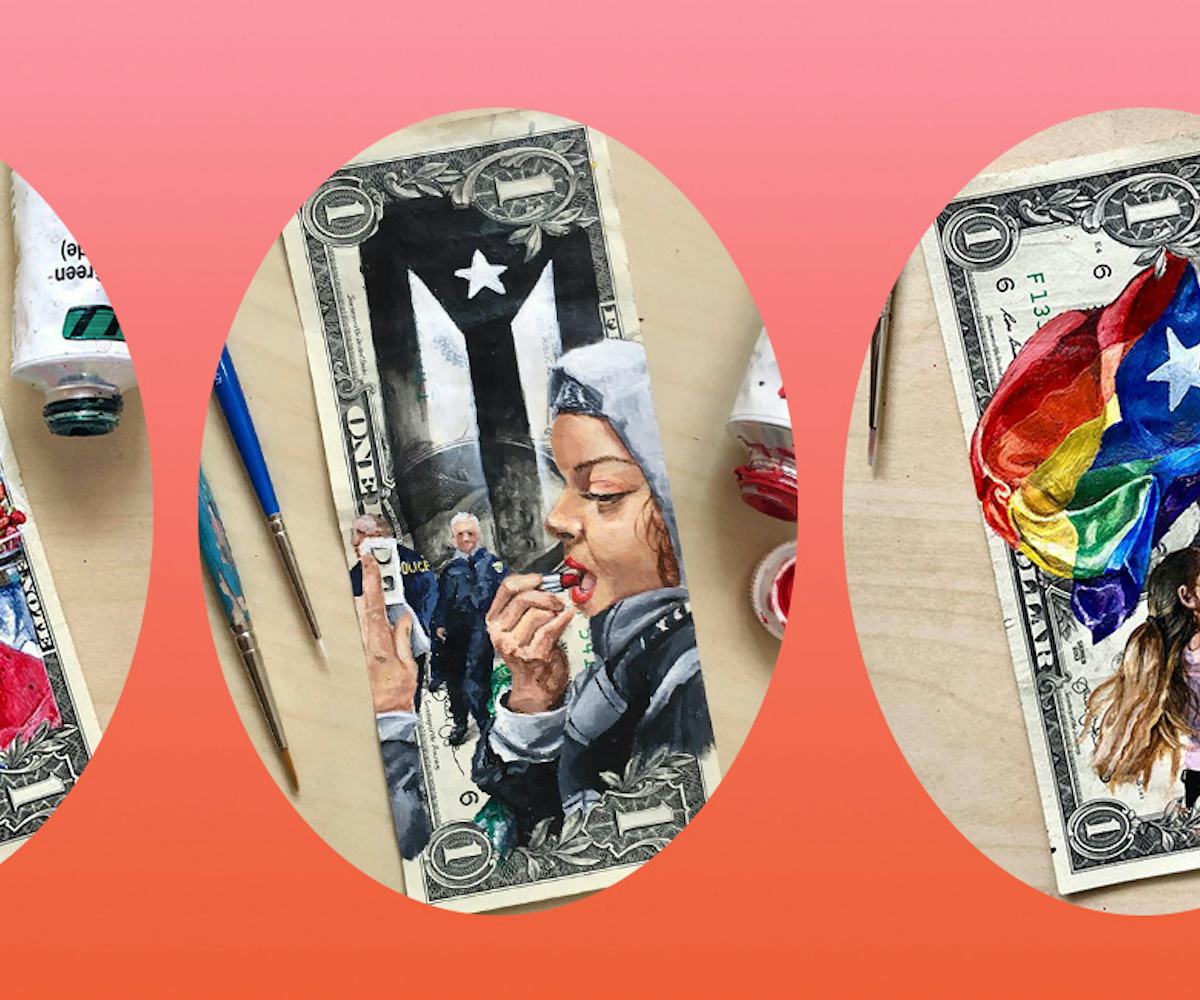 Photos by instagram.com/danielledejesus1
This Puerto Rican Artist Is Making Her Own Kind of Money Moves
If you've got money on your mind, you're not alone. As Wu-Tang Clan said back in the early '90s: "Cash rules everything around me." Flash-forward to the present, however, and Danielle De Jesus, a Puerto Rican artist, born and raised in Brooklyn, has something to say about that. De Jesus paints on dollar bills and turns them into art, making a statement about the value of money and capitalism, questioning the power of cash.
The "dollar series" started in 2016 with a painting of Lin-Manuel Miranda as Hamilton from his eponymous musical, on a 10 dollar bill—which, of course, features the real Alexander Hamilton. Her more recent dollar artwork still includes characters from movies and musicians, but it's evolved into a political project in which De Jesus mixes activism with art, regularly highlighting Latinx people and cultures, especially relating to Puerto Rico.
These political choices have garnered some backlash, but, according to De Jesus, her Instagram following is international and largely supports her work. At first, she was concerned that the politically motivated artwork would result in a loss of followers, but, by her account, she started to gain a different following. When asked why she thought her work connected with people from different countries, she responded that there's an element of discovery that people seem to respond to.
"I think it's because, the U.S. government, they hide so much shit from the rest of the world because they want to look so heroic that… other countries aren't given the opportunity to really learn about some of the struggles that people face under the hands of the United States government," De Jesus said. "So when they have somebody telling them about what's going on, they kind of appreciate that because they want to see the other side."
A self-taught painter, De Jesus is reimagining money, which she views as a canvas for her artwork, and is trying to challenge the value that people ascribe to it. "You see people's reactions to whenever anybody reposts my work... like, 'Oh my god, I could've done this with that dollar,' or 'I could've done that with that dollar,' and they're not understanding that it's so much more than that… they completely disregard the fact that I just put value on something that's worth literally nothing, you know, it's, like, a piece of paper."
De Jesus has had to overcome several challenges in the art world, including early art school rejections and a formative portfolio review at a well-known museum in New York City, El Museo del Barrio, dedicated to showcasing Latin American and Caribbean artwork with a special focus on Puerto Rican art. De Jesus felt that the curator, who was white, shamed her work and how it portrayed her Brooklyn neighborhood of Bushwick, prior to its gentrification. "It's supposed to be a space for us, a space where we feel safe, where our work should be welcomed, and it just goes to show where the art world still stands right now for us Latinos and how we have to make work that is suitable for them to see our perspectives," De Jesus said of the incident.
And yet, situations like that just make De Jesus even more committed to her art; she's pursuing graduate studies in painting and will continue to mark up money to express her views, unapologetically and on her own terms.