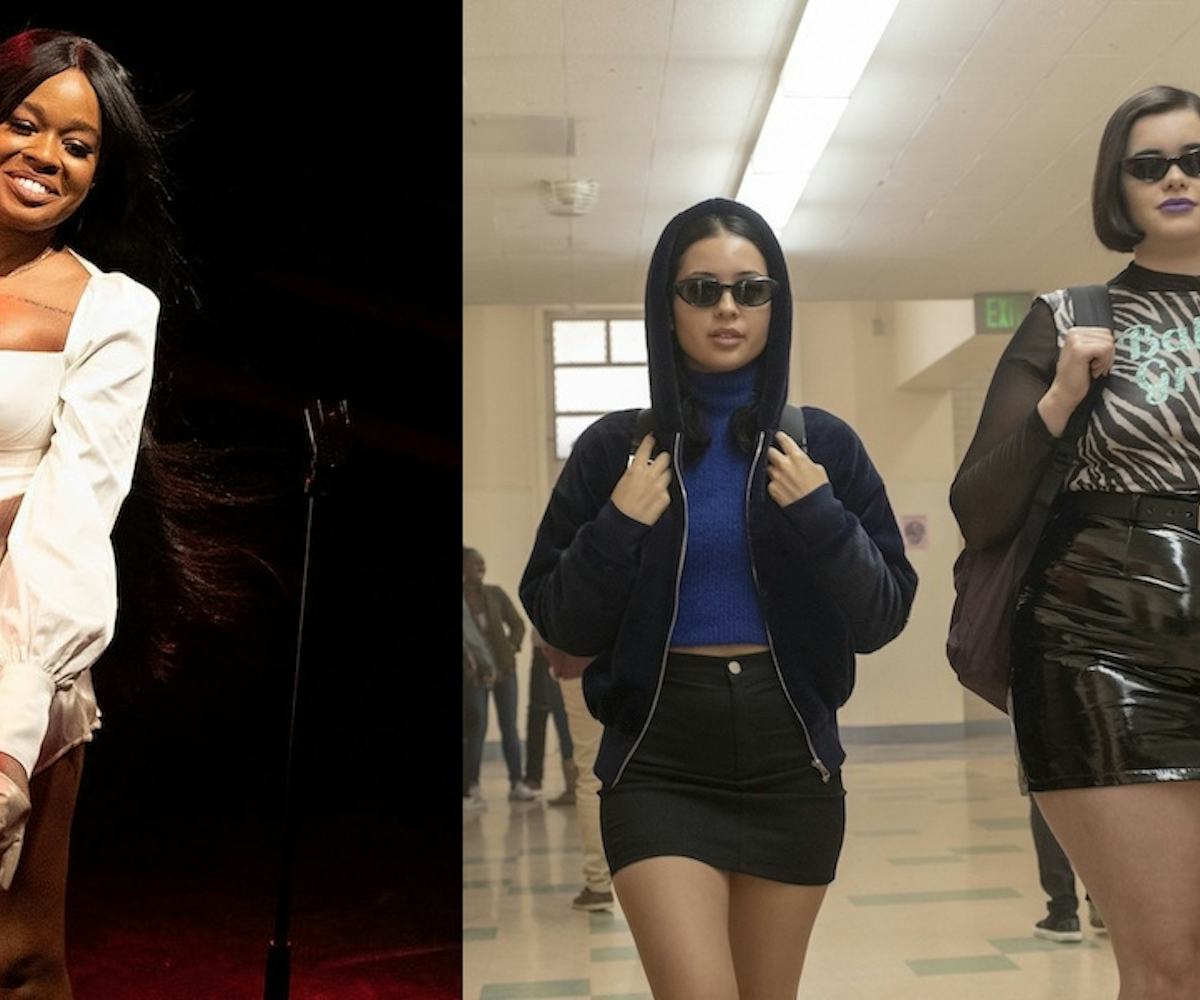 Photos by Jo Hale/Redferns, Eddy Chen/HBO
Azealia Banks Auditioned For 'Euphoria' And So Can You
This would be an interesting twist to the series, to say the least
Azealia Banks might just star in Euphoria Season 2, should the casting odds be in her favor. The hit HBO series recently sent out an open casting call for four new characters that will appear in forthcoming episodes, one of which seems to have caught the "212" rapper's eye. If you have dreamt of crying glittery tears and partying too hard for the camera alongside the likes of Zendaya and Alexa Demie — or just want to know how your acting skills compare to those of Banks — now is your chance!
Banks posted a selfie to her own Instagram story late January 19 captioned with her announcement, "Just sent an audition tape in for @Euphoria @HBO." In doing so, she might have drawn attention and plenty more competition for herself — casting agency JV8INC is currently accepting audition tapes from anyone now through January 27, regardless of whether they have any formal acting experience. That means you, Banks, and Timothée Chalamet are all on the same playing field now. To submit, you must fill out the Google Doc and upload the requested videos and photos here.
Two of the roles are open to women, and only one seems to make sense for Banks. Named Ami, she is between 18 and 20 years old and is described as the following: "Drug addict. Stripper. Hates her boyfriend. Talks sh*t. Can't read a room. Can make a bad situation worse." Aside from Banks' proven talent for sh*t-talking, the other character, Serena, is a white woman in her 50s who stans Whitesnake, so it's a safe bet that Banks is gunning to be cast as Ami.
The other two roles open are Darian, a 17-year-old sensitive "outsider" who is "definitely not the cool kid at school," and Ray, also 17, who is working class, scrappy, and "attractive in a real and accessible way." As with all of Euphoria, the casting company advises that sexual content and nudity may be involved in each of the roles.
Should Banks join the Euphoria cast, it would be an on-screen reunion for her and Demie: As @arabthot pointed out on Twitter, Demie appears as a video vixen in the music video for Banks' "ATM JAM (Kaytranada Remix) ft. Pharrell" wearing styles that Maddy would be envious of. Revisit the video to imagine a truly bonkers Euphoria Season 2 twist here.