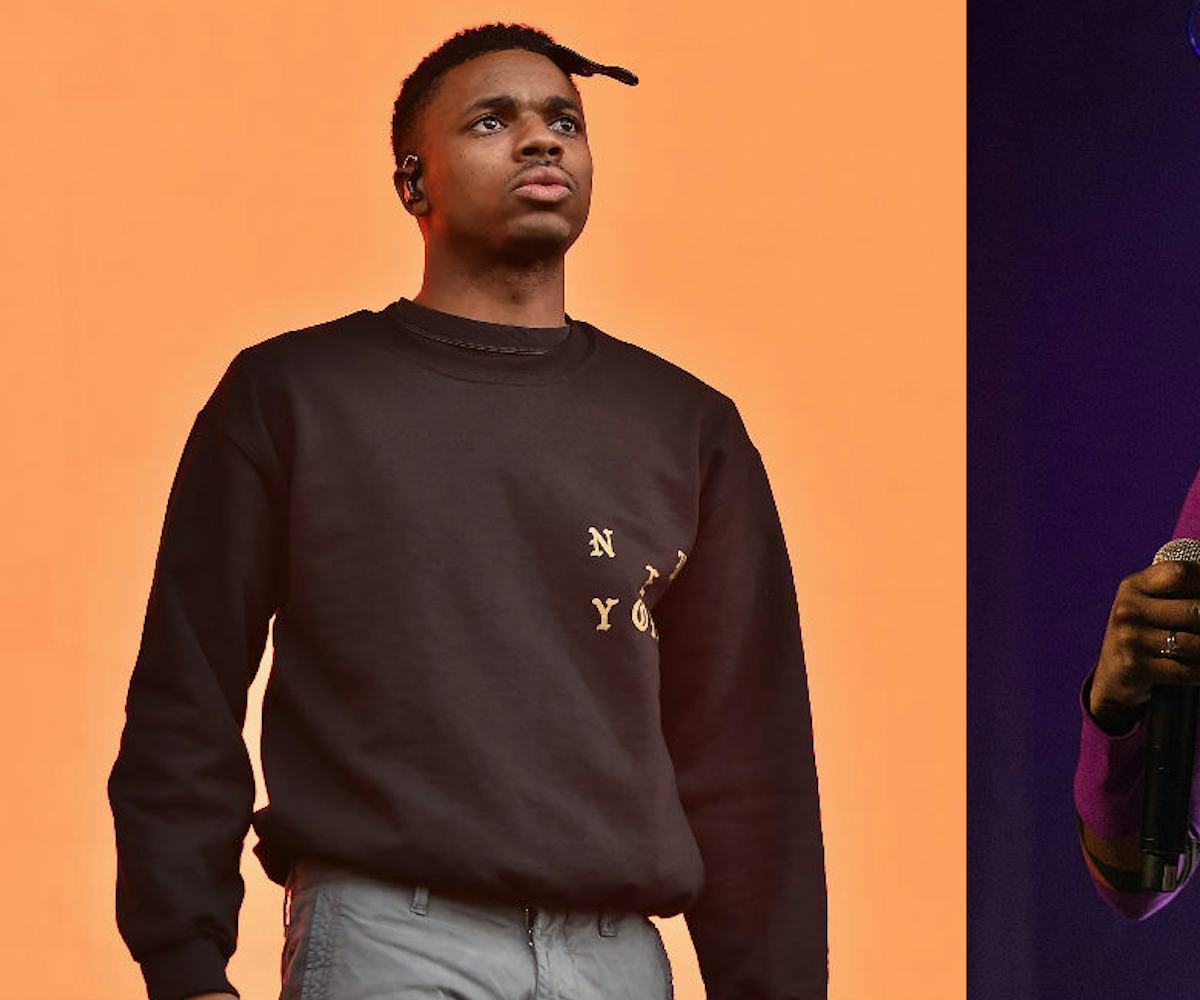 Photo by Theo Wargo/Getty Images for Panorama; Photo by Cassandra Hannagan/Getty Images.
Azealia Banks Accuses Vince Staples Of "Lying" And "Knocking Off" Her Sound
The two went back-and-forth on Twitter
Azealia Banks exchanged strong words with another celebrity on Thursday, and, uh, whatelseisnew?
This time, it was Vince Staples, and it started out with Banks arguing with her gay followers about being anti-abortion. She then tweeted that she'd "much rather be in a date with Vince Staples then arguing with gays about anything."
Once someone let Banks know that Staples appeared to like, then unlike, a tweet alerting him to Banks' insults, she accused him of abandoning her when she asked for a collab and "knocking off" her sound. "If you aren't tryna eat my ass or rap on my record Pleaaaaaaaase keep my name out of your mouth for ffs," she writes. "I dont have the timeeeee."
Staples responded, by claiming that Banks didn't ask for a feature and rather "asked me to mumble you a flow for the song for you and the spice girl was doing." He added: "I still fuc wit you tho you one of my favorite rappers." Banks replied, writing: "I was trying to engage you in a music convo and slowly show you what I was up to. I didn't give a fuck what you thought about my track."
Staples then responded with, "You didn't have to do all that you could've just sent the song. Lol We good tho no reason to get disrespectful."
Still, Banks went on: "That is annoying . How you hit me up and ask me how I'm doing then get mad when I say I'm doing fine but I'm stuck on a song right this moment. Should I say I'm amazing come get this pussy ? Like tf?"
She then went on to say that Staples changed his number "the day after we spoke" and that he's pulling "a social media stunt" by lying to get attention. "This is that annoying shit niggas do when they like me and secretly agitate me to fulfill their azealia banks argument fantasy," she wrote. "It makes the boys feel valid."
Staples tried to end the public conversation by saying, "I DM'd you on Instagram a hour ago... I'm not big on attention so we can switch the platform," but looks like Banks isn't too keen on that:
Suffice to say, we don't think a collaboration between the two artists is happening any time soon.