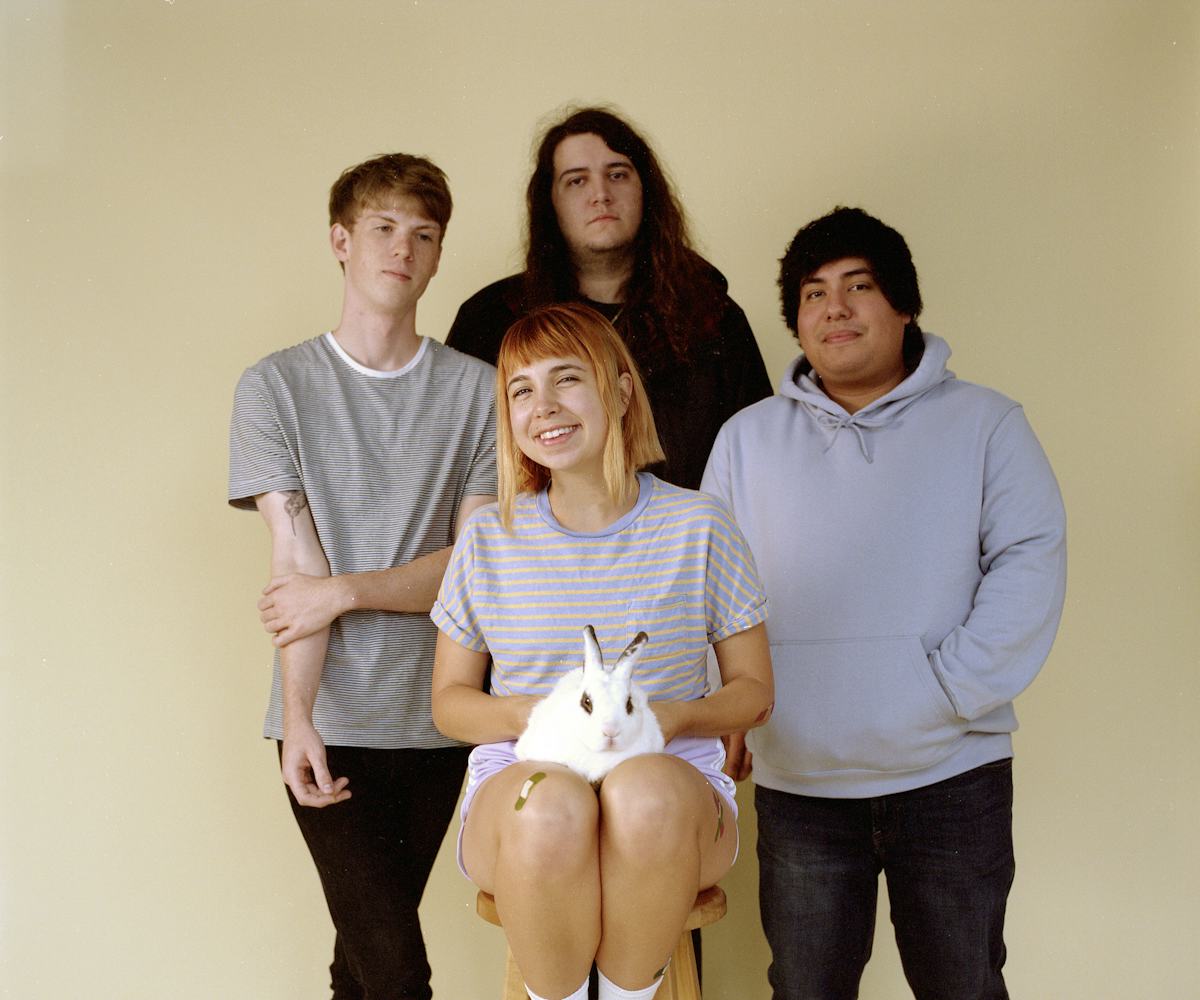 Courtesy of Beach Bunny
After Viral TikTok Fame, Beach Bunny Is Ready To Make A Real Introduction
The bubblegum-punk band's lead singer talks debut album 'Honeymoon' and finding viral fame mid quarter-life-crisis
Viral fame hit lead singer Lili Trifilio of Beach Bunny in the midst of a quarter-life crisis. It was Spring 2019, she was about to graduate from DePaul University, and had one big question on her mind: "How am I going to pay rent while I'm still trying to do this music thing?" Then her song about struggling with body image, "Prom Queen," took off on TikTok. Virality, a phenomenon predicated on how entirely random it is, in hindsight also felt meant to be. "It was very crazy how TikTok kind of launched everything, and then we got signed right after graduation," Trifilio says one afternoon over the phone. "So, I'm very grateful for TikTok."
Cosmic timing is embedded in every aspect of her band. Two of her bandmates — Matt Henkels and Jon Alvarado, both of whom she affectionately refers to as "the boys" — worked with Trifilio for the first time on her 2018 Prom Queen EP, home to the subsequently viral titular single. Before that, Beach Bunny was Trifilio's solo act, the most recent iteration of her musical pursuits. From senior year of high school and into college, she was one-half of Fingers Crossed, a "little acoustic girl duo" where she first dabbled in songwriting after spending her high school experience singing in the choir.
Growing up in Chicago, Trifilio might not have considered herself cut-out for prom queen but she wasn't a mere fly on the wall either. She flexed her musical skills at more than one school talent show, having taken guitar lessons in middle school. "There were a few years where I kind of loathed it, because I wanted to go hang out with my friends instead of practice," she says, but her craving to cover Katy Perry songs brought her back to the skill. She spent her subsequent years dabbling in the discographies of The Lumineers and Vance Joy before landing somewhere in the middle of her dad's classic rock influence and her own pop fandom.
Nowadays, Trifilio finds herself frustrated when listeners offer lazy, gendered comparisons for Beach Bunny's sound, or pigeonhole them into one genre. "Sometimes Beach Bunny gets thrown into the category of just indie pop, or indie rock," she says. "'Oh, you're a girl band. You must sound exactly like this other girl band,' which sometimes is true, but sometimes that's annoying."
In reality, the band's sound is akin to a sugary layered cake and Trifilio's bubblegum pop writing tendencies are just the icing. Her bandmates, who indulge in mathy riffs and punk-adjacent percussion, make for delicious fillings to discover. When Trifilio pushes her voice to its most emotional heights, the complex instrumentals lend her performance a punk quality that seasoned Paramore listeners will immediately pick up on.
Step foot into the pit at any Beach Bunny gig (yes, a pit), and you'll find yourself surrounded by guys who look like your pop-punk ex-boyfriend, and teen girls covered in glittery eye makeup. The former, Trifilio thinks, carried over from their time as a band in the Chicago DIY scene; the latter, from TikTok. The rest of the fans land somewhere in between; perhaps women that were those teen girls just a few years ago. All of them, however, find the same comfort in Trifilio's lyrics about sticky romances, and feeling like an outcast.
"I think that she's really locked in to writing songs that express feelings that everyone has — and maybe feelings that listeners have trouble putting into words themselves," Henkels, the guitarist, offers.
Bassist Vaccaro adds, "Every kid no matter where you come from has always felt not good enough, including myself. It is just nice to be a part of something that inspires the youth and even adults to realize it is all okay we're in it together."
Feeling shitty about the way your body looks, or how a crush feels about you is a private and internal experience, but Trifilio manages to externalize these evergreen issues with such insight and clarity, it can feel as though you're hearing your own emotions spoken aloud for the first time. "We've had a couple people, usually younger girls, [say something] along the lines of, 'I was really struggling with an eating disorder, but 'Prom Queen' was a wakeup call. It helped me,'" Trifilio says "And then they usually cry, and that usually makes me cry."
Trifilio's now preparing to give the world a proper introduction to the band's sound with Honeymoon, the debut studio album that she's been sitting with since May 2019. Originally planned for a September 2019 release, it was pushed back after the band signed to Mom + Pop Records, a move they announced in late October 2019.
Written during a period of "intense heartbreak" for Trifilio, Honeymoon depicts an emotional upswing from start to finish, concluding on a bittersweet and happy note. On the opening track, Trifilio is a fervent ex figuring out how and when to cut ties, singing, "A minute you're there, a minute you cared, now you're gone/ It's so unfair, keeping me from moving on." Meanwhile, "Dream Boy" is a lost John Cusack movie realized; bashful confessions and blushing encapsulated within an energetic chorus: "If you're gonna love me make sure that you do it right/ I'll be under your window in the moonlight."
But the fourth track, "Rearview," is where Trifilio's knack for emotional nuance shines. A song reflecting on a relationship gone sour, she bitterly asks in the chorus, "Was I ever good enough for you?" When the guitars finally slow to a steady chug and she falls into a one-sided conversation — "You loved me/ I loved you/ You don't love me anymore/ I still do/ I'm sorry/ I'm trying/ I hate it when you catch me crying" — it's magic. A cinematic moment best listened to while flooring it down a side road in the pouring rain, or while standing amongst sweaty bodies as stage lights cast a hazy glow across the club — the song is proof that she's among the most relatable writers in her generation.
"This time last year, I was in full existential panic mode," Trifilio remembers, with awe. If she could go back, "I would definitely tell my younger self that everything's going to work out, and it's fine. Just trust your intuition, and don't let people pressure you into using your degree, or doing more conventional things. You know your heart; music is what you want to do."
Honeymoon comes out on February 14 via Mom + Pop Records.