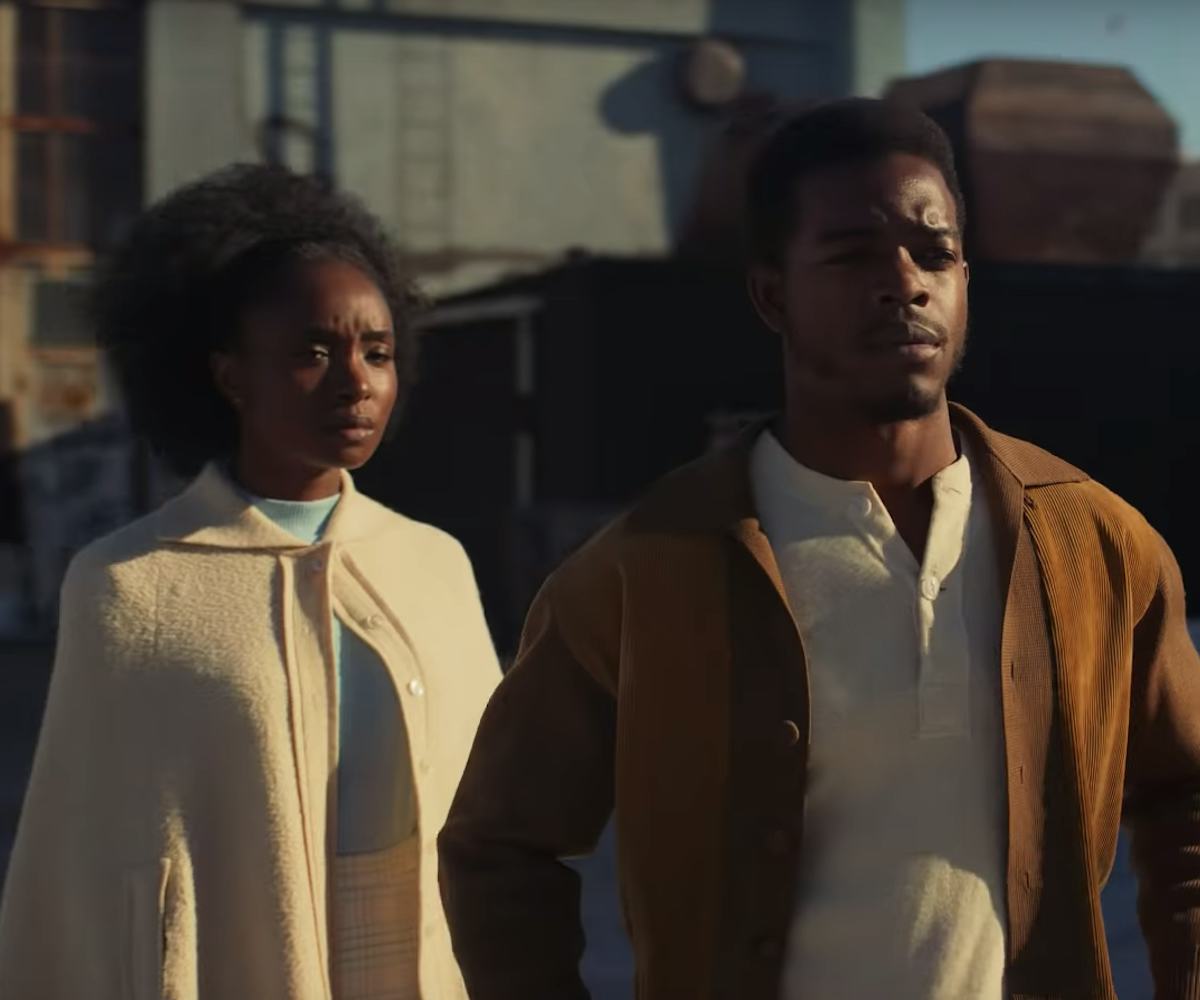 How 'If Beale Street Could Talk' Costumes Evoke Optimism In The Face Of Sorrow
We talk with costume designer Caroline Eselin
Barry Jenkins' If Beale Street Could Talk is one of the most stunning onscreen love stories (romantic, familial, and community) we've seen all year. It's also about the flaws within the criminal justice system, as timely a topic now as it was 44 years ago, upon the publication of James Baldwin's book. It's both the message and the emotional aspect of the film that drew costume designer Caroline Eselin to the project—that, and Oscar-winning director Jenkins.
"First of all, really, if Barry Jenkins wanted to do an infomercial on tires, I would be there in half a millisecond," Eselin tells me. "Then you have this ultimate amazing gift of James Baldwin, and an amazing piece of literature to try to honor." Eselin also worked with Jenkins on Moonlight, so they already had a foundation set. "I think that Barry is loyal and maybe I got lucky."
It's obvious the outfits throughout the movie are going to be something special from one of the very first scenes. We see the main characters, Fonny and Tish, walking hand in hand in New York City during the fall. Fonny's wearing a dark blue jacket and yellow shirt, while Tish is wearing a yellow trench over a blue-and-white patterned dress. "They mirror each other in the beginning because they're sort of synchronic," Eselin explains. "They've known each other their whole lives, and they just do it instinctually."
The entire film is a lesson in color and how to do it right. From the set design to the lighting to the locations, the film radiates in hues of red, green, yellow, and blue. As far as costumes go, rarely, if ever, do you see a character wearing black. That wasn't exactly intentional on Eselin's part, she says, but it wasn't unintentional, either. "I knew, on our principal actors, that it wouldn't work for the film and for our palette," she says. "So, there may be some here or there on some background artists, but it's definitely something we did stay away from. And it may have just been unconsciously, too." The movie is meant to take place in the early '70s, but Eselin also pulled inspiration from the '60s as well (everything in the movie is vintage that she and her team found in either New York or New Jersey), both particularly vibrant eras, she says. "It's so exaggerated, you know, those colors—they have a life of their own."
Eselin points out that green is weaved throughout several scenes and is meant to symbolize new life and meaning. When Tish tells her family she's pregnant, she's wearing a green patterned shirt (and a green corduroy jacket when she tells her mom). When Regina King's character, Sharon, travels to Puerto Rico, she wears green in almost every scene. When Fonny runs into his old friend Daniel on the street, green again. The flashback scenes in the movie also come from "a place of optimism and purity and love," Eselin says, pointing to Tish's yellow and cream costume and blue sweater and white skirt and poncho. "They were so happy and so in love, and we really wanted to convey that."
Eselin took every chance she could get to pay homage to Baldwin and his writing. He wrote about green a lot, which is why she incorporated it so much. Fonny's black-and-red lumberjack jacket was also taken from the book, as was the shopping hat that Sharon wears the day Tish tells her she's pregnant.
Eselin even gleaned the inspiration for Fonny's family from Baldwin's words, though as a unit they're only in one scene of the movie. "Our whole hope was for them to be uppity, as they are written in the book, and to come in with airs on and to be sanctimonious and holier-than-thou," she says. For Fonny's mother, she explains: "Here is a church-going woman who is really, really not, unfortunately, a great person, but she holds herself into this high esteem, and so we'll just put the exact opposite on her of what she is, and that would be a sunny yellow." For Fonny's two sisters: "Baldwin wrote that Adrienne is in something that's younger than she should be wearing and Sheila's in something too old for her. And those were the reasons behind those choices. You know, this kind of babydoll dress that Adrienne's got on, and it is too young for her, absolutely. And Sheila, it almost looks like the clothes are wearing her, in a way." Last but not least is Fonny's father: "Frank Hunt, he has had a tailor shop his whole life, and he is, to me, one of the most fashion-forward in the movie. He has got some swagger, some style to him, because of his career."
Baldwin's words were used as a jumping-off point and the rest sort of fell into place, Eselin says, fairly organically. "[Baldwin] is very descriptive of clothing in the book, and first and foremost, wherever I possibly could, we wanted to honor him," she says. "The rest, it comes from the cast, it comes from who is playing these characters and what is gonna work on them, and then the design of the characters, the design of the family, the design of their environment."
She also pulled inspiration from photographers Gordon Parks, Camilo José Vergara, Bruce Davidson, Sepp Werkmeister, Jack Garofalo, and the Kamoinge group, and looked at the outfits of singers like Nina Simone, and Diahann Carroll and through Nichelle Gainer's Vintage Black Glamour Tumblr. "We also had some Harlem family scrapbooks that Kris Moran [the set designer] found at an antiques market that were amazing!"
The great part about adaptations is you have something to work off of, but there's also this pressure to get it right. The most important part for Eselin was to keep the essence of Baldwin intact. "I always hope, for a person that's read the book and gets to see the movie, that I've hit on something that they imagined it would be." It's part of the reason why she does what she does, "just being so influenced by costumes in movies growing up and having those clothes be memories, and influencing you and your life… I so hoped to achieve that for the design for people. I hope people find truth in it, for them, and that they like what they see."