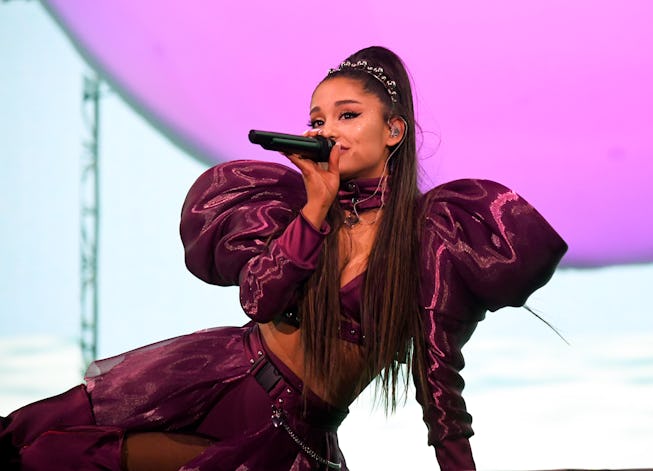 Kevin Mazur/Getty Images Entertainment/Getty Images
Ariana Grande Wore A 3D Spin On Eyeliner
See the freehand look created by her makeup artist.
Let Ariana Grande's latest beauty routine serve as inspiration for your summer look. Sharing an Instagram Story selfie on Friday, April 9, the singer showed off her 3D eyeliner, which was created by makeup artist Michael Anthony.
Over on his Instagram, Anthony revealed that he drew the look freehand. As Grande demonstrated in her photo, Anthony layered eyeliner of two different colors. The double-wing liner looked to be created using a metallic shade of product, and Anthony paired it with lashes.
As for her hair, which was styled with a side bang and miniature pigtails, stylist Josh Liu shared his creative process, too. "#snatchedhair by me @thejoshliu using "the hairtie" in light brown size medium (coming soon) by @utilesbeauty," he wrote.
The weekend look wasn't the first time that Grande's choice of eyeliner has made headlines. She previously paired pigtails with metallic liner for an August selfie, and in September, she paired a black eye wing with sparkle and lines created using gemstones.
As for recreating the look, there are plenty of metallic products that are definitely up to the task. You could try this product, which also features a bit of shimmer, from e.l.f. Cosmetics, go freehand with Makeup By Mario's MasterMetals palette, or use a peel-and-stick variation of liner from facelace.
See the look, below.