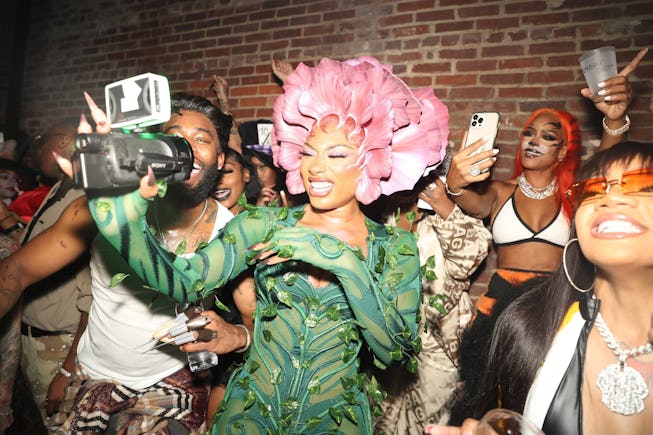 Shareif Ziyadat/Getty Images Entertainment/Getty Images
The Best Halloween Makeup Transformations of 2023
The Best Celebrity Halloween Makeup Transformations of 2023
Halloween 2023 is officially over, so now we can formally deliberate which celebrities won the holiday with the most elaborate, wild, stunning, or even shocking costumes. With the sheer number of surreal and sometimes spooky celeb Halloween costumes that appear over the entire Halloweek, it can be tough to keep track of the best ones—especially when some of our most festive Halloween-loving celebs offer us two or three different looks throughout the season. As the holiday is all about dressing up, wigs, and transformative makeup, it's prime time to see the maxim of what professional glam squads and costumers can do. It's fun to see our favorite stars in different ways (even differently than the characters they may play), including sometimes dressed as one another.
From all-over body paint and creepy contacts to full-on movie recreations, prosthetics, and photoshoots, the top celebrity costumes are totally next level productions. Here, we've rounded up the best celebrity Halloween hair and makeup transformations that win 2023 and you don't want to miss.
Halsey as a Sea Siren
Halsey's dark mermaid look featuring soft scales and ocean-toned makeup was the perfect mix of frightening and ethereal.
Megan Thee Stallion as a Talking Flower from Alice in Wonderland
Megan won Halloween this year at her annual Hottieween party, wearing a cartoon rose-shaped headpiece and matching rosy makeup.
Ice Spice as Betty Boop
Ice Spice and Betty Boop is the crossover we didn't know we needed.
Megan Fox and MGK as Gogo Yubari & The Bride from Kill Bill
While simple, Megan Fox proved that a little fake blood can go a long way this year, with bloody tears as part of her Kill Bill costume.
MGK and Megan Fox as Ryuk & Light Yagami from Death Note
Machine Gun Kelly and Megan stepped out as manga characters IRL, with MGK fully committed to the look of yellow-eyed Ryuk from the series Death Note.
Chelsea Lazkani as Poison Ivy
Selling Sunset's Chelsea Lazkani's embodied the sultry Batman villain with long red wig and major leafy green eyeshadow for Braun's Halloween Party over the weekend in LA.
Hailey and Justin Bieber as Pebbles & Bamm-Bamm
Hailey's choppy wig and high blush made for the cutest Pebbles Flintstone costume to accompany Justin's low-key Bamm-Bamm Rubble costume.
Adele as Morticia Addams
Adele's Morticia Addams was contoured in charcoal and gray to filth and completed with pointy bloody ombre nails.
Austin Butler and Kaia Gerber as Andy Warhol and Edie Sedgwick
Couples who wig together stay together. The cropped 'dos and Kaia's '60s perfect makeup made the Factory Girl looks come alive.
Barbie Ferreira as "Injectable Nurse From Hell"
We loved Barbie's "botched" injectables nurse costume, complete with protruding prosthetic cheekbones and black lipstick.
Leomie Anderson as a Demon
Head-to-toe body makeup was the star of Leomie Anderson's costume this year. It was nearly impossible to see where her barely-there clothes end and skin (and horns) begin.
Alix Earle as The White Witch
The queen of influencers transformed herself into The White Witch from the classic fantasy novel The Lion, The Witch, and the Wardrobe for Heidi Klum's annual Halloween party this year.
Isamaya Ffrench as a Lobster
We wonder if makeup artist and brand founder Isamaya Ffrench used her own Isamaya products for this scary lobster makeup.
James Charles as a Van Gogh Painting
YouTuber and makeup artist James Charles transformed himself into a Van Gogh portrait for Heidi Klum's party—giving face painting a whole new meaning.
Bimini Bon Boulash as "Dark Versailles"
Drag Race UK's Bimini Bon Boulash wore ghostly Marie Antoinette glam for the Dark Versailles Halloween Ball in London.
Heidi Klum as a Peacock
Gilbert Carrasquillo/GC Images/Getty Images
Gilbert Carrasquillo/GC Images/Getty Images
Halloween queen Heidi Klum did not disappoint, with a costume so elaborate it not only required a full beak and head prosthetics but also a crew of people in plumage and face paint to complete the look. Bonus points for her husband Tom Kaulitz accessorizing as an egg in white face makeup.