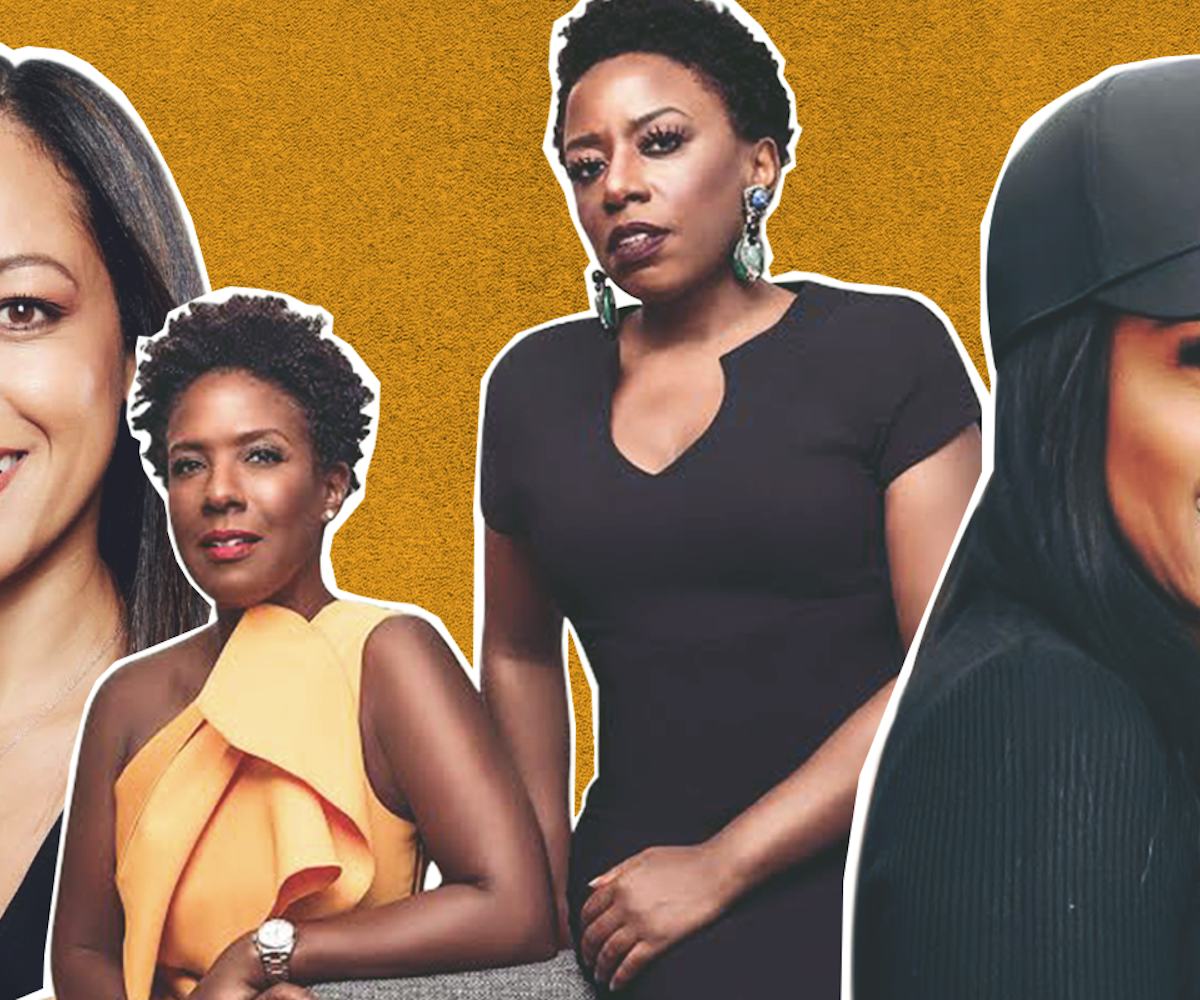 Images courtesy of sources
5 Black Women Executives On Navigating Today's Beauty Industry
"Diversity is being invited to the party, inclusion is being asked to dance"
Getting your foot in the door and reaching C-suite-level success in the corporate world is not an easy feat for any woman — but the sentiment rings especially true for women of color in the beauty industry. Even as we've seen the beauty industry shift towards taking diversity and inclusion more seriously in the last five years, better representing customers across a spectrum of skin shades and gender identities, it's created an interesting dynamic for the Black women actually working at these major companies.
"As a Black woman, I often feel I have three jobs: my primary marketing role, the added job of being a 'voice of representation' in the room, and the role of serving as a resource and advocate for other Black women by helping to open doors and provide more access to seats at the table," Celessa Baker, Senior Director of Brand Marketing, Color at Sephora, tells NYLON.
Consumers being able to see themselves not only provides context as to who the brand is for, but also how society views them — seeing yourself in mainstream beauty campaigns builds confidence in women of all ages. But are Black consumers being represented in the board rooms at beauty companies? And if they are, how do they navigate the shifting landscape? "Within the last four years, the industry has made major strides towards inclusivity," Holly Cann, Senior Brand Manager at Fenty Beauty, tells NYLON. "But even with all the progress that has been made, from inclusive shade ranges to marketing campaigns that reflect non-traditional standards of beauty, I can still walk into a meeting and be the only person of color."
"I can still walk into a meeting and be the only person of color."
For Maiah Martin, Director of Consumer Engagement for Estée Lauder and AERIN Beauty, North America at the Estée Lauder Companies, it's time for the diversity efforts to spill into hiring practices. "African Americans spend $1.2 trillion each year and that number is projected to increase to $1.5 trillion by 2021," she tells NYLON of the beauty category. In 2017, African Americans spent $465 million on skin care alone. "We have immense buying power and that is further rationale for increased diversity and representation in corporate beauty environments. Rooms behind the scenes should be a direct reflection of diverse consumer sets."
These sentiments — and many like them — were the driving force behind the creation of 25 Black Women In Beauty (25BWB), a collective set out to celebrate, elevate and promote Black women in the beauty industry. Founded by Cara Sabin, CEO of Sundial brands, and Ella T. Gorgla, the former Executive Director of Strategic Initiatives & Corporate Innovation at Estee Lauder Companies, the collective serves to highlight these immensely talented women to increase their chances at the C-suite level and beyond, as well as to encourage and support the creation and success of indie brands invented by Black women entrepreneurs.
"If the beauty industry wants to continue to grow, expand and remain relevant, it's imperative that women of color not just be spoken to at the point of sale, but that our contributions in the lab, boardroom and as creatives be represented," says Sabin. "That's where true authentic consumer connection can happen."
Below, the founders of 25BWIB, along with a handful of other Black women executives in the beauty industry share with NYLON their tips and insight on how to make it in the hyper-competitive industry as a Black women, and the importance of taking up space.
1. Come to the table with grit — and a diverse network to lean on.
According to Celessa Baker, Senior Director of Brand Marketing, Color at Sephora, being up for challenges in the workplace is imperative. "Each individual's journey is different and comes with its own unique set of opportunities, challenges and setbacks. A word I learned early in my career was 'grit': in order to make it in corporate America, it takes a lot of grit and dedication to power the journey. Sometimes the path is peppered with luck, but I see that as the exception, not the rule. If I were to share advice with my younger self, it would be to find a diverse network and a support group. Your network will help you get in the door and your support group will help you navigate the emotional ups and downs, but it is all rooted in hard work and grit."
2. Take up space and stick to your values, even if you're the only POC in the room.
Cann's experience that led to her current role as Senior Brand Manager at Fenty Beauty taught her that you should never lose sight of who you are and what your goals are, even if you're the only person of color in the room. "I think you get past it by owning who you are and taking the space you deserve. Secondly, help by creating solutions. Representation is important. It's important to me that the companies I work for value inclusion. I recently collaborated with two other women of color to launch our company's first-ever diversity and inclusion initiative. Our areas of focus are awareness, education, and recruitment. From unconscious bias training to targeted recruitment and talent retention, our mission is to ensure inclusivity is at the core of our company culture and everything we do. I hope my legacy in beauty will not be tied to the brands I've worked for but the impact of creating a more diverse industry."
3. Know that being a Black woman beauty executive is unlike any other role in the world.
Sabin says it's important to remember that while you may come in as one, you represent a group whose buying power is worth $1.2 trillion dollars — and that's significant. "This role is different than any other role I've held before. Black women are our muse, they are our target consumer, and with a company like Sundial, in our community commerce model, everything that you do is to re-invest back into Black women and our communities. So, what it means to me to be a Black woman in beauty now in this role is something very special where I'm uniquely able to serve us."
4. Mentoring the next generation is the only way to ensure more people of color follow.
"It's imperative for people and brands to understand the value of diverse talent at all levels and departments, from product development to marketing to creative, but it doesn't stop there," Martin shares with NYLON. "One of my colleagues always says diversity is being invited to the party, inclusion is being asked to dance. As a Black woman, I want to not only have a seat at the table but also feel empowered to share my views and bring my authentic self to the workplace. I also strive to have open and honest conversations about the benefits, but also the challenges I have faced in the beauty landscape. I have been extremely fortunate to work with an amazing group of people throughout my career in beauty and have had mentors I respect who are always in my corner for support. There is no need to compete with each other. There is room for us all at the table and we deserve to have seats."
5. Don't be afraid to make difficult decisions once you're at the table.
There's this idea that once Black folks are brought into primarily white corporate spaces, they shouldn't make too much noise; they should just be grateful just to have a spot in the room. And while that mentality can be easy to subscribe to at the moment, Sabin says it's important to speak up, and be truthful when making key decisions. "I think it's no secret that there's this browning of America [happening], and according to the statistics, one of every two babies that is born today is a baby of color, not Caucasian. So, as America is becoming more poly-cultural, I think it's imperative that the people that are making key decisions — whether it be deciding what the communication looks like, what the creative looks like, what the product looks like. "There are some very specific needs and concerns within the industry that Black women have. And so, to really drive to it, it does have to make it all the way up to the board room where the key decision makers are. And I think up until this point, the industry has really viewed the Black women as a consumer, only."