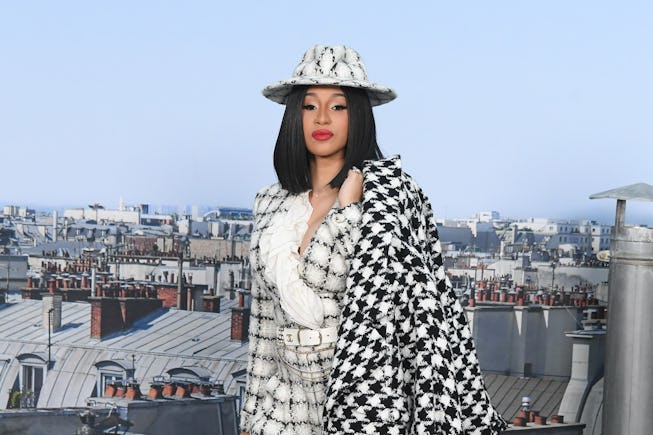 Stephane Cardinale - Corbis/Corbis Entertainment/Getty Images
A Cardi B Haircare Line Is Coming Soon
She revealed the news on Instagram.
Cardi B is the newest celeb to express an interest in joining the beauty industry. The unofficial beauty scientist spent much of 2020 sharing her recipes for DIY hair masks, and in a recent Instagram post, she confirmed that she's working on a line of hair products.
As Buzzfeed News reports, Cardi shared the news after addressing some negative comments that were posted on a recent video of her natural hair. Posting an image of one of her recent tweets, she wrote, "This year I will be coming out with a hairline that I been working on at home for my hair and my daughters however, I think is time for people to educate themselves on nationality, race and ethnicity."
She continued, telling followers, "Being Hispanic/Latina don't make your hair long, don't make your skin light or don't make your face features slim specially Latin countries from the Caribbean islands. Dna have something to do with your hair not your nationality but guess what you can always maintain your hair..."
As of yet, Cardi B hasn't confirmed whether any of her previous DIY hair masks or recipes might be included in the upcoming line, but a previous patent filed in 2020 could contain a hint. Along with possible plans for bath and body products, Cardi B's trademark had covered hair care preparations.
For those that absolutely can't wait another second for a Cardi B-approved line, you can always reference this Instagram video posted in 2020, which contained the recipe for an avocado mask that the performer swore by for hair growth and hydration.