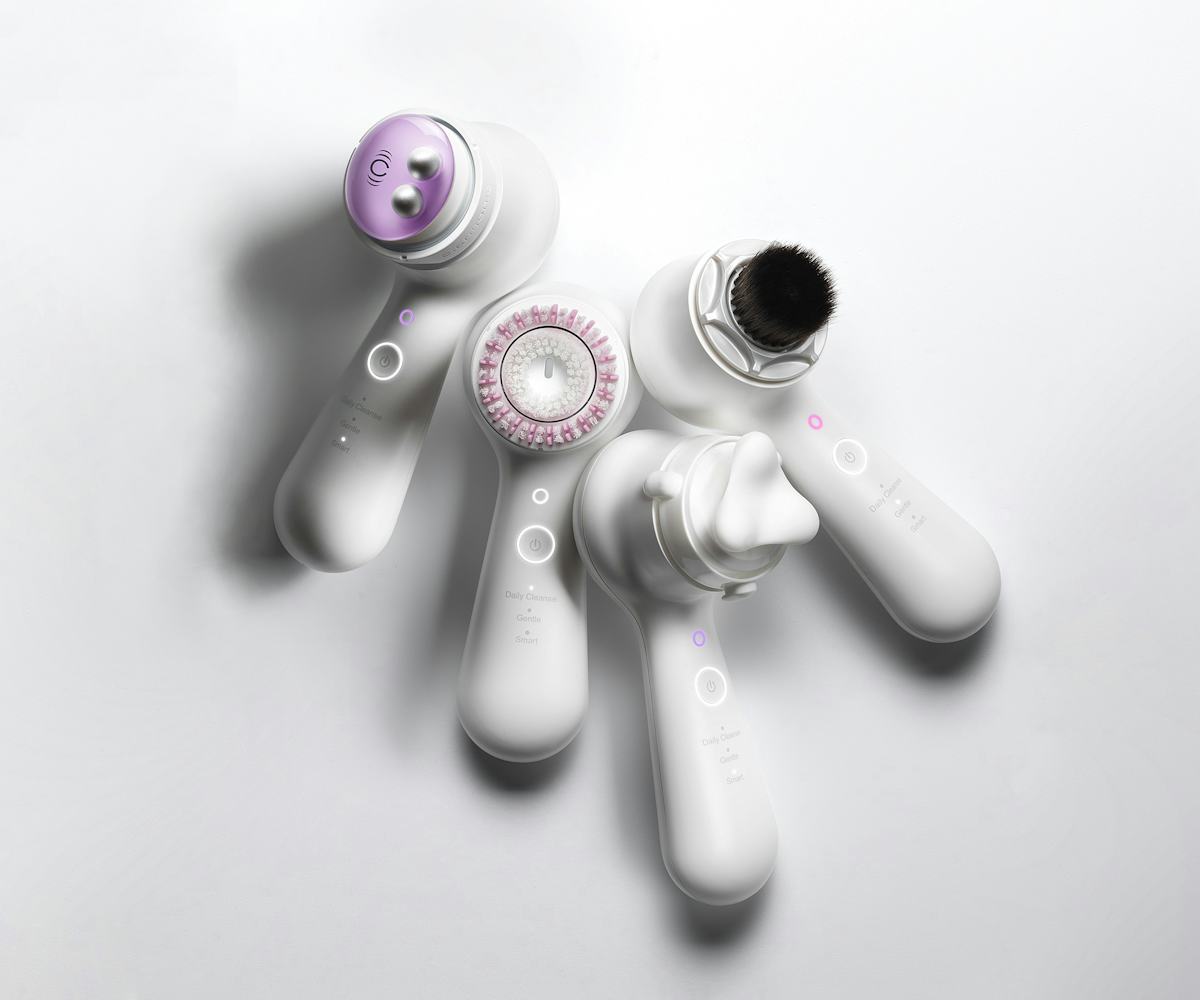 Photos courtesy of Clarisonic
Clarisonic's New Device Will Remind You When It's Time For A New Brush
The beloved tool just got a smart upgrade and new attachments
It's no secret that Clarisonic's cleansing and makeup tools are total life-changers—just ask our own editors. And just when we thought putting our best face forward couldn't get any easier, the tools brand unveiled its new smart device that, along with a number of other cool features, tells us exactly when to change the brush head. Yes, we never have to count three months again (bless)!
Aptly titled the Mia Smart, the Bluetooth-connected, updated version of Clarisonic's classic Mia tool allows us to cleanse, apply foundation, firm sagging skin, and—as of today—give ourselves an eye massage, all with the click of a button. Mia Smart also allows you to control the frequency of the tool, for a softer or more intense cleanse, and tracks your usage via the brand-new Clarisonic app. So, if say, you used your cleansing brush once a week, as opposed to every day, it will decide when it's time for a new head based on your usage, not time (the device will also alert when you hit three months, regardless of usage, if that's what you prefer). The app will also give you a personalized brushing routine that's customizable to your skin type and concern. Welcome to the future!
In addition to the Mia Smart, Clarisonic is introducing the cheaper Mia Prima, an updated version of its classic Mia brush but without the smart capabilities. And that's not all! Along with the two new tools come the Sonic Awakening Eye Massager, which works wonders on tired eyes, and updated cleansing brush heads, which brighten and even dull complexions and remove more impurities than before thanks to their new design. 
The best part? If you already have a Clarisonic device, you can trade it in for a credit to use toward a purchase of the Mia Smart. Head to Clarisonic.com now to pre-order your Mia Smart or shop the new Mia Prima and brush heads, now. Take a closer look at all of the new Clarisonic gadgets, below.
Clarisonic, Mia Smart, $199, available for pre-order at Clarisonic.
Clarisonic, Mia Prima Sonic Facial Cleansing Brush, $99, available at Clarisonic.
Clarisonic, Radiance Cleansing Brush Head, $27, available at Clarisonic.
Clarisonic, Sonic Eye Awakening Massager, $59, available at Clarisonic.