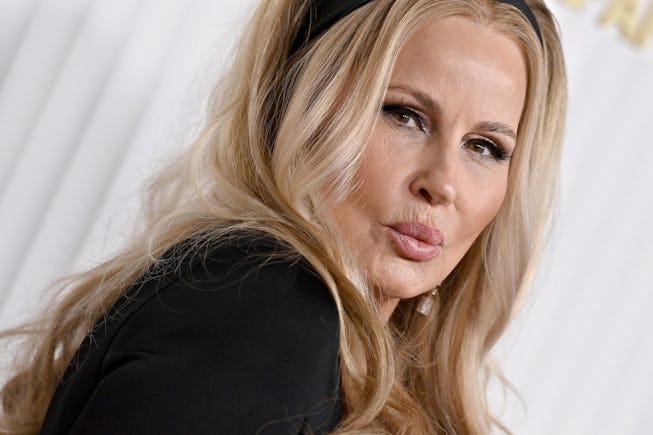 Jennifer Coolidge Is Sharing The Secret To Her Signature Pout
The star has teamed up with e.l.f. Cosmetics for her take on the lip-kit.
We may receive a portion of sales if you purchase a product through a link in this article.
Inspiration really can strike at any time. That's how we sometimes get the best ideas in the shower or while mindlessly walking the dog. For Jennifer Coolidge, ideas can even hit while on set filming a commercial— and spark an exciting new beauty collab.
In a blooper from Coolidge's Big Game commercial shoot with e.l.f. Cosmetics earlier this year, when she was asked what would name her own lipstick if ever given the chance, the actress cheekily suggested "Dirty Pillows" or "Swollen." The clip inspired a viral reaction, including many makeup fans clamoring to buy the shades from an imaginary beauty line. E.l.f Cosmetics' took their fans' requests seriously and set to make a collaboration with Jennifer featuring her imagined shades.
Together the elf and Coolidge came up with the ultimate kissable lip kit offering everything you need to get her signature pouty lip look—with a side of salacious humor. The e.l.f. x Jennifer Coolidge Dirty Pillows Lip Kit will be available starting Sept. 27.
Jennifer shares, "a key part of my favorite look is exaggerating my lips by combining lipstick with liner and gloss in just the right colors to make them look bigger" in a press release for the brand. The four-piece kit contains all the makeup elements you need, in shades hand-selected by Coolidge to feel most authentic to her own look. The lip kit includes, e.l.f. Cosmetics O FACE Satin Lipstick in shade Dirty Pillows, Cream Glide Lip Liner in shade Fill Frontal, and the Lip Plumping Gloss in shade Swollen. The kit also comes with an adorable mini mirror that reads "Lips Are the Mirror to Your Soul Mirror" all nestled in a boudoir-inspired pink satin lined box. This trinity of horny lip products and compact mirror, e.l.f. x Jennifer Coolidge Dirty Pillows Lip Kit will sell for $25, exclusively at elfcosmetics.com.
For all things Dirty Pillows—and to see more of Coolidge wearing the lip products the way she does best, you can check out e.l.f. Cosmetics' social channels.