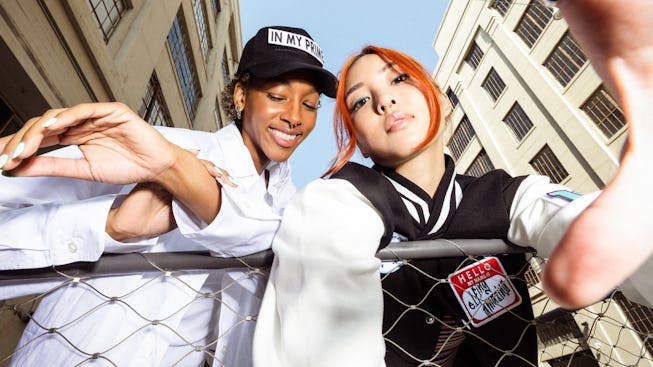 e.l.f. Cosmetics
e.l.f.'s New Customizable Merch Is Sticky AF — And We Want It All
It's giving all the '90s and Y2K nostalgia.
It's no secret that our friends at e.l.f. have been launching viral hit after viral hit — and naturally, their new limited-edition merch collection is sure to be no exception. Somehow knowing exactly what we need out of life, the It beauty brand's Sticky Shop Merch line (inspired by its OG Power Grip Primer) is dreamily nostalgic, complete with the prettiest blue-green slime we've ever seen.
That's right, slime. In addition to a retro letterman jacket and hat straight out of your favorite early aughts flick, e.l.f. created a gorgeous, glitter-infused teal slime inspired by their TikTok-famous primer. Also of note is the fact that the aforementioned jacket and hat can both be customized thanks to hidden Velcro and a variety pack of decorative patches. Pretty epic, if you ask us.
And, because it's e.l.f., there's a give-back element to this amazing collection, too. The brand is donating $100,000 to the Whale and Dolphin Conservation (WDC) — whose mission is to protect whales and dolphins — with up to $25,000 worth of proceeds from the Sticky Shop Merch collection benefiting the important cause, too. So, not only are you getting a rad gift for yourself, but your money is going to a really worthy cause.
All this to say: Shop the 100% vegan and cruelty-free brand's soon-to-be-sold-out Sticky Merch line before it's too late.