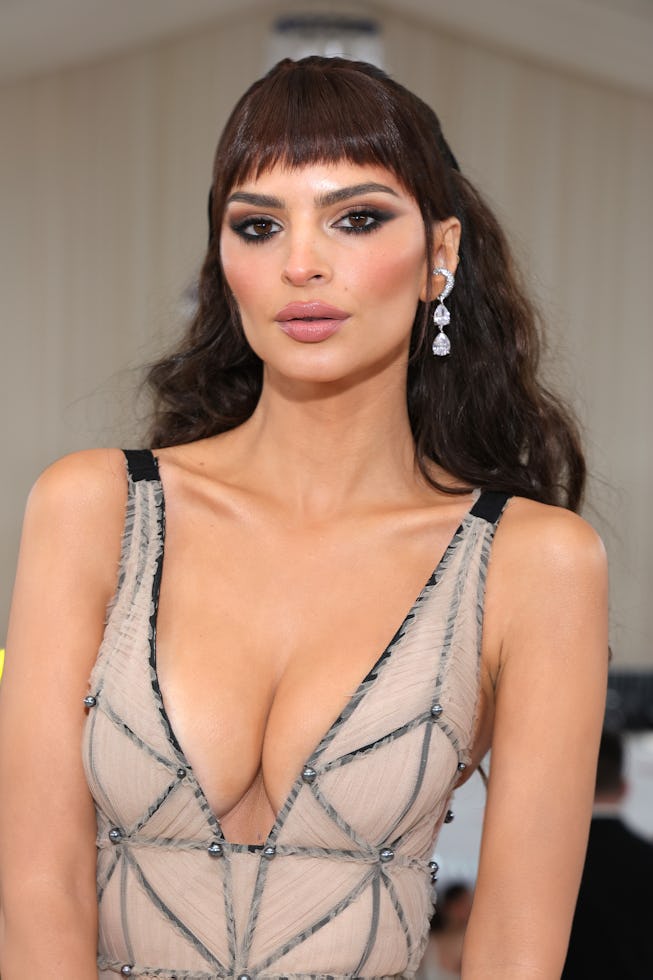 Kevin Mazur/MG23/Getty Images Entertainment/Getty Images
Emily Ratajkowski Debuts Micro Bangs at The Met Gala
The internet is experiencing bang-related trust issues.
Emily Ratajkowski has a long love affair with faux bangs, but the model swears her Met Gala micro bangs are real. Arriving on the steps of the Metropolitan Museum of Art in New York in a tulle gown by Tory Burch with black ribbon detailing. The focus, however, was on her new micro bangs, taking center stage as the rest of her hair was waved and pulled back in a half-up, half-down look with a black ribbon.
In a video at the event, posted by The Cut, Emily confirmed the new micro bangs are real. "I had a fringe already, but just went a bit shorter", she said in response to a reporter asking about her new 'do. Considering that she was posted by her makeup artist Hung Vanngo just last week with (temporary) pink hair, we can tell the model is in the mood to switch up her hair.
Emily had previously worn faux bangs at Cannes Film Festival last year. Her hairstylist Jennifer Yepez later revealed that the look was created using temporary clip-in bangs, allowing Emily to embrace the French-girl look without the long-term commitment. Before that, she wore a clip-in while attending the Marc Jacobs Spring 2018 fashion show.
While Emrata has been rocking (real) curtain bangs this year, you can understand why her fans are skeptical that her new micro fringe is real. "Is it just me or do these look like clip-on bangs," commented one person on the video. Considering that baby bangs are always a bold move, debuting them at the Met Gala is a whole different ballgame. For better or for worse, there are clearly some bang-related trust issues to resolve here.