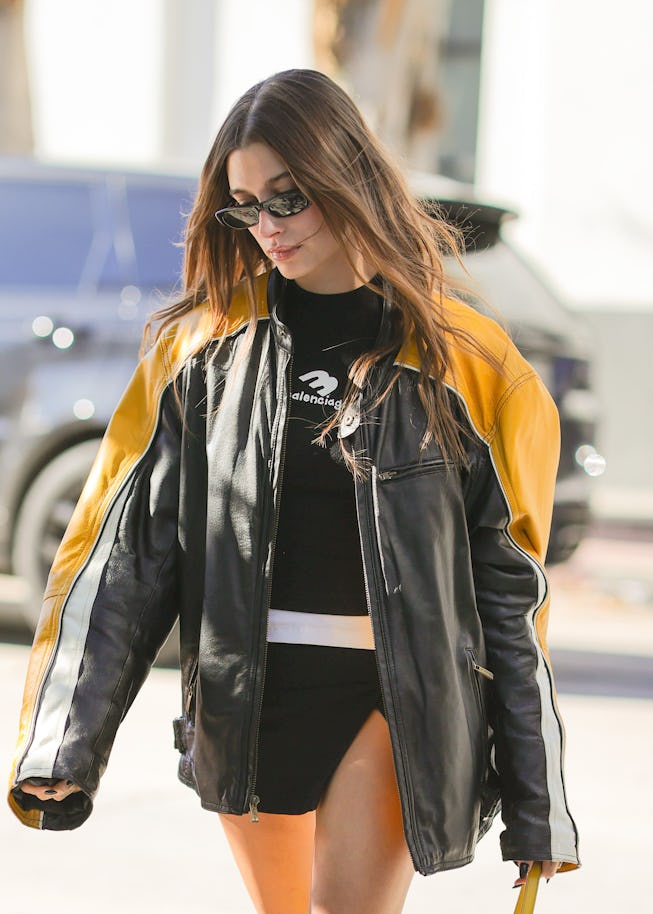 Rachpoot/Bauer-Griffin/GC Images/Getty Images
Hailey Bieber Just Got A Margot Tenenbaum-Inspired Blunt Bob
The model is loving her fresh new cut.
In the world of hair, there are times when the urge to commit to a drastic chop is higher than most— a dramatic life event, a change of seasons, or when entering the new year. It looks like the latter has gotten the best of Hailey Bieber, who just debuted a new blunt bob cut on January 21. First posting her new short hair on her Instagram stories on Saturday with the caption "oops", along with a TikTok video with the same caption, and later sharing a few more selfie snaps of her new cut, Hailey clearly can't stop showing off her new look.
While Hailey has kept her long hair for over two years, going from blonde to her current shade of "expensive brunette" last year, she used to rock a blonde lob back in 2020. So, with this fresh bob, the model has drawn comparison to her younger self. With this switch, fans are noting that she's returning to her earlier style, only with her updated, darker hair color. "Hailey Baldwin she back," commented one creator on the video. "Very Hailey Baldwin of you💅🏼," wrote another. Hailey herself, however, has drawn comparisons between her new look and Gwyneth's Paltrow's character in 2001's The Royal Tenenbaums. She posted to her Instagram stories a full-length mirror selfie with the caption "Margot Tenenbaum for the foreseeable future", obviously referencing the character's iconic super slick and straightened bob.
Aside from the multiple selfies and videos on Instagram and TikTok, Hailey has already taken her new hair out for a spin in public, spotted yesterday with her husband Justin Bieber walking around New York City. Pairing the new haircut with a grey pleated skirt, large black coat, and loafers with white socks, the model is leaning into a chic preppy style, her hair parted down the middle.
Over the past year, Hailey has established herself in the beauty world, with the launch of her skin care brand Rhode and her signature glazed donut nails going viral. While the chic chin-length bob has never gone out of style, Hailey's return to short hair will no doubt inspire others to do the same this coming season. Taking her old favorite length and pairing it with her new favorite hair shade, she's giving us major spring hair inspiration.