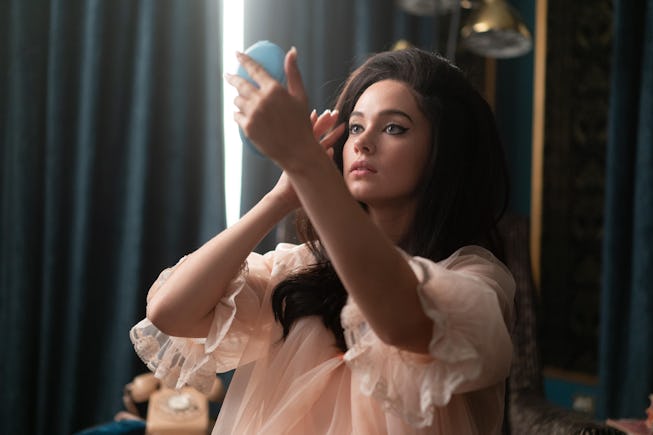 Half Magic Beauty Just Dropped The Ultimate 'Priscilla'-Inspired Makeup Kit
Recreating Priscilla Presley's iconic 1960s cat eyeliner has never been easier.
We may receive a portion of sales if you purchase a product through a link in this article.
A24's Priscilla, the Priscilla Presley biopic directed by Sofia Coppola and based on her 1985 memoir Elvis and Me, has a highly-anticipated release date of November 3rd. But you don't have to wait until then to start channeling Priscilla's iconic 1960s beauty look. Whether you want to try out rock and roll royalty makeup IRL or lean into what's sure to be one of the biggest costumes of Halloween 2023, you can get a leg up on trend with a brand new makeup kit inspired by the movie. The Priscilla x Half Magic makeup collaboration just dropped today, containing everything you need to recreate Priscilla's legendary eye makeup. Euphoria makeup artist Donni Davy co-created Half Magic with A24 just last year as an extension of her signature glittery, colorful, and creative makeup style. This new makeup kit marks her first official collab with an A24 film and the versatility of her aesthetic and collection.
The limited edition set celebrates Sofia Coppola's latest film with a trio of products in the style of Priscilla Presley, in a box featuring the 1960s eye makeup inspiration. The kit includes the Magic Flik, the brand's ultra-bold calligraphy eyeliner pen for effortless one-flick cat eyes, Wing Magician, a special handheld guide with a unique diamond silhouette just for perfecting wings, and Eyelectric Extreme Lengthening Mascara. The Priscilla x Half Magic makeup set is available for $49 on A24films.com, halfmagicbeauty.com, and Ulta.com.
Hulton Archive/Archive Photos/Getty Images
With Davy being credited with the "Euphoria effect", setting off a years -long trend across the makeup world, this new makeup collab braces us for an upcoming "Priscilla effect" in the new season. Priscilla's signature look of pitch black and extra-thick, winged eyeliner, full lashes, and big, bouffant hair, (as made especially famous in Priscilla and Elvis' 1967 wedding photos) established her as a true beauty icon that inspired many of her fans to go bigger and bolder with eyeliner. No doubt there will be a new wave of Priscilla imitators post the premiere of Sofia Coppola's buzzy new movie. Luckily, the Priscilla x Half Magic makeup set is here to help just in time to teach makeup novices how to draw precise wings or to simply level up the makeup pros' kits.