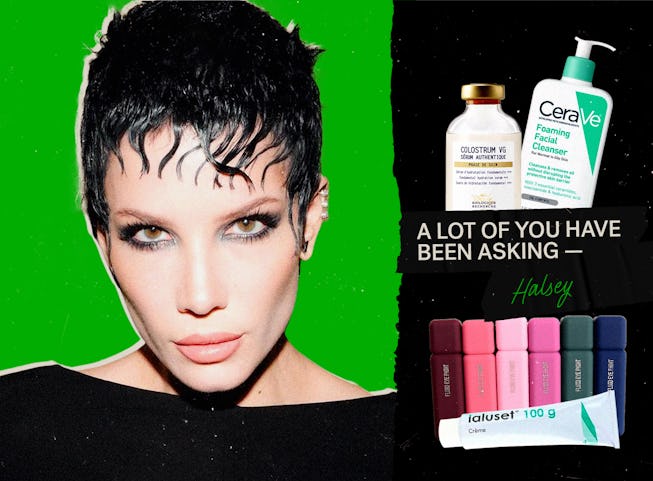 Lais Borges/Nylon
A Lot Of You Have Been Asking
Halsey Says Breast Milk Is The Best Skin Care Secret
The About-Face founder on experimenting with makeup, French pharmacy skin care steals, and the $15 mascara she swears by.
Written by Taylor Jean Stephan
We may receive a portion of sales if you purchase a product through a link in this article.
Aside from being a talented musician, Halsey is equally as recognized for her often eccentric makeup looks which, fun fact, she has been doing on herself for over a decade. "There's a tremendous amount of independence that comes from being in control of your own face and that's the feeling that I get that I want to give to the fans," says the About-Face brand founder in an exclusive interview with NYLON. The bold, color-forward makeup line, which launched in 2021, has only been steadily growing in popularity ever since—leading with the brand's long-wear and sweat-proof eye products ranging from bold liners to artist-inspired eye paints. Just this last month, the brand hit a major milestone—officially launching in Ulta, one of the largest global beauty retailers in the world.
"About-Face is based on being creative as opposed to correcting your face," Halsey describes. With the line, the "Closer" singer hopes to steer their fans away from today's unrealistic beauty standards by encouraging them to embrace their own features instead. "I wanted to give that same power to the fans that I had found in accepting that this is what my face looks like, and I need to love what my face looks like," they note. The fun-focused brand encourages using your face as a canvas for personal expression: "It's meant to be a fun gateway brand to take you from novice to expert by giving you a lot of tools to play with...letting mistakes turn into really creative moments." Think of About-Face as present-day counter culture of sorts, inspired largely by the artist's rebellious upbringing.
Read on for more Halsey musings on going against the grain, finding peace with aging, and skincare staples they can't live without.
What is your earliest makeup memory?
"It's got to be my mom. She was definitely really into that brown-lip-'90s-grunge look. She had these two shades of MAC lipstick she used all the time: Shiitake and Stone. They were both kind of brown—one was more cool toned, one was more of a reddish brown. I remember that lipstick rolling around in her drawer and I remember trying it on."
How do you feel your mom influenced your view of beauty?
"Her bravery in wearing those shades, and being unafraid to be herself—even if the look was more intense than what my friend's moms were wearing—is what I've always loved about her. She was always that way with everything. Flash forward 20 years later and I definitely lean more towards alternative styles of makeup."
Sounds like she taught you the power of authenticity from an early age.
"She had a pixie cut when I was a kid, she pierced her tongue, and she had tattoos. I just grew up in such a space where experimentation was the norm and not an act of rebellion. I feel incredibly comfortable existing in that space. It's all I've ever known, and that's largely because I had her as the greatest example of that."
You're really big on mental health. What's your take on how beauty and mental health are connected?
"They definitely go hand in hand. I find that when my mental health is better, I'm looking in the mirror less and when my mental health is worse, I'm looking in the mirror more because I'm looking for external validation when I can't find it inwards. It's almost like when you're feeling insecure or unworthy, you break out the magnifying mirror and you want to just feed into it and make it worse. So I try to reject that."
How do you practice staying grounded?
"I spend a decent amount of time with no makeup on. That's really important to me because with press and photo shoots and shows, you see yourself done up all the time and then it can be really easy to believe that you are only beautiful or worthy when you look that way. I'll be on a shoot and there's people behind the monitor saying, 'You look amazing', or someone sees me at on a red carpet and they say, 'You look stunning'. Then I'm thinking, 'Am I only receiving that kind of affirmation when I have gone to extreme lengths to present myself in a certain way?'"
Sounds like that can really mess with your head.
"I noticed when I would talk to my peers, there was this disconnect from what you think you look like in an edited photo versus a paparazzi shot or a fan photo. You start to build this psychological divide of what you think your face looks like versus what your face actually looks like. It's become exceptionally more important to me to be able to to look at my face and say, 'This is who I am, this is how I look, and that is okay and I accept that'. I want to make sure that I'm setting myself up for success as I continue to age in this industry and to be at peace with that process."
On a lighter note, what are your holy grail beauty products?
"I'm a firm believer that the About-Face 1994 Mascara is the best mascara ever made. I'm not just saying that. We worked really hard on that formula—it coats your lashes in a really nice way and it builds and separates. I have really short eyelashes and this mascara has fully replaced my need for false eyelashes."
What's your favorite makeup look to do right now?
"I'm really into a dramatic reverse eye contour using the hollows of the inner corners. I'm 28, approaching the end of my twenties, and my face changed quite a bit in the past year. My eye sockets are a little bit more pronounced and instead of getting upset about that, I've just been using it to build really editorial looks. I'm obsessed with our Matte Fluid Eye Paints for this. They're super long-wear and user-friendly and you can mix colors and create custom shades. I think that's really fun."
And what about skincare?
"Just in general, I love hyaluronic acid. I actually use a French pharmacy hyaluronic acid paste called Laluset. I mix it into serums and face lotion because it has a white cast if you don't dilute it. I even use it as a lip mask. And I know everyone's anti-makeup wipe, but they're good when you're doing really thick, editorial-type looks. I also always try to break it down with a really simple cleanser like Cerave's sensitive skin one."
Lastly, how has your routine changed since you had your son?
"I've always been really conscious about what goes on my skin, but when your baby is kissing you or snuggled up against you, you become hyper-cognizant of what's on your face. I love the Biologique Repecharge's colostrum VG serum, which I got into when I first had my son. I started breastfeeding and I figured out that breast milk is the best skincare ingredient ever because it's so full of antioxidants and good fats and stuff that speed up the healing process."