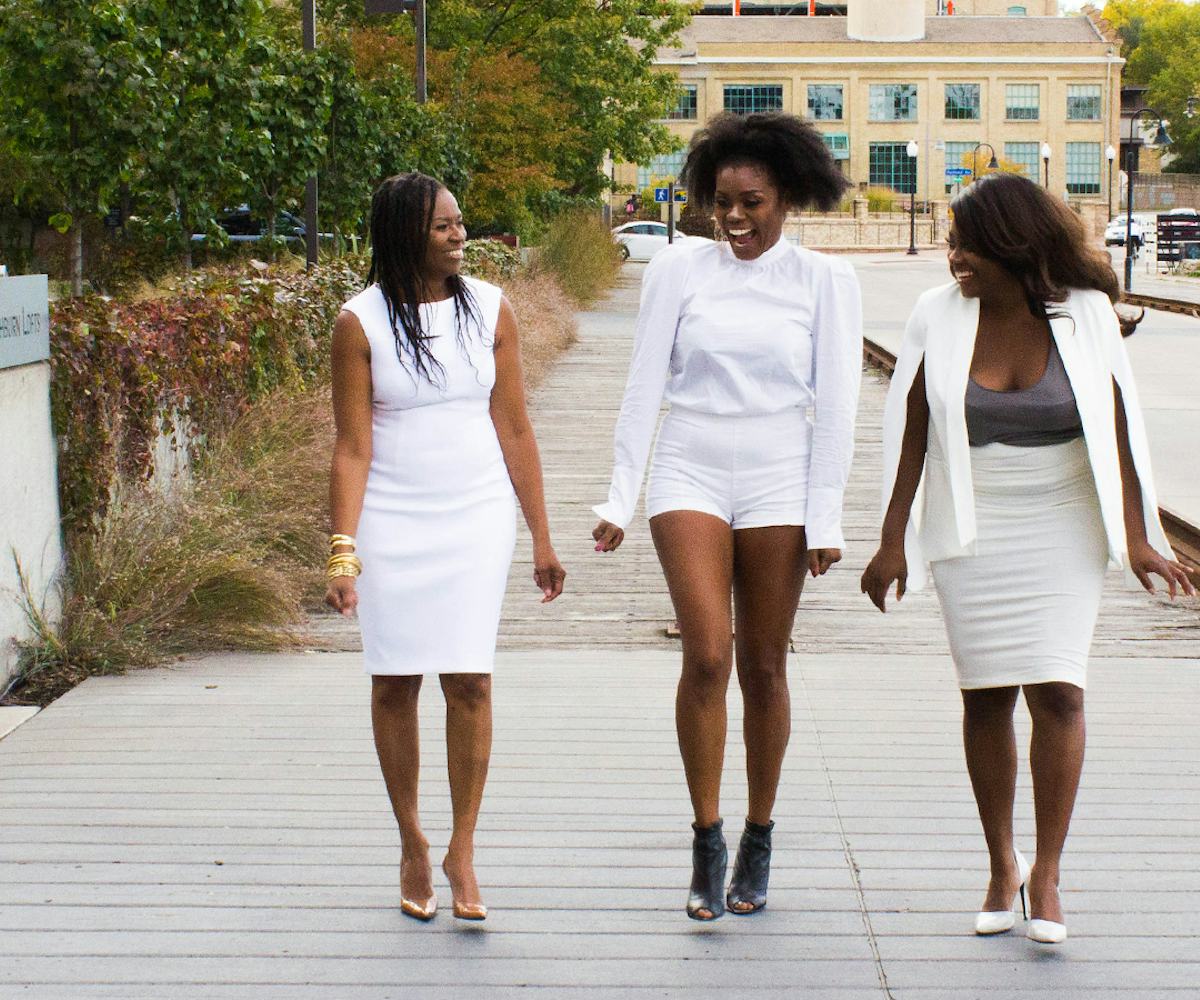 Photo by Celisia Stanton
Jasmine Harris Is Sending Pro-Black Beauty Boxes To A Doorstep Near You
One of the co-founders of HuesBox shares her story
In celebration of Black History Month, NYLON is running a spotlight series called UNAPOLOGETIC. Every day, we'll celebrate different aspects of black culture through profiles, interviews, roundtables, reviews, videos, and op-eds. #Blacklivesmatter and we hold that truth to be self-evident.
There are plenty of subscription services out there, but not many of them are created by and for people of color. Dr. Jasmine L. Harris, an assistant professor of sociology at Ursinus College, and her family noticed this gap in the beauty industry and decided to do something about it. Dr. Harris, her sister Jenae, and their mother Robin co-founded HuesBox, a subscription service with a purpose of decolonizing all things health, beauty, and wellness for men and women of color.
Reflecting on her midwestern upbringing within the borders of Minneapolis, Harris recalls the lack of diversity. "Black people were few and far between unless we were at family events, so it was very difficult to maintain a constant connection to our culture and heritage," she says.
However, Harris' mother was adamant about maintaining those connections and would often expose them to music and art that highlighted the talent and beauty of black people. "We were raised not only to believe we could do anything but also that we had the ability to be the best," Harris says. "That stuck with me, providing the foundation for HuesBox and constantly pushing me forward." 
As a sociology professor, Harris often teaches about institutional racism and sexism in the U.S. When she started college, she didn't want to be a professor at all—she planned on being a lawyer until an introduction to sociology course changed her mind. "For the first time in my life, I was dissecting the world around me [and] giving names to my experiences, especially around race and gender," she says.  
Harris feels that being able to locate yourself within the social world, but also to see the world beyond just your own experiences, is the most important skill for a sociologist. She adds, "I learned this while completing my Ph.D. in sociology, but an easy start is just to open your eyes a little wider and ask yourself why things happen." 
We talked to Harris in depth about why her family decided to move forward with HuesBox and how they plan on continuing to make an impact on the beauty world. Read all about it in the interview, below.
What motivated you to launch this business?
We came up with the idea after years of difficulty identifying hair, skin, and wellness products we could use. I started using subscription boxes five years ago but never received a box where I used a majority of the product samples. I was complaining to my mom and sister about my disappointment with the subscription boxes in November 2015 when we came up with the idea of HuesBox. We sold our first sample-size boxes at The Gathering!, a women of color expo in Minneapolis in November 2016, so it took about a year to get everything ready for launch. We were motivated by the clear hole in the marketplace. We knew nobody was doing something like HuesBox and we wanted to change that.
Why did you decide to do this with your mother and sister?
My mother, Robin, and sister, Jenae, are successful businesswomen in their own right, so it was always the best choice for us to create this company together. Jenae is the reigning Miss Twin Cities and owns and operates her own event planning company. Robin is the director of human resources for Minneapolis Public Housing Authority. We consult each other on professional decisions often, and I trust their business mindset. More importantly, when you're running a small business, I trust them to make quick decisions on the run without always consulting me first. We all do a bit of everything. That's the fun of working together and having faith in each other's abilities.
Why do you think the subscription service model is so successful?
Subscription boxes work because subscribers are able to try a variety of products at one time without the financial commitment of buying full-size products before a trial. It's convenient, but also cost-effective. Unfortunately, before HuesBox there were no subscription boxes in the beauty, health, and wellness space that seriously considered the needs of people of color. We've seen complaints about big subscription box companies' inability to get this piece right. HuesBox aims not just to get right, but to do it well.
How do you go about finding all of the brands to include in your subscription service?
Because we are committed to working with small businesses owned and operated by people of color, identifying brands that are a good fit for the box is time- and research-intensive process. We comb social media, search the internet, and take word-of-mouth suggestions. Potential brand vendors send us a few samples to consider for inclusion in HuesBox. When we began creating HuesBox, we realized that there were so many individuals creating amazing products, but they were also having difficulty reaching their target market and scaling up to develop a broader reach. We see HuesBox as the link between these small businesses and their target audience of people of color. That means if HuesBox is successful, so are all the companies we work with. The products in your HuesBox are probably not products you've seen at your local Target, and that's exactly the way we want it.
What are some of the challenges that you all have faced so far with the business?
Subscription boxes are not a traditional consumer product and therefore cannot be run like a traditional consumer business. One of biggest challenges has been figuring out the most effective ways to curate, box, and ship HuesBox each month. It has definitely been a process, but we learn important lessons every day. That's something that scares a lot of people about entrepreneurship; there is a measure of trial and error to it. You have to have the stomach for handling the unknown every day.
How do you feel about representation in the beauty and cosmetics industry? How do you see this improving?
For decades, representation of people of color in the beauty industry has been lackluster, with a focus generally on light-skinned, racially ambiguous models to market cosmetics, ignoring the rest of the diaspora. I think we're starting to see that improve a bit with beautiful women like Lupita Nyong'o and Sofia Vergara securing big cosmetics deals. There is still much work to be done, though. Where are the Indian men and women, and the deep rich dark-skinned Black and Afro-Caribbean folks? What about Native Americans, Latinos, Hmong, Thai, or the Aborigines? This is just a fraction of missing representation in the beauty industry. We, humans, come in so many beautiful hues in this world. It's time to start acknowledging the diversity of our beauty.
Your company provides a service that caters to the multicultural market. Why was it important for you to be so inclusive?
As black women, we are clearly aware of the issues for us in the beauty and wellness market. However, we also understand that our experiences in this regard are not unique to our blackness. This is about all of us. The consumer power of men and women of color is a routinely ignored as necessary revenue stream, so few companies have a vested interest in marketing products directly to them. We hope HuesBox shows those companies their mistake. Instead of relying on big name brands to throw attention our way, we'll elevate the brand recognition for minority-owned small businesses. If they won't include you in the market, we say create your own!
During this difficult period of social injustice, what keeps you inspired to wake up and get up every day?
I can't pretend that these days don't feel dark, and some days, it's difficult to get up and keep going, but my freedom and my autonomy inspire me to keep pushing forward. No one has control over my words, my actions, or my drive but me, so it's my responsibility to use them to affect change and to guide and protect me in the continuing fight for social justice.
What are you hoping to accomplish with HuesBox? What are some of your goals for the company?
We hope the HuesBox movement continues to expand. Our goal is always to bring subscribers high-quality, but relatively unknown, products. We'd also love to see economic growth among our vendors as their businesses expand. We hope subscribers are excited to receive their HuesBox each month because we're always excited to curate them.
What is one piece of advice that you would you give to a younger version of yourself?
Don't recoil from racial conflict or tension. It helps no one to bite your tongue. Every time someone says something racist or sexist to you, call them on it. Relieve yourself of the pressure to placate those willfully ignorant of the suffering in the world around them. Oh and also, you're amazing, never let anyone tell you otherwise!