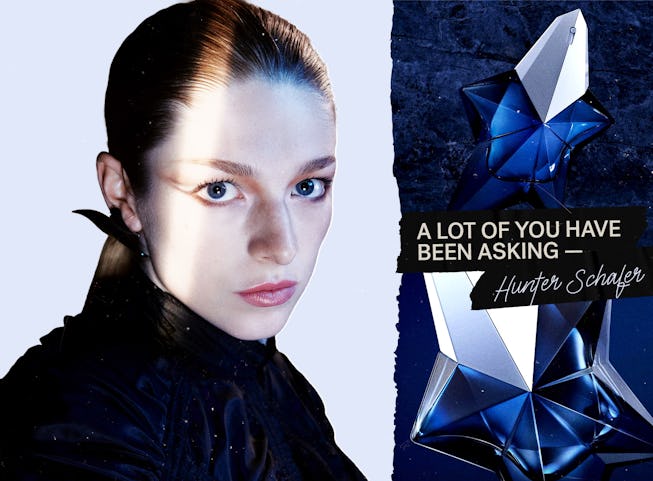 Hunter Schafer Doesn't Need Beauty To Self-Actualize Anymore
The actor and face of Mugler Angel Elixir talks all about smelling good and feeling good.
We may receive a portion of sales if you purchase a product through a link in this article.
Hunter Schafer's convincing portrayal of Jules Vaughn in HBO's Euphoria could almost make you believe she's just a regular teen and not a 24-year-old high-fashion model who has walked for brands like Gucci, Coach, Margiela, Rick Owens, and Mugler. As an actor, Schafer effortlessly embodies new characters, most recently entering The Hunger Games universe starring in this month's highly-anticipated prequel, The Hunger Games: The Ballad of Songbirds and Snakes. But as herself, her confidence and otherworldly beauty make her a natural fit as the face of Mugler's latest scent, Angel Elixir.
When Mugler Angel Eau de Parfum originally came out in 1992, it birthed a new category of perfume: gourmand fragrances. Fanfare for the breakout fragrance immediately grew and gained celebrity fans ranging from Barbara Walters to Diana Ross to Jerry Hall. A sweet but powerful scent that takes up space, Angel soon became the ultimate party perfume. Now, with Hunter as the face of the newest edition of Angel, the reinvented launch explores the "augmented femininity of today's fearless supra-women." Promising an out-of-this-world scent experience with notes of pink pepper, orange blossom, and a bourbon vanilla infusion, Angel Elixir is exemplified by Hunter dancing through outer space in the new campaign. However, the model's hopes for how she is perceived by others day to day are much more grounded. "I just hope when someone encounters my scent, they think I smell good and would like to keep smelling me," she laughs.
Below, Hunter talks with NYLON about feeling and smelling good.
WHAT IS YOUR EARLIEST BEAUTY MEMORY?
My earliest beauty memory is probably in kindergarten, getting one of those little plastic rings with lip gloss in it that you could open up like a locket and then put on your lips. It was a little prize in the treasure box at school or something.
WHAT ABOUT YOUR EARLIEST MEMORY OF FRAGRANCE?
My earliest fragrance memory is probably pretty common, but I think it's the smell of my mom. She wore the same perfume for most of her life and she's a very strong, cool lady. She's one of my favorite people in the world. So every time I smell that scent in particular, I get overcome with the memories of being raised by that incredibly powerful lady.
WHAT DO YOU LOOK FOR WHEN PICKING A PERFUME?
I just want it to feel cohesive and part of the entire look that I'm putting together, because I feel like it's another element of putting beautiful armor on yourself when you're assembling yourself to get ready to go out into the world. With Angel in particular, it has these soft elements, like white floral and vanilla, and then these harder more masculine elements, like the spicy pink pepper and woods. It's this masculine-feminine balance that I like to tie into my style, too.
WHAT'S YOUR RELATIONSHIP WITH BEAUTY NOW?
My relationship with beauty and fragrance used to be more serious. It felt like a tool that I needed to actualize myself. I think as I've gotten a bit older, I'm just more comfortable with the contrast between me existing naturally and me putting all my energy into assembling a complete look. That's how I operate now versus trying really hard every day.
WHO IS YOUR BIGGEST BEAUTY INSPIRATION?
Probably Chloë Sevigny.
ANY FALL BEAUTY TRENDS THAT YOU ARE EXCITED ABOUT?
The nice thing is there's less chance of sweating everything off. So I think approaching your lips or putting yourself together know that whatever you're doing is probably going to last you longer.
DO YOU HAVE A BEAUTY PHILOSOPHY?
If you can call this a philosophy around beauty, I think it's just doing what feels good and right. Following your gut. I think that's the only way to approach it with a guarantee that it's going to do what it's supposed to do, which is to make you feel beautiful and strong.