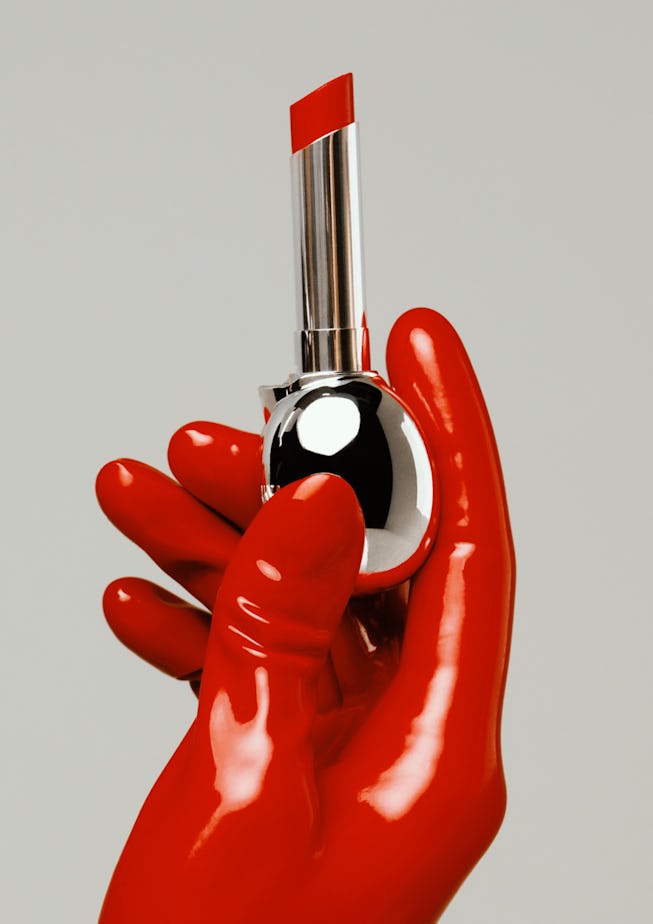 Zhong Lin
Isamaya Beauty's New Lipstick Was Designed To "Celebrate The Male Form"
Chic lip color in an anatomically correct, uh, package.
We may receive a portion of sales if you purchase a product through a link in this article.
Back in 50,000 BCE and throughout history, men were often the face of the emerging makeup industry. This, as David Yi wrote about in Pretty Boys: Legendary Icons Who Redefined Beauty (and How to Glow Up, Too), included the Babylonians who used to paint their nails to match their hair color before battle or the Vikings, who were so obsessed with grooming they had grooming kits next to their swords and shields. However, somewhere along the way, Western beauty became known as a women's industry, and with that the female figure has often been the focus used to sell us the latest lipstick or perfume. But now, as part of the brand's mission to disrupt the beauty industry, Isamaya Beauty has created a new product that turns that perspective towards the male form.
The new collection, entitled LIPS, a is a capsule of two lipsticks in a refillable, very provocative case. (Just in time for Valentine's Day!) In the lead-up to the drop, the brand has been teasing the new collection on Instagram, including a video stating that "something BIG is coming" and a censored image of the new lipstick shape. The campaign, shot by Malaysian photographer Zhong Lin, is a sex-positive celebration of independence.
The sexy new lipsticks are available starting February 2 on isamaya.com. The two transformative lip shades include Cardinal, a true, rich red lipstick with a satin finish, encased in chrome packaging and Vanity, a sheer black tinted balm in gunmetal packaging. Both items come in refillable penis-shaped cases that are sure to become collectibles in themselves. In true Isamaya Beauty fashion, the design is bound to shock and amuse customers, with comments on the preview posts calling the idea either "genius" or "weird". It's both.
Isamaya Beauty was launched in June last year by Isamaya Ffrench, a celebrated British makeup artist and beauty director. The brand's genderless approach to beauty aims to "further stretch the limitations," offering a series of technical and innovative performance products to create an inclusive and creatively free environment for everyone to join. It also captures Ffrench's own nonconformist approach to glam. "I want to inspire people and show them that there are other ways to approach beauty," Ffrench said in a press release from the brand. This latest collection indeed does just that.
Shop the story: