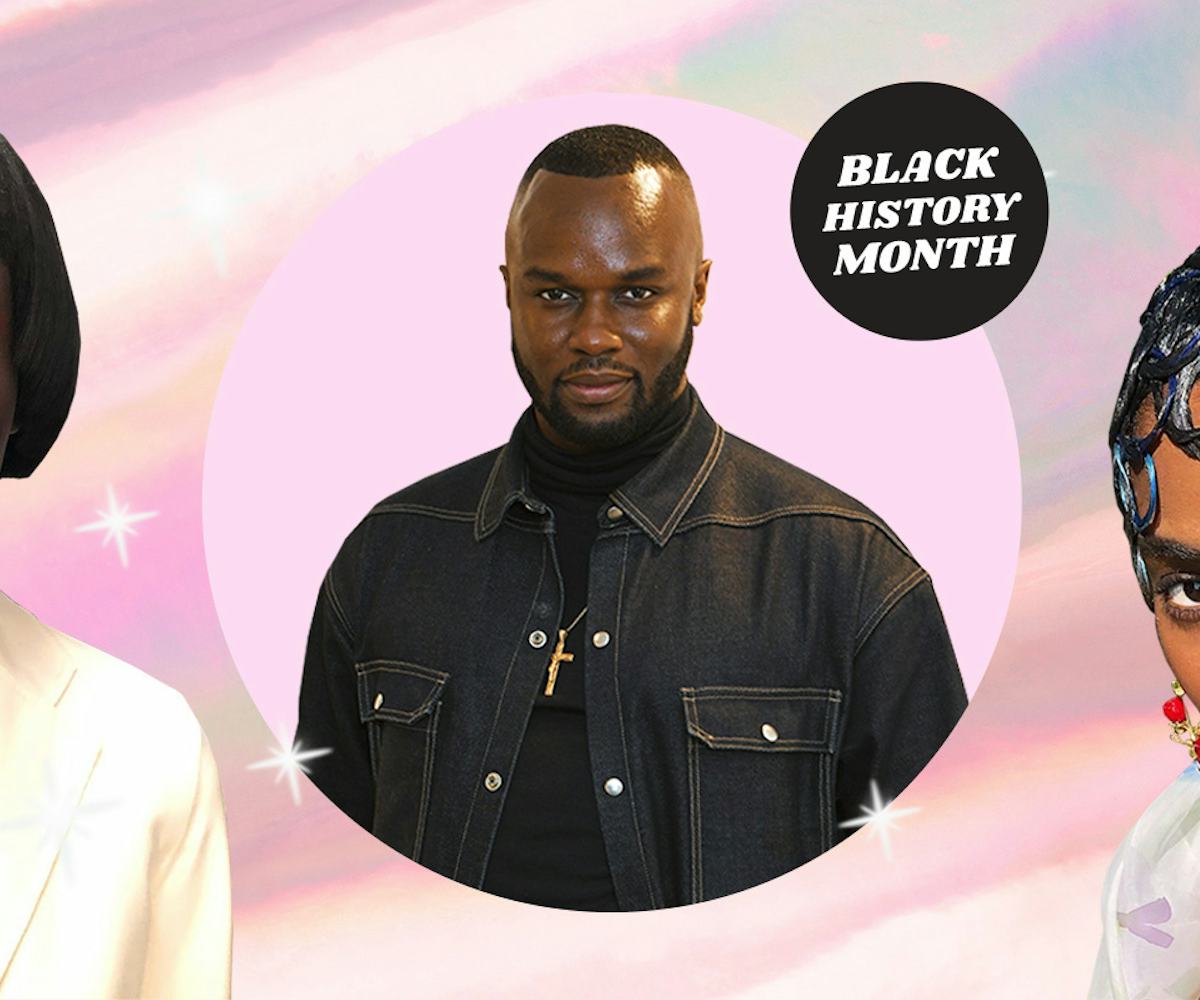 Photos by David M. Benett/Getty Images & Instagram/@jawaraw
How Hairstylist Jawara Wauchope's Jamaican Roots Inspire His Most Avant-Garde Looks
He's worked with some of today's top talent, from Solange and Dua Lipa to Megan Thee Stallion and the Hadid sisters
The work that goes on behind the scenes for runways, magazine editorials, and campaigns scattered across the most major cities around the world can easily be overlooked, and often is. But for hairstylist Jawara Wauchope — whether he's leading the team backstage for brands like Off-White and Mugler, or working with clients like Solange and Bella Hadid — his whimsical creations have a way of sticking in your mind forever. And while currently based in London, signed to Art Partners, Wauchope began to gravitate toward the world of hair at home in Brooklyn.
Born to Jamaican immigrant parents, Wauchope explored his interest in hair, practicing on his sister and close friends at the age of 14, before eventually getting an apprenticeship and working his way up to a salon chair while attending New York's Fashion Institute of Technology. After making a pit stop exploring a potential fashion merchandising career, he returned to hair — landing one-in-a-million gigs training under legendary stylists like Sam McKnight and Guido Palau. Today, Wauchope continues to build the name he's made for himself over the years, known for his sculptural approach to hair and a star-studded client list including Megan Thee Stallion, Solange, and Cardi B.
Having lived in Jamaica for much of his childhood before returning to America for high school, Wauchope's aesthetic pulls from the best of both worlds he was exposed to when it comes to fashion and hair. But throughout his tenure in the industry, he's witnessed the lack of recognition for the contributions certain cultures have made to the industry, particularly when it comes to his own cultural identity.
"I feel like a lot of people have taken from the dancehall culture, with the sexy clothes and certain hairstyles, and never really gave credit to where they got their sources," Wauchope tells NYLON. "I'm a big advocate of crediting your sources. A lot of my inspiration has come from Jamaican women. They are bold, avant-garde, and over-the-top. I loved seeing it growing up. Their hair was always very dramatic, matching their look; I reference a lot of that for the runway."
NYLON caught up with the international hairstylist ahead of the Fall/Winter 2020 fashion month to discuss how his cultural roots are ingrained into his work, creating in the social media era, and the diversity efforts that still need to be made backstage. Read highlights from the interview, below.
You grew up in Jamaica and then moved to Brooklyn with your parents. How did that impact your childhood, and subsequently your art?
My parents were Reggae musicians, so there was a lot of traveling when I was younger. I was exposed to women being glam and always looking their best as a child. My aunts had a salon in Kingston, that's where I became obsessed with beauty and hair and just all things glamorous. So, a lot of the techniques, like the foundation of hairstyling, I definitely learned in Jamaica. Moving to Bedstuy, Brooklyn, and then to South Jamaica, Queens, showed me beauty from a different lens. There is something beautiful about what people call "the hood." Women wore wash-and-sets or a short haircut which was a difference in culture, but both of these diasporas have so much depth and boldness about them.
As a hairstylist, it's important to be able to work with all hair types, and yet Black models are still forced to work with artists that aren't able to style or manage their hair. How do you use your platform and influence to bring more awareness behind the scenes?
Being a lead stylist at fashion weeks around the globe, a lot of the girls would complain to me that no one knows how to do their hair, especially models of color. So that made me really sad because I felt like, Wow, you can't even do your job correctly because the people that are supposed to be making you feel comfortable are not doing their job, and like it was an injustice to the models. I don't want anyone to feel left out or mismanaged, I mean we're already dealing with so much in our society, so I do not want anyone to feel that way when they're in my chair or backstage. So, I make sure that everyone on my team is properly trained in styling all textures of hair. I also hire people that I've done hair in the salon with in the past. I bring them into this world and introduce them to something new. I pride myself on giving opportunities and making sure that all of my stylists are trained in all types of hair.
Your looks often go viral on social media, including the last two seasons in a row with the Area New York Fashion Week show. What does the process of creating these fantasy looks entail?
Area is such a fun show. They like to take it there, so I enjoy working with them. But it's actually quite simple. I meet and collaborate with designers and, then, take a walk around the block while listening to hip-hop music to come up with ideas. Songs like Jay Z's "Money, Cash, Ho*s," or Amil's "4 Da Fam," gets my creativity flowing. I go back into the meeting with a ton of ideas. People don't believe me, but it's true. There is something about hip-hop music that gets me going.
As Solange's hairstylist, you have created some of her most memorable styles, from her Met Gala braided crown to her platinum blonde afro. How do you make sure to always enhance, embody, and uphold the stories of your muses and clients who have such strong personal points of view?
Hair is a very personal thing. It's more personal than putting on clothes. It's an extension of yourself, whether it is your hair or not. I've become so cool with her that, whenever she's in a mood, I can kind of pick up the mood she's in and transcend it through hair. But if I get the vibe that a client is willing to try something different, try something new, change their look, [or] reinvent themselves? I'm all for that, too. And I take that, and I go with it. I love taking risks.
You've created hairstyles for so many iconic women and brands. What is a career highlight for you?
Shooting Iman in Jamaica for US Vogue was the best thing ever. It was kind of crazy because I remember being young in Jamaica and reading US Vogue, and then I was in my home country shooting for them. It was such a memorable moment. It was definitely a full-circle moment.
How has your approach to doing hair evolved over the years, if at all?
Fundamentally, I learned how to do hair in Black salons. Which people don't know is such a sophisticated approach to hair, because our hair is so versatile. I then moved onto studying hair integrity, and how to get hair to thrive and grow. From there, I went into session work, editorial work, and runway work — which is learning the art of hair where I've been able to learn from some of the great stylists around the world. So, I've combined all of those techniques to do what I do today. It's so organic because it's three different sides of me that I've groomed over the years.
You recently debuted an exhibit in collaboration with Jamaican-Nigerian photographer Nadine Ijewere at London's Cob Gallery called "Tallawah." What does the work mean to you, and what was the inspiration behind it?
The exhibit highlights the Jamaican diaspora's distinct aesthetic with images created to pay homage to the culture. Tallawah means to be strong and fearless. These are strong women, some with their own stories of struggle, but the way that they hold themselves, the way they express themselves, is so inspiring. That's what this project embodies. We shot in London and in Jamaica and just created styles that I grew up loving. Finger waves, crimps, braids, everything from my childhood
Since being nominated in 2018 and 2019 by The British Fashion Council as a part of the New Wave of Creatives, what advice do you have for the next generation of hair artists?
Do not be afraid to assist, I feel like with the culture of Instagram now, people feel like they don't need to intern or assist. I think it's great to have confidence, but you have to hone your skills and your craft. My hair journey has been so long. I've worked under so many people and assisted so many people, and I continue to learn from my assistants, and my peers today. Never stop learning. You should be a sponge and absorb everything. I still reference my hair books from school. Continue to learn new techniques, and attend refresher courses. Don't be afraid to take what you've learned growing up and mix that with what you learn in school. That's what makes beautiful art.
Working between so many revolving trends, aesthetics, and points of view over your career, what have been some of your biggest takeaways from your career journey?
Hair is such a personal thing, especially when you're dealing with people who want to maintain a certain image or convey a certain message. Whether it's music, art, or any other medium, I feel that hair is so powerful and tells such a story. We see how political things are still with hair, that displays that hair is a deeper thing than just something that's on the head. I've learned that hair is extremely important, and I want to make sure I treat it as such, whether I'm on a set or teaching someone about their hair, because I think learning about your hair is an extension of learning yourself.