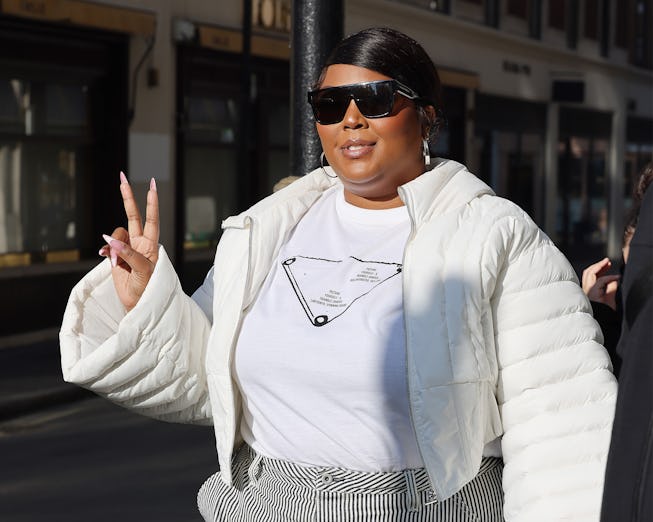 Neil Mockford/GC Images/Getty Images
Lizzo Is Keeping The Divisive "Duck Nails" Trend Alive
And the internet has opinions.
When 2010s extreme "duck nails" re-entered the trend cycle in the summer of 2021, the internet was divided. As the name suggests, these manicures are wider at the top of the nail, resembling duck feet, in direct contrast to most popular nail shapes that taper towards the tip. The wider they go, the more extra they look. We hadn't heard much about the divisive duck-shape nails making a comeback since that brief moment of virality on TikTok. But that was only until Cardi B rocked an extreme duck nails French manicure at the end of 2022. Now, Lizzo has proven herself ready and willing to use her nail-fluencing power to keep the trend going all throughout 2023.
Lizzo posted her latest manicure on TikTok, with the caption "I got duck nails 🦆💅🏾". The singer included a RuPaul's Drag Race reference in the reveal, making voguing and duck-related hand movements to the sound of season 15 finalist Anetra saying "You better walk that f–king duck duck walk". Anetra has already approved of the dramatic nails, commenting "Oh…. My god" under the video. Other fans pleaded for Lizzo not to bring back the controversial nail shape. "Loveeee Anetra—— BUT GURLLL DONT YOU DARE LET THESE NAILS COME BACK," commented one person.
Lizzo's duck nails are a more subtle flared shape than Cardi B's viral manicure, with fluorescent pink French tips and sparkly gem embellishments. While the shape of duck nails usually makes everyday tasks notoriously difficult, Lizzo posted a series of TikTok that prove that they can be more wearable than you think, including dancing and cooking vegan jackfruit birria tacos. Needless to say, if you're a duck nail fan like Lizzo, nothing should get in between you and your new flare nails — including the fact that they are both simultaneously loved and hated by the internet.