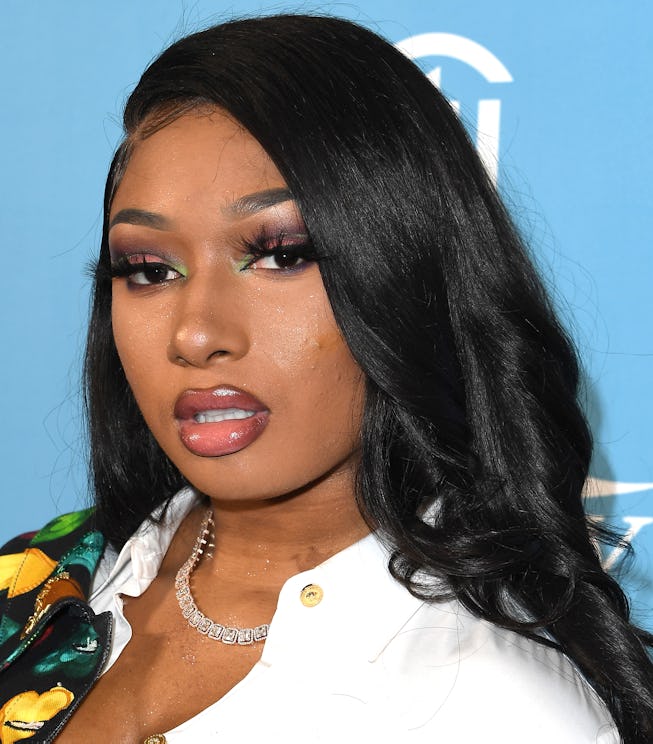 Steve Granitz/WireImage/Getty Images
Megan Thee Stallion Went Neon With Her Latest Wig
See the bright pink style.
Never one to stick with a single hairstyle for long, Megan Thee Stallion just debuted a summer-ready neon look. Sharing a selfie via Instagram Story on Wednesday, April 14, the star gave a look at her new, and very neon, wig.
This latest temporary hair change featured a pink, straight bob that came to Megan's shoulders. Some of the hair was pulled into a high, half ponytail, while the remaining pieces were left out. She paired the ponytail with bangs, which were kept long, and covered much of her eyebrows.
For her choice of makeup, the artist lined her lips in a darker shade of liner. She then appeared to fill in the rest of her lips with a glossy product. Although she was wearing sunglasses, she pulled the accessories down for a brief moment, which allowed followers to briefly see her eye makeup.
As evidenced by her beauty evolution, Thee Stallion certainly isn't afraid to try a brighter look. She tried out a similar shade of pink in the "Don't Stop" music video, and back in March, she went dark blue, confessing that she took her styling cue from Coraline. As for this style, she took her coloring cue from anime, writing, "'Good Grief ordinary people sure are a pain' -Saiki thee hottie."