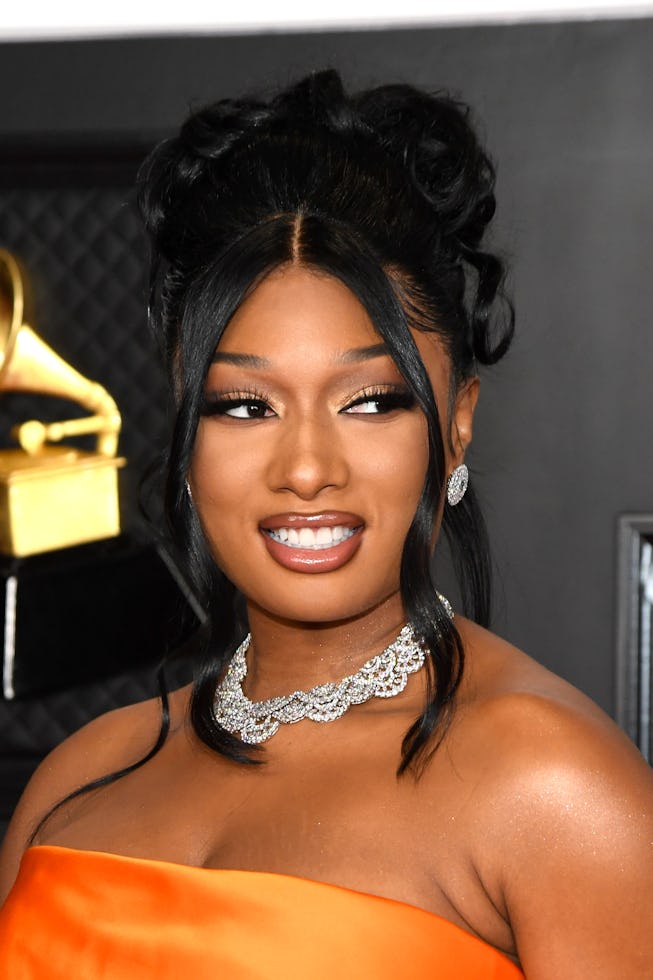 Kevin Mazur/Getty Images Entertainment/Getty Images
Megan Thee Stallion's Updo Featured Summer's Trendiest Hair Color
She went icy with her coloring.
Prepare for an icy summer. As celebrities continue to welcome the warmer months with changes in hair, Megan Thee Stallion is the latest star to unveil a trending color. Taking to Instagram over the weekend, the rapper debuted her temporary take on platinum blonde hair.
Showing off the style with the help of two different outfits, Thee Stallion unveiled a curl-filled updo, which was created by Kellon Deryck. As noted by Allure, Fenty Beauty's Priscilla Ono was behind the accompanying makeup, and she gave the complete glam rundown in her caption.
For the look, curls were piled atop Thee Stallion's head, creating an updo that looked structured, but contained some loose pieces. In a close-up selfie, Megan shared a look at her completed makeup, which featured lids swathed in a metallic shade.
Of course, no look is complete with a memorable manicure, and Coca Michelle delivered. Megan wore a set that paid tribute to a character featured in the series Demon Train.
Summer hasn't even started, but it looks as if blonde might be a trending color of the season; Thee Stallion's take on the shade comes just after Billie Eilish revealed her platinum blonde hair.
Get a complete look at the various elements of her beauty routine, below.