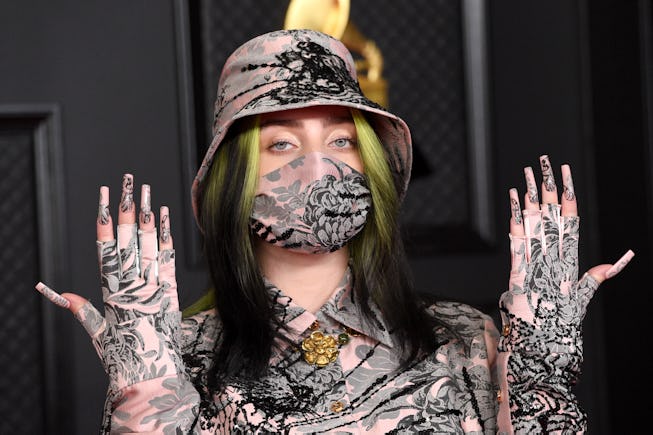 Kevin Mazur/Getty Images Entertainment/Getty Images
Billie Eilish Secretly Wore A Wig For Weeks
Yep, even at the Grammys.
After shocking fans with her March 2021 debut of platinum blonde hair, Billie Eilish is revealing more regarding the steps in her hair journey. On March 17, she surprised the world, and set an Instagram record, ditching her once signature two-toned color for an icy blonde. Taking to her Instagram account over the April weekend, Eilish detailed the dyeing process for her followers, confirming that she had worn a wig for weeks.
Previously, Eilish's hairstylist Lissa Renn had posted and then deleted a time-lapse clip of the complete dyeing process, Teen Vogue reports. Renn had confirmed it took the pair six weeks to complete the dye job, but the video was later deleted. Now, Eilish has confirmed that number.
Answering some fan questions on Saturday, April 3, she reported that she first started dyeing her hair in January. Sharing a photo from January 16, she shared what her hair looked like after the first bleaching session. She then followed that image up with the last photo of her black and green hair from January 15, 2021.
Another fan then asked if it was true that Eilish had worn a wig to the Grammys. The singer wrote, yes, and posed with the wig she wore to the ceremony. In the photo, you can also see Eilish's more fully bleached hair.
Before the grand social media unveiling of her platinum blonde hair, the performer had hinted that a change in hair was coming. As for why she had stuck with the slime green and black dye for so long, she told one fan, "This is the longest i've had the same hair color since I was 13 & and that's on mental stability and growth leave me alone." There's no telling how long the blonde will stick around, but it's obvious that fans are definitely in support of the change.