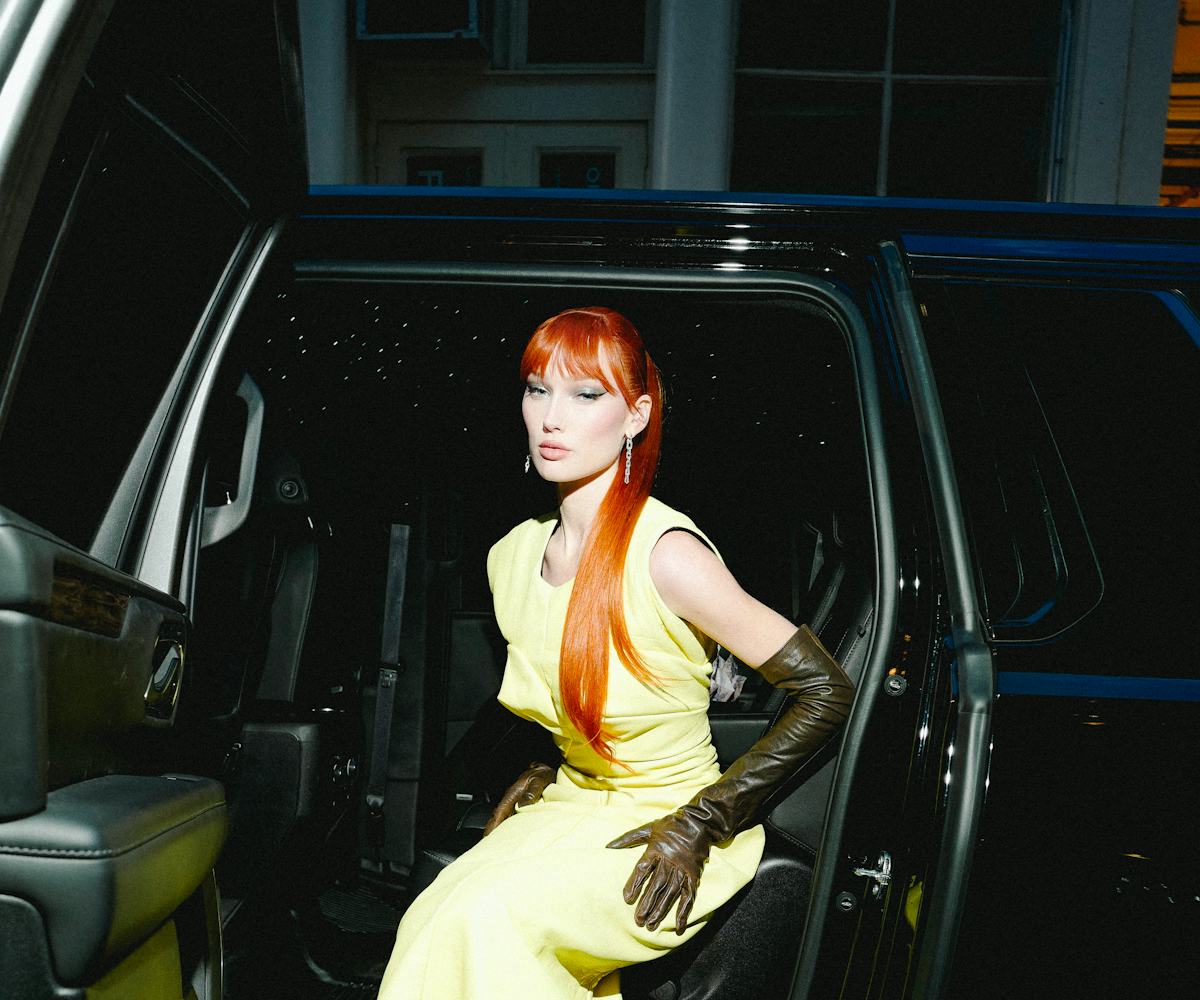 Meredith Duxbury Gets Glam With Pat McGrath For the CFDA Awards
A beauty linkup for the ages.
Everything about the CFDA Awards is over-the-top glam. From the venue (this year, the Natural History Museum) and the A-List attendees and honorees, to the fashion itself, everyone is bringing out their best for one of fashion's biggest nights celebrating the major innovators in the industry.
Model and beauty entrepreneur Meredith Duxbury was no exception this year. She stunned in a lemon yellow Marc Jacobs SS23 RTW dress, elbow-length gloves and platform boots, and David Yurman earrings, as styled by Marc Eram.
Known for doing her own makeup on social media, Duxbury took a step back from glam last night to let the mother of all makeup, Pat McGrath, do her makeup using the new sparkling MTHRSHP Bijoux Brilliance: Starstruck Splendour palette. The result? A shimmering mint green eye shadow look, an impossible glow, and a cat-eye sharp enough to cut glass (or a man, if you're Taylor Swift), all complementing the creator's unique dress. Finishing off the look, hairstylist Dimitris Giannetos gave Duxbury a full bang and sleek long ponytail to add even more drama.
Below, she took NYLON behind the scenes and into the glam room as she prepared for the 2023 CFDA Awards.
Describe your typical getting ready process.
I always start with a good skincare routine before anything because that's the key to a flawless makeup look! I usually do my own makeup but tonight was super special because Pat McGrath came to my apartment to do my makeup. It felt so surreal. Pat is such an icon and I couldn't be more grateful that she was willing to do my glam, and she even designed a special make-up look for me to compliment my outfit for tonight. I also had my favorite celebrity hairstylist, Dimitris, do a faux bang on me tonight which was so fun and a nice change. I worked with such a dream team tonight and I couldn't be happier.
I started my day around 7:30am, and had these mini blueberry waffles for breakfast!
I stopped by Starbucks on the way home from my walk to get my favorite iced decaf gingerbread latte. So delicious!
Describe your look for the evening. What was the inspiration and what vibe are you going for?
Tonight I wore a beautiful bright yellow dress by Marc Jacobs paired with his iconic platform heels and a pair of brown leather gloves. My inspiration for tonight's look was to embody that edgy "cool girl" energy and Marc Jacobs is always the best at that. I think comfort is always important too, so that you can feel your best and I always feel so confident in Marc Jacobs.
What music do you listen to when getting ready? What did you listen to tonight?
It depends on the mood I'm in. It can range from hip-hop to country to pop, but tonight I was listening to Christmas jazz. I've really been in a Christmas mood lately so I had all the holiday vibes going tonight.
This is the Marc Jacobs dress that I wore! I like to set everything up prior to getting ready so I can reference my outfit during the hair and makeup process!
The amazing Dimitris Giannetos, who is the most talented celebrity hair stylist, arrived and created this beautiful long pony look with a faux bang.
MOTHER arrived!!!! The iconic Pat McGrath was kind enough to do my makeup for tonight and I was honored to have it done by her.
Pat created the most beautiful emerald green shimmery eye look on me, I felt so stunning. It went perfectly with my dress.
What are your three go-to shopping spots in New York?
I love shopping on Greene street in SoHo, because I live in SoHo. It's convenient for me and also the stores have so much character and the architecture is beautiful. My second favorite spot to shop is 5th Ave, especially during Christmas time. You really feel all the energy and the stores are so big so there's never really a moment you can't find what you're looking for. Last but not least, I love shopping at Bergdorf's. It's such an iconic place to shop that it feels like a dream every time I'm in there (especially the shoe department).
Mike Vitelli
Mike Vitelli
What is your delivery order at the end of the night?
Joe's Pizza. Classic cheese. Can never go wrong.
Photos courtesy of Meredith Duxbury.