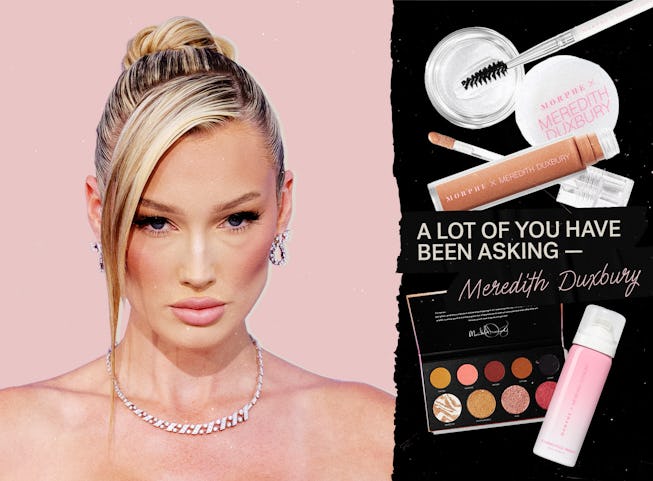 Nylon; Neilson Barnard/amfAR/Getty Images for amfAR; Morphe
Meredith Duxbury Will Always Love A Full 2016 Glam
The content creator discusses her methods for TikTok success, the "Latte Makeup" trend, and her new Morphe Collab.
We may receive a portion of sales if you purchase a product through a link in this article.
If you've ever found yourself on makeup TikTok, chances are you've already come across Meredith Duxbury's addicting, colorful GRWM videos. The content creator who currently boasts over 18 million followers is totally entrancing as she completes a full glam look, always tinged with an element of dramatic suspense. Generally, she starts with a messy base (her signature foundation technique involves using about 10 pumps of foundation applied like moisturizer straight to the face), before it transforms into an immaculately applied, of-the-moment look. She has her finger on the pulse of what her followers are loving, as well as a flair for the visually dramatic.
Adding to her list of accomplishments is her ongoing partnership with internet-favorite beauty brand, Morphe. Duxbury first partnered with Morphe last year as the face of their "Making You Blush" collection, but now they've teamed up on a new drop, designed and developed by the beauty star herself. The Morphe x Meredith Duxbury Collection expands into other makeup categories, including versatile eyeshadow palettes, a foam primer that's sure to go viral, and a multi-use gloss — everything you would need to create your own Meredith-inspired summer glam.
Read on as Duxbury talks about her methods for TikTok success, the joys of 2010s-inspired glam, and her new collaboration with Morphe.
What was your first beauty memory?
My first beauty memory was using the Maybelline Dream Matte Mousse Foundation, which is fitting because it was a very, very full coverage foundation. My mom would take it away from me because I would wear so much of it. I can remember the smell of that foundation. I was in middle school, I probably snuck it into the grocery shopping cart.
Where did your interest in makeup come from?
Both of my grandmothers are amazing artists and they're really good at painting. I actually love drawing, and I'd say I'm pretty good at it. I just always loved glamming myself out and wearing makeup. It's kind of like drawing, but on your face. The foundation is the base and the canvas, and then the eyeshadows and all of that are the colors that you paint your picture with.
How has your relationship with beauty and makeup changed as you've grown up?
I'd say it changed with the times for sure. I mean, I love a good 2016 makeup [moment], but I also love doing a natural look. I think as I got older and I got more comfortable — like with my freckles, for example — I started doing more natural looks. I found certain makeup products that complimented my freckles. As I grew up and saw more trends happening, it definitely helped me grow as a person and changed my perspective on the way I do makeup.
How often do you do a full glam versus trying out other styles?
Full glam, I'll usually do if I'm going out to dinner or partying with my friends. If I'm just going to meetings during the day or running errands, you know, walking around New York City, then I'll do more of a natural look. I love both. I've actually been practicing my natural makeup more and I've been loving it, especially in the summer. I definitely used to only wear a full glam. I would always say it's all or nothing, but I've definitely found a middle ground.
When did you start doing your foundation technique and the full glam?
The foundation technique I started doing in college. I was a broke college student and this Becca Cosmetics Foundation was like $55. Every time I would go to wash my Beauty Blender there'd be gobs of foundation coming out of it. So I figured, I'm just going to use my hands because they're not going to absorb anything, and the warmth of my hands would help blend it into my face. People still ask me all the time, "Do you actually use the foundation technique?" And I do. I love it and I've gotten my friends and my family to do it; they all love it, too.
When COVID hit, that's when I really started doing a lot of the full glam makeup looks with the crazy colors and everything because I felt like I had so much time when I was doing online classes. I was doing my makeup three times a day, every day, because I was really trying to grow on TikTok. I heard that you have to post six to eight times a day to go viral, so I was doing anything I could. I fell in love with these crazy eye looks with the crazy colors. I could really be myself and express my creativity and my love for art.
How far in advance do you plan your looks?
I realized that I create the best looks when I just let my brain totally go. I just do my base first and I don't even start thinking, like, "I'm gonna do a smokey eye today." Then I look at my palette and I kind of let it take over. Whichever color is speaking to me that day. I decide in the spur of the moment and let the art happen. I make sure not to overthink it because that's when you can start not enjoying it as much. Another fun thing is the headbands I wear really inspire me. I have, like, five drawers of them. I love doing monochromatic looks and I think that does better on TikTok, too.
Have you scrapped a video because you think the look is not working?
If I really don't like what I created, I'll say at the end of the video, something like, "I'm not into this." So maybe two colors I paired together didn't look so great, or maybe the liner got messed up so I had to make the wing bigger and then it got too big, you know? I think it's important to share those moments and show that not every look is going to be perfect, and it's not always gonna be glamorous. In the beginning when I first started makeup, I worried, what if people think I'm not good at it? But I think it's important to show my progress. If I scroll back all the way to when I first started TikTok, I'm proud of how far I've come and how much practice I've put into it.
How do you describe your makeup aesthetic now?
I was just in Paris for couture week and I did more natural looks there because it fit better with the vibe of the shows and the Parisian aesthetic. But I'd say my aesthetic when I'm home, just in my own space, having fun, it's definitely full glam, like full 2016 beat. For me it's really about creating an art piece and just having fun with it.
Is there a look you've done recently that you're particularly proud of?
The glam I did on my grandma because I stepped out of my comfort zone. My grandma is 80 years old and it's so different doing makeup on mature skin. It was really interesting because you obviously want to make the person who's getting their makeup done happy, and I didn't want her to feel uncomfortable. By the end of it she absolutely loved it and couldn't believe that she looked so good in it. I don't think she's worn that much foundation in years.
What were your inspirations heading into this new Morphe collaboration?
I wanted it to be themed around New York City because this has been my dream city to live in since I was little. It's so surreal to me that I'm living here and living out my dreams. And the sunsets here are so beautiful, so I think the pinks and the oranges tie into that really nicely. I also wanted to name the shades. I added my dog in there, Crumpet. I added my boyfriend, Brandon. And then I added some kind of Gossip Girl themes, so there are a lot of sneaky things that I put in that I hope people pick up on.
There are a lot of different things that I wanted to include in the collection and it came together so nicely. I'm obsessed. I included am Eye, Face, and Lip Gloss in one. It's not a product that a lot of people think of on the top of their mind, but it's such a cool one to play around with, it's such a good product to have if you want to add some glow to your face. I knew I wanted a foam primer in the collection, too, because I also want the collection to perform well on TikTok because that's where I'm showing the products. Foaming Primer is really fun to show on camera and it gets people engaged.
What are some trends you're liking this summer?
I've been seeing "Latte Makeup" everywhere. I don't know about you, but it's all over my For You page. I'm very excited because in both the 35-pan eyeshadow palette and the nine-pan palette there are some amazing neutral brown and some really pretty gold shimmery shades.
Do you have a beauty philosophy?
I'd say my beauty philosophy is that makeup is for everyone and there are no limits in makeup. That's why I love it so much because, personally, I don't like being told what to do. Nobody can say, you're doing that wrong and it's just the most creative fun thing. Do whatever you want. Do what works best for you and what you feel comfortable in. And don't let anyone tell you how to wear your makeup. It's whatever you feel best in.