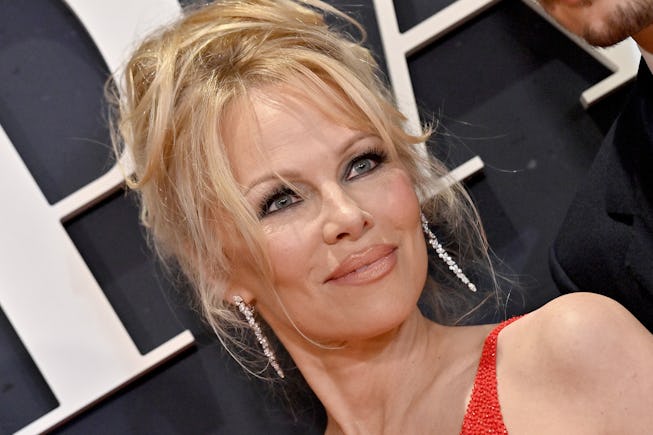 Axelle/Bauer-Griffin/FilmMagic/Getty Images
No One Does #PamCore Beauty Better Than Pamela Anderson, Herself
The original hair influencer.
After Pamela Anderson's '90s hairstyles (or #PamCore) went viral on TikTok last year, it's only natural for the mother of the original hairstyle, Pamela Anderson, to step out and show us how it's done. Last night at the premiere of her new Netflix documentary "Pamela: A Love Story" the icon brought back her signature hairstyle along with wearing what the internet is calling a "Baywatch-style" orange dress.
Joined by her sons, Brandon Thomas and Dylan Lee, Anderson arrived at the red carpet (that was actually pink for the event) and gave a master class in #PamCore beauty. The star stayed true to her iconic look with line-thin eyebrows, full black eyeliner, and beige, lined lips. For her hair, she decided to opt for the up-do that became her signature in the '90s—a messy pulled-up look with sweeping side bangs and face-framing pieces.
Axelle/Bauer-Griffin/FilmMagic/Getty Images
Axelle/Bauer-Griffin/FilmMagic/Getty Images
Pamela's other popular '90s hairstyles, including her bouncy blowout, have also made a comeback recently, with the hashtag #PamelaAndersonHair gaining almost 50k views on TikTok. Since the release of the Hulu mini-series Pam & Tommy in 2022, creators have been sharing ways that they are recreating her most iconic looks, including her thin eyebrows (which are also currently trending as part of the '90s comeback). With Pam, herself, entering the media conversation with her own documentary, we expect to see interest in her iconic looks only increase.
Celebrities like Kim Kardashian, Sydney Sweeney, and Megan Thee Stallion are already on board with the Pamela hair revival, having all tried out the up-do last year. Models like Bella Hadid have also already ditched their natural eyebrow shape for pencil-thin eyebrows, confirming the meteoric impact of #PamCore.
Pamela Anderson, 1999Jeff Kravitz/FilmMagic, Inc/Getty Images
Megan Thee Stalion, 2021Kevin Mazur/Getty Images Entertainment/Getty Images
Kim Kardashian, 2022NINO/GC Images/Getty Images
After having a sex tape stolen from her (then having Hulu make a show about it without her approval), Pamela's Netflix Documentary (out now) finally tells her story in her own words. As we look back on her life so far, we can no doubt expect more young creators and celebrities alike to find inspiration in her '90s hair, makeup, and fashion. Proving that a good signature look can last you a lifetime, the icon continues to bless us with more #PamCore today. Thank you, mother.