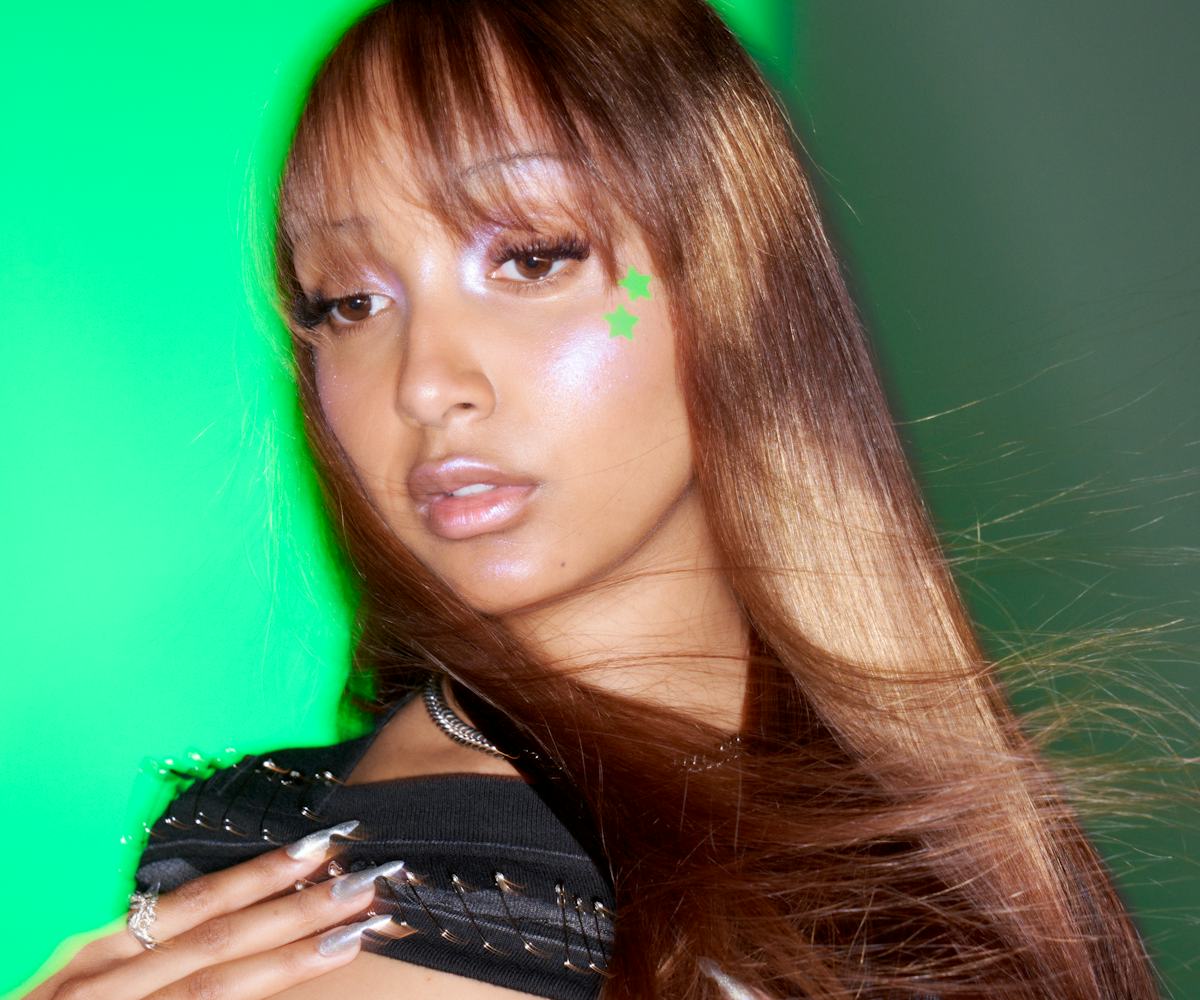 Courtesy of Starface
PinkPantheress Is The Star Of Starface's New Cosmic Campaign
The pimple patches you love, but with a new ingredient and make them alien-green.
We may receive a portion of sales if you purchase a product through a link in this article.
In recent years, pimple patches have gone from something to hide to something to show off. Largely to thank for this phenomenon is the cult-favorite skincare brand, Starface, which was one of the first to make pimple patches cool with the use of fun colors, shapes, and even Hello Kitty. With brands like Starface creating cute pimple patches, breakouts have become utterly Instagram-able. In fact, you've probably already scrolled past Starface on your feed in the form of a selfie decorated with little yellow (you guessed it) stars—the brand's signature product.
Many celebrities including Nicola Peltz Beckham and Rose from Blackpink have already shared that they, too, get breakouts and use the cute star stickers to cover them, and now PinkPantheress is the latest official Starface campaign star. On August 24, the brand launches a new version of their beloved pimple patches featuring another skin-clearing ingredient. The new Hydro-Star + Tea Tree stickers combine the classic hydrocolloid patch with tea tree oil to help balance and soothe skin while minimizing the appearance of swelling.
To celebrate the launch, Starface has released a supernatural-inspired campaign with PinkPantheress wearing the new alien green stars. The Hydro-Stars + Tea Tree are meant to only for treating blemishes, but for any oily spots, as the special ingredient helps naturally cleanse spots and unclog pores by removing excess oil and buildup.
The Hydro-Stars + Tea Tree (like all the other Starface stickers) are vegan, cruelty-free, dermatologist-approved, non-irritating, and only $12.99 for a pack of 32 Stars. Now approved by PinkPantheress, the pimple healing magic from a brand you know with a new color and ingredient are available now on the Starface website in the US, UK, and Canada and at your local CVS, Target, and Walmart stores.