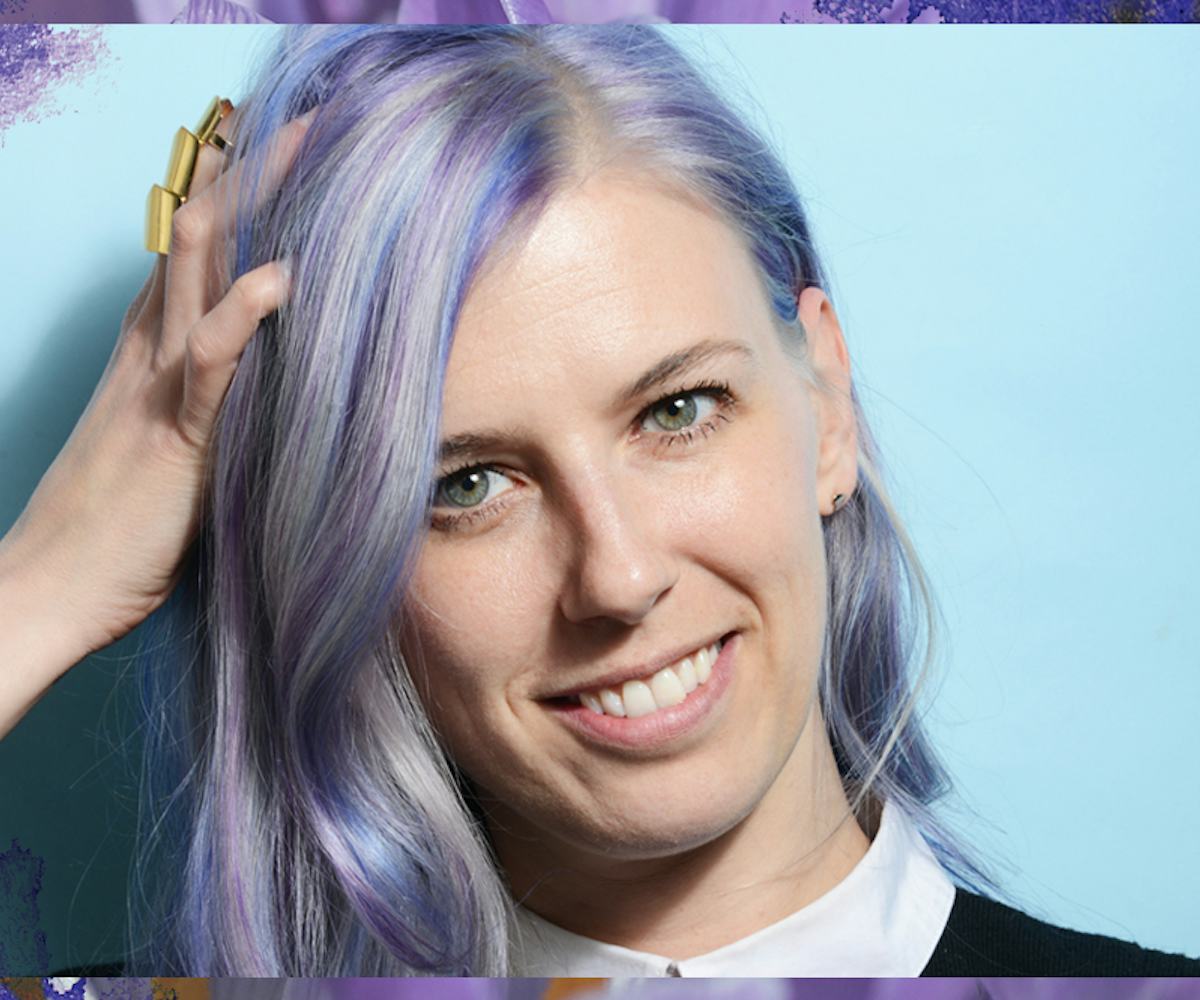 Photographed by Ricky Michiels
Four Spring Hair Makeovers That Will Inspire Your New Look
If you've ever seen Clueless, Mean Girls, Jawbreaker, or just about any other classic teen movie, you're familiar with the transformative power of a drastic makeover. And after spending months indoors and hiding under parkas, beanies, and blankets, it seems as if there's nothing like one to renew our spirit and get us excited for the warm months ahead. Since taking our trusty old shorts and tank tops out of storage already makes it feel like we have an entirely new wardrobe at our disposal, we're huge proponents of the hair makeover as the means to a fresh start.
Last year, we opted for cropped cuts, colorful tresses, and a whole lot of bleach. This time around, we decided to rethink our approach, and really evaluate the health of our hair. Whether it meant opting for more natural shades, choosing more low-maintenance options, or trying some new reparative treatments, we got some of the freshest cuts and colors of the season. That didn't mean that we totally laid off the bleach, though. After all, habits are hard to break (especially when they look really, really good). 
Flip through four of our favorite makeovers below, complete with maintenance tips, and all of the information you'd need if you so choose to replicate them yourself. 
Gabrielle Korn, Digital Deputy Editor
I started bleaching my hair a few years ago, and since then it's undergone quite a bit of trauma. Even though I technically know better, I went all the colors of the rainbow in a very short period of time, ending on a cool-toned platinum white that was pretty much my favorite thing ever. That is, of course, until the day a large chunk of it (like right in the front) broke off in my hand. Then I had to take a good hard look at my life and make a choice between healthy hair and cool hair—and since cool hair was suddenly proving to be utterly unsustainable, I opted for the former.
I went to the newly opened Fourteenjay in Tribeca, where salon co-owners David Adams (color) and Frank Rizzieri (cut) examined my sad strands carefully. I showed them a picture of a shorter, darker bob—ever since watching Jessica Jones, I've wanted to dye my hair dark anyway. Using Aveda products, David applied a very warm-toned color treatment on my hair, which turned it an alarming red. He then shampooed it with the brand's Color Conserve Shampoo, treated it with a Botanical Treatment Protein, and finished with the Damage Remedy Conditioner. (Everyone who gets color at the salon gets a protein or moisture treatment because David says that healthy hair holds color better). To create this perfect chocolate brown hue, he finished with a permanent cream hair color, which balanced the red.
Because the ends of my 'do were so fried, Frank convinced me to bring my lob up to a more flattering, collarbone-grazing chop. I tend to like hair that looks a little fucked up, so he left the ends really choppy and longer in the front, with assorted pieces sticking out for an unexpected finish. Two weeks later, I returned to the salon for a gloss to seal my color in. I also stopped by Boom Boom Brow Bar to get my brows tinted to match my new color, which was the final piece in completing my new brunette vibe. I'm so into this look—I feel like it's a really unexpected spring change, and in a season of pastel hues, going darker feels bad in the best way.
Tina Vaden, Video Editor
A few years ago, I was acting as a hair model when a stylist "felt inspired" and deviated from our agreed cut. By the time I left the salon, I had lost a fair amount of my hair. Needless to say, I've been pretty hesitant to do anything drastic since, and until lately, I had been left with what can only properly be described as a shapeless blob of monochrome curls atop my head. So moving into spring, I decided to take control of my personal style once again and make some changes, in the form of a color and cut at Rita Hazan.
I originally walked into the salon with the idea of getting a reddish gloss, but my colorist Adrian Wallace suggested I go with more natural browns, as it would be simple to maintain and complement my skin tone. He added texture and depth by lightening the overall color of my hair, and adding caramel highlights and an ombre to the top and lower layers of my hair. He was able to lift the color without bleaching, which kept my hair's natural texture intact. I'm so glad I trusted his guidance because I couldn't be more thrilled with the result. 
Cristina Bosque, the stylist who created my new cut, used a photo I brought for guidance, and was really considerate of my facial and curl shape. I had a lot of dead weight and was afraid I'd lose inches, but she was able to save my length and add volume by cutting in more layers, and really worked with the color. 
I've been using Deva Curl's The Kit for All Curlkind to maintain the moisture and shape of my curls, and Pravana's ChromaSilk Vivids color protecting shampoo and conditioner to keep the color going strong. With beanie season finally ending it's exciting to have my hair game back on point.
Julie Humeas, Associate Publisher
I've been red, green, blue, blonde, pink, and now purple. But thanks to Jeanise Aviles at West Village boutique salon Seagull, I didn't just get one shade—I got the most magical violet variation imaginable. (I should probably preface this by saying that Aviles, who herself rocks a hair color similar to perfectly faded denim, is not simply a stylist or colorist; she is a visionary. She sees your personality—even through your head-to-toe black ensemble—and matches your hair accordingly.)
After a consultation, wherein we agreed to go for purple and lavender shades, Aviles bleached my hair twice to get a perfect, pure platinum base. In the past, every colorist I've asked to bleach my hair has told me that the damage would be too extensive to keep my long hair, which I've spent years growing out. But thanks to new products like Olaplex, which repairs broken disulfite bonds in hair, my locks are still healthy. To remove the remaining yellow, she added a cooling toner. At that point, I looked like Daenerys Targaryen from Game of Thrones. It was awesome.
She then mixed several shades of purple—some with more hints of blue, some truer purples, and some in-betweens—and painted on the shades using foils. After all the foils were applied, she painted the rest of my hair with a light lavender. It took about 20 minutes for the color to set, and once it was rinsed and blow-dried, I was left with platinum roots and an alluring shade of purple. Within minutes of leaving the salon, strangers stopped me on the street to compliment my hair. 
To maintain a non-traditional color, I have been washing my hair less and using a color-safe shampoo and conditioner. (And, yes, dry shampoo is my new best friend.) 
Blake Vulgamott, Photo Producer
For about a year, I had been dyeing my hair a white blonde. But a few months ago, I decided to give my hair a break and return back to my natural color. Still, I missed feeling like a 2006 socialite (bleached hair tends to do that to you). So when I had the opportunity to change up my look for the season, I jumped on it. 
I headed to bumble and bumble salon, where they transformed my hair with both a stylized cut and color. Two and a half hours and one double process down, I walked out with a perfect Instagram-ready blonde—one that's not quite natural, and certainly not basic. 
To keep my hair feeling soft post-bleach, I've been using bumble and bumble's hairdresser's invisible oil conditioner. I've also been styling my short hair with the brand's sumowax, which provides a strong hold (so I don't have to worry about my hair shifting throughout the day), and adds definition and texture.