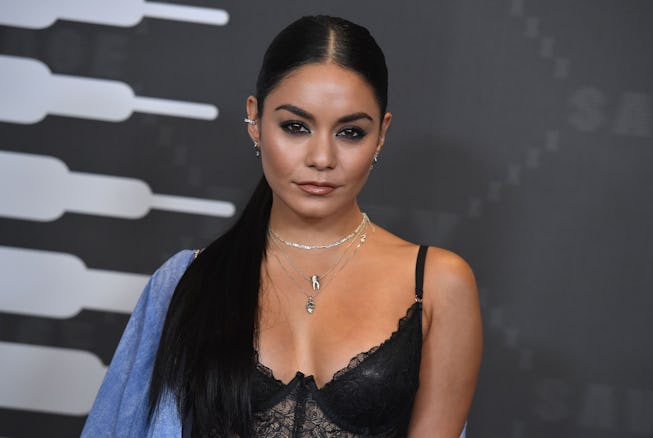 ANGELA WEISS/AFP/Getty Images
Vanessa Hudgens Added A Shoulder Tattoo In Honor Of Her Newest Role
Another one added to her collection.
Vanessa Hudgens continues to celebrate the conclusion of filming for her next big role. Starring in Tick Tick...BOOM!, a film directed by Lin-Manuel Miranda, Hudgens followed up her major post-filming chop with a brand new shoulder tattoo.
Days after sharing an Instagram selfie of her new short bob, Hudgens posted a picture of her latest ink, confirming in the comments that she had chosen lyrics from Tick Tick...BOOM!. The tattoo, which is on her upper shoulder reads, "cages or wings" in a script font. She tagged the artist responsible, thanking Mr. K tattoo for his work.
It appears as if Hudgens dedicated the tattoo to Tick Tick...BOOM! composer, Jonathan Larson, as she wrote in her accompanying Instagram caption, "FOR JL."
Hudgens got the tattoo alongside her friend and music artist, GG Magree, who got some new ink of her own. The two posed for a post-tattoo photo with Mr. K, showing off their completed artwork.
On November 11, Hudgens confirmed that her part in filming on Tick Tick had wrapped. Partaking in a newly created beauty tradition, she wrote of celebrating the occasion by getting her hair cut, sharing on Instagram, "@mflyons did hair on Tick Tick Boom and we worked together on Second Act as well. When I wrapped on that she gave me a chop. And now that I wrapped on this, she gave me chop. Kind of a tradition now."
Due out in 2021 on Netflix, Tick Tick...BOOM! is based on the popular Broadway musical. Hudgens will star alongside Andrew Garfield, Alexandra Shipp, Robin de Jesús, and others.