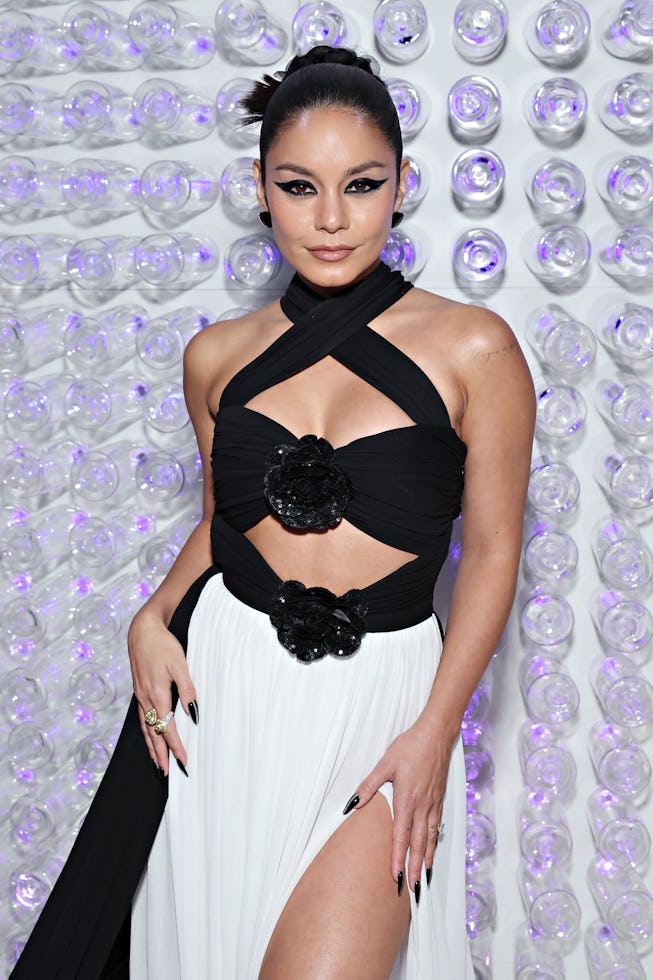 Cindy Ord/MG23/Getty Images Entertainment/Getty Images
Vanessa Hudgens Is Making Pistachio Green The It Nail Color For Summer
This sweet pastel shade deserves a spot on your summer mani inspo board.
Over the past few seasons, aura manicures in all variations and colors have slowly taken over in the world of nail trends. Megan Fox rocked an unexpected purple and orange combo design last August and Dua Lipa gave aura nails a wintery update in January with a black and baby pink palette, among many other celebs taking the trend out for a spin. Currently, the hashtag #AuraNails has over 1.4 billion views on TikTok alone. Right when we thought the trend might be losing steam, Vanessa Hudgens got an aura manicure in the perfect color combination for summer—soft beige and pistachio green.
Vanessa's nail artist Zola Ganzorigt, based in Los Angeles, posted a video of her new manicure on Instagram yesterday, with the caption "She's back like never left @vanessahudgens 🎾✨". She also added that the design was created using an airbrush technique, with a gold star detailing on both of her middle fingers. Vanessa posted her nails to her story with the caption "I'm back", but she's yet to debut the manicure on her feed yet. She posted a selfie with short, pink nails a week ago, so it appears she's celebrating having her signature lengthy almond nails yet again.
The word "aura" is a Latin word that translates to "air" or "breeze" in English and aura nails resemble aura readings and aura photography, both also growing in personality, by representing energy through a gradient of multiple colors. Aura nails are usually achieved with a nail airbrush machine or blooming gel polish, creating a dimensional, gradiated and smoothly blended final result.
On Vanessa's Instagram story, where she shared Zola's video, she said that she'd been "dreaming about these babies for a minute". Now, we'll be dreaming about creamy pistachio nails all season. We're here for this fun summer update to the aura nails (the trend that keeps on giving).