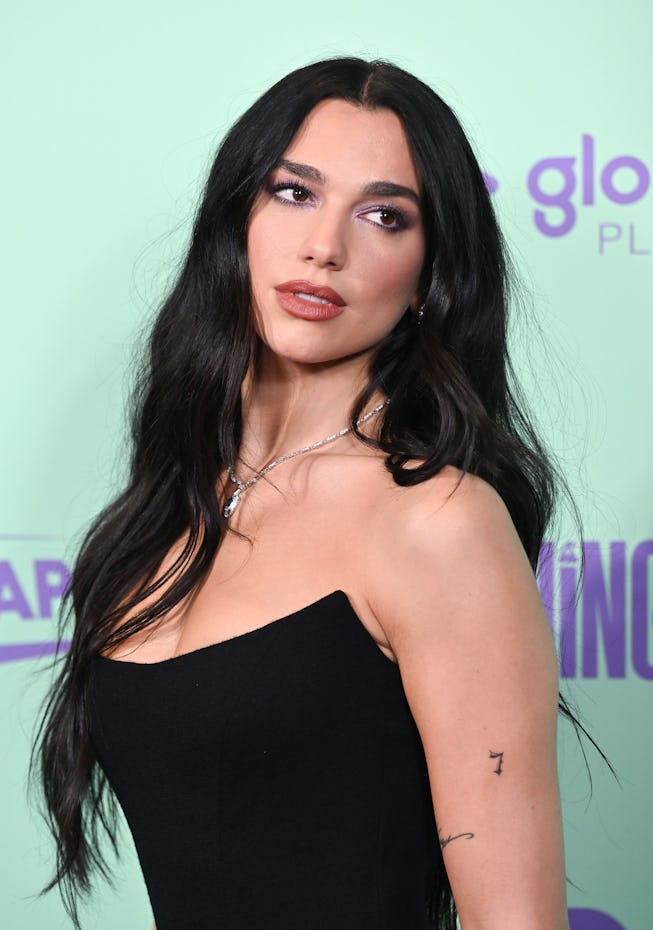 Karwai Tang/WireImage/Getty Images
Dua Lipa Gave The Aura Nails Trend A Wintery Update
A color palette change up gives this popular mani trend a new, moodier vibe.
Aside from being known for her smash pop hits, Dua Lipa has established herself as a style and beauty icon. Serving daily manicure inspiration on her Instagram—including chrome nails and 3D nail art— the artist has proved herself a fan of colorful, textured, and elaborate nail art. Her latest manicure is no exception, giving the aura nail trend a seasonal update. Yesterday, Dua posted a photo dump on Instagram with the caption "London recentssss." Showcasing multiple outfits in her luxurious hotel bathroom, we got a closer look at her latest manicure, an edgy black, silver, and light pink aura nail design.
Dua originally debuted her new nails on her Instagram stories last week, tagging celebrity manicurist Michelle Humphrey. Michelle had previously designed bright primary colored aura nails for musician Rina Sawayama and is Dua's go-to nail artist. Humphrey also posted a close-up of Dua's dark aura manicure on her Instagram, where fans compared the design to "mood rings." The design is high contrast, going from a black base to a smokey silver and then a bright and light pink, giving it a moodier, vibe than rainbow aura nails of previous seasons.
The aura nail trend has been having a major moment for the past year, with Megan Fox rocking a purple and orange design last August and the hashtag #AuraNails gaining over 1.4 billion views on TikTok alone. The word "aura" is a Latin word that translates to "air" or "breeze" in English and aura nails resemble aura readings and aura photography, both also growing in personality, by representing energy through a gradient of multiple colors. Aura nails are usually achieved with a nail airbrush machine or blooming gel polish, creating a dimensional final result.
While 2022 is now in our rearview mirror, Dua Lipa's new year manicure confirms that (thankfully) we will be taking the aura nail trend with us into the year ahead with a fresh perspective. With endless opportunities for color combinations, Dua's pink aura nails are the perfect sultry winter color palette. They also go with almost any outfit — as the pop star proved with her photo dump, which also included supermarket pics, museum visits, blurry friend photos, and mirror selfies.