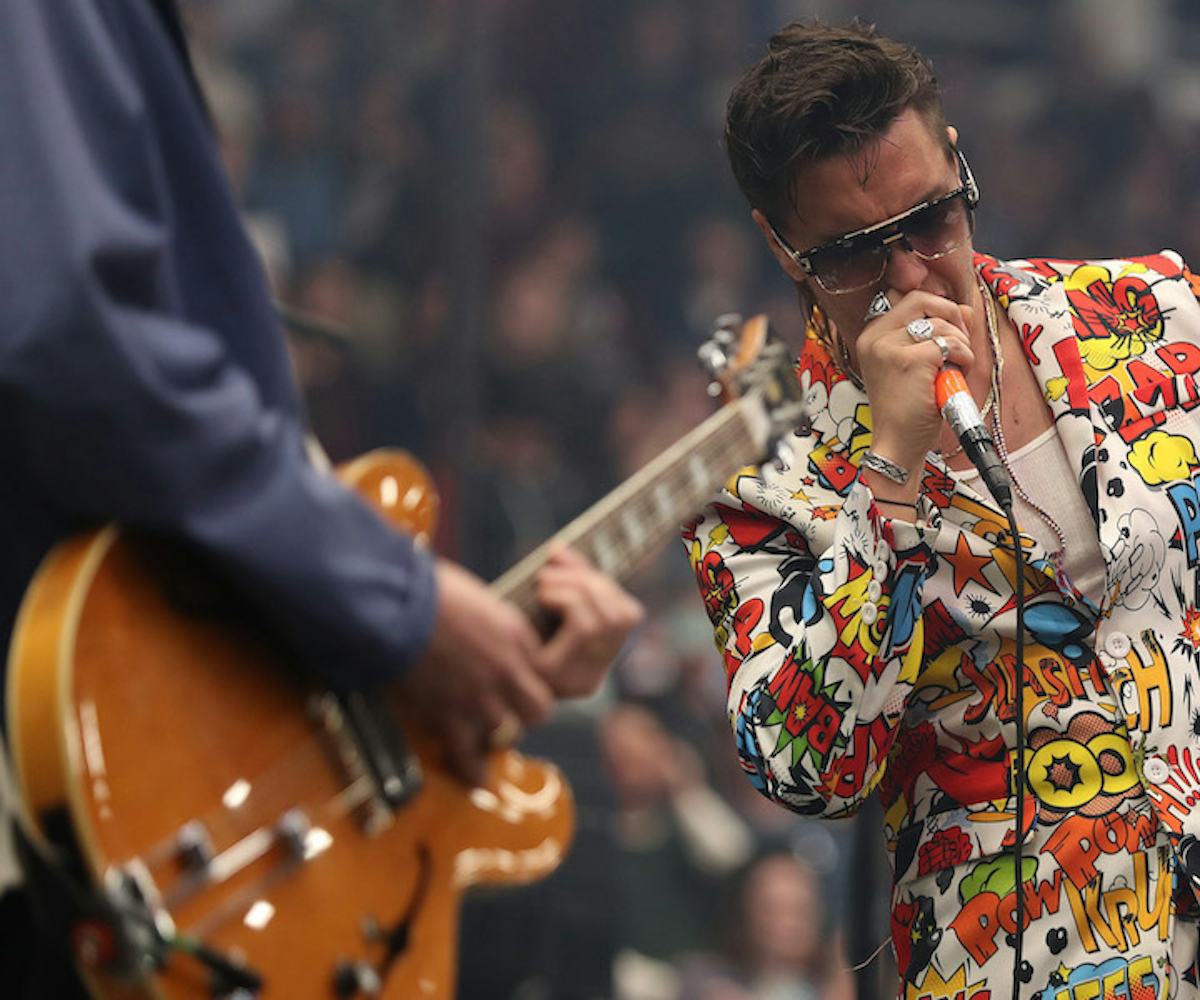 Photo by Joe Raedle/Getty Images
Musicians Love Bernie Sanders
From Vampire Weekend to Soccer Mommy, musicians everywhere are feeling the Bern and proving it by performing at his rallies
What do Soccer Mommy, The Strokes, Vampire Weekend, and Bon Iver all have in common? They're all feeling the Bern — and, in the first few months of 2020, they've all used their music to help raise awareness around the candidate by playing live concerts at the various rallies he's hit on his ongoing campaign trail. Getting the support of big-name musicians can be a major boon for presidential candidates, helping to draw out larger crowds for those oh-so-necessary rallies while also helping undecided voters settle on a candidate their favorite singers and bands already feel a kinship with. Below, find a list of all the musicians that have lent their voices to the Bernie Sanders 2020 campaign trail.
Vampire Weekend
Last month, Vampire Weekend lead singer Ezra Koenig took to Instagram to announce that he and his band would be playing a Bernie Sanders rally in Cedar Rapids, Iowa on February 1. "I still believe that Bernie can win & it's brutal seeing how much energy goes into convincing voters that one of the most popular politicians in the country (and the one who polls best against Trump) is unelectable," the Father of the Bride singer noted in his caption. "I don't feel like I'm separating my values and my pragmatism by supporting Bernie and neither do millions of others! Anyway, Bernie's still the landslide favorite among people 35 and under (across racial and gender lines) so talk to your older, skeptical friends and family about why Bernie can actually win."
Of course, the band, who have been together since 2006 when they were all undergraduate students at Columbia University, were also major proponents of Sanders' campaign trail back in 2016, too, when his main competition was Hillary Clinton. Back then, in February 2016, they played their "first-ever Bernie rally in Iowa City." (Koenig used a picture from that performance to advertise his performance this year.)
Bon Iver
The day before Vampire Weekend brought the house down in Cedar Rapids, the internet's favorite Sad Boy Justin Vernon, better known as Bon Iver, did the same in Des Moines, Iowa, at the Horizon Events Center. During his set, Vernon played a few acoustic versions of his own songs (including "Flume" and "For Emma") as well some covers from Bob Dylan and Leon Russell. In an accompanying interview with CNN, the 22, A Million singer voiced his continued support of Sanders (he introduced the candidate at one of his rallies back in 2016) while also coming out against Joe Biden as a second choice, citing that he is done with people voting in the interest of "nostalgia."
The Strokes
About a week later, on February 10, The Strokes graced the stage in Durham, New Hampshire, where they played an 11-song set that included a cover of The Talking Heads' "Burning Down the House" and some choice hits from their famed catalogue (including "New York City Cops," which closed the show). The mini-concert was also a highlight for fans since the band debuted the video for "At the Door," the first single from their upcoming sixth album The New Abnormal, and "Bad Decisions," the second single from the album, which didn't arrive in its final form until a week later. In a press release about the show, Julian Casablancas, the band's lead singer, said, "We are honored to be associated with such a dedicated, diligent, & trustworthy patriot — and fellow native New Yorker! As the only truly non-corporate candidate, Bernie Sanders represents our only chance to overthrow corporate power and help return America to democracy. This is why we support him."
Soccer Mommy
The most recent musician to offer her support to the Sanders campaign is Soccer Mommy's Sophie Allison, who joined former candidate Marianne Williamson (now a strong endorser of Sanders) and performed at yesterday afternoon's rally in Houston, Texas, held at the University of Houston's Fertitta Center. In her announcement, Allison referred to Sanders as our "future president." At the rally, the singer played a number of tracks from her 2018 album Clean as well as some new music. The performance quickly went viral on Twitter when a video surfaced of Sanders beginning his speech by saying, "Let me thank Soccer Mommy for the music." I'm sure many of us can relate.
And while other musicians have yet to lend their musical prowess to the stage of one of his rallies, there are plenty that have used their big platforms to express their support for the 78-year-old candidate, including Cardi B, Ariana Grande, Miley Cyrus, Frankie Cosmos, and Speedy Ortiz. Imagine how stacked the lineup for his actual election win could be? Let us all kneel down and pray.