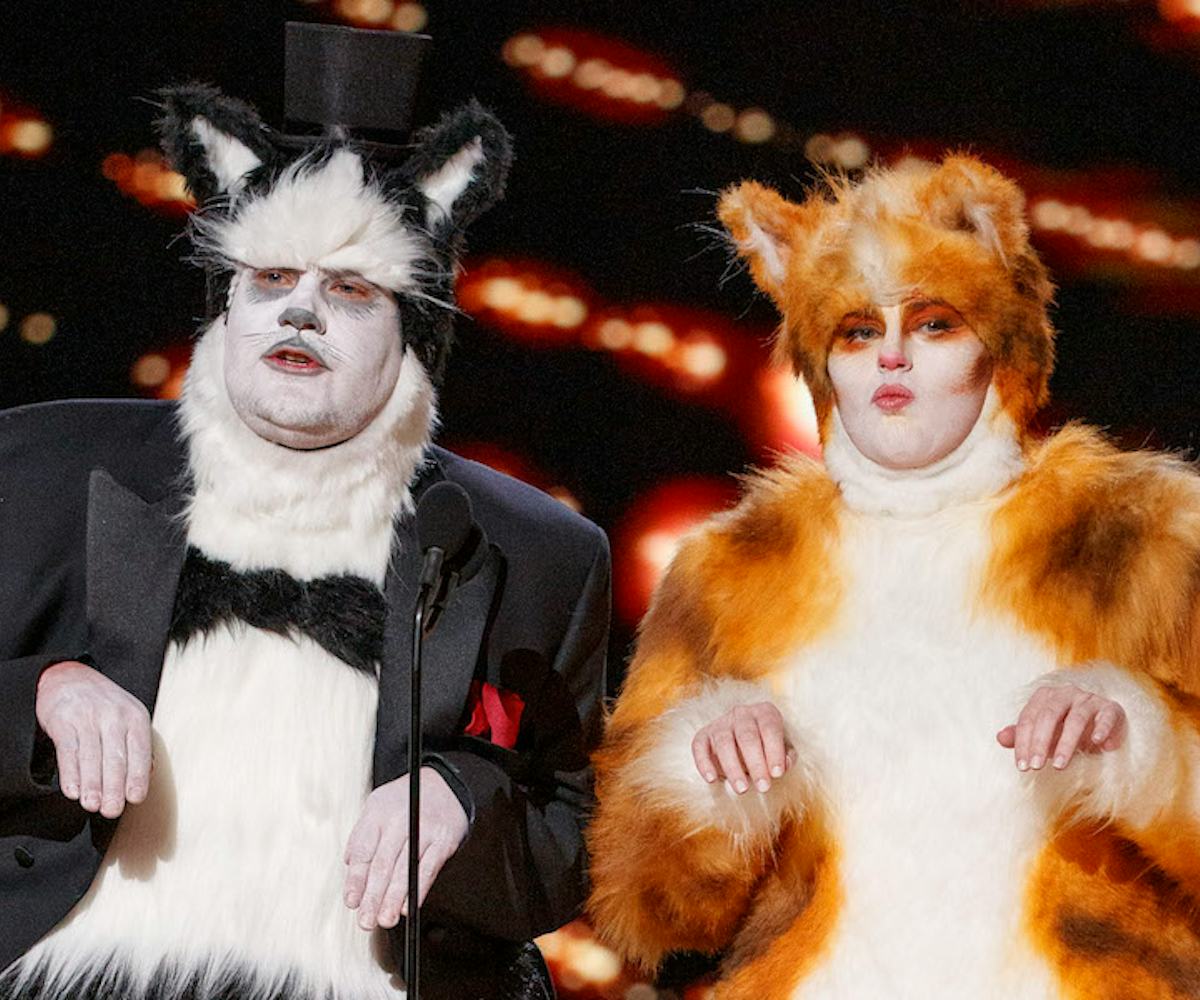 Photo by CRAIG SJODIN/Getty Images
All The Best Memes From The 2020 Academy Awards
Bong Joon Ho said gay rights!
Amidst all the cheering for Parasite that rang out across the internet, the 2020 Academy Awards spawned some truly hilarious memes and reactions that offered a satisfying end to a long awards season. The memes started nearly a month before the ceremony, as soon as Issa Rae congratulated "those men" while announcing the full list of Oscar nominees. As Succession's Shiv would say, the noms reeked of "pale, stale male", with Greta Gerwig snubbed for Little Women and basically all people of color — save for the Parasite creative team — not earning a single nod.
The 2020 Oscars proved to be a little less bleak than the nominations would have suggested, as Parasite swept up four awards, tying with Walt Disney for the most awards received in one night (Disney won four in 1953). Though it would have been more exciting to see the snubbed cast also deservingly sweep the awards in the acting categories, director Bong Joon Ho's pure, unadulterated joy was enough to make it seem like all was right in the film world, if only for the short half-life of the memes that resulted. Below, NYLON has rounded up all the best memes from the 2020 Oscars, from Billie Eilish's confused looks to Ho making his multiple Oscars kiss.
The red carpet wasn't very meme-worthy, save for a gaggle of stars who all dressed like they were ready to send you on a mystical quest.
Does anyone have confirmation that the Academy even saw Hustlers or Little Women before snubbing them?
Saoirse Ronan was snubbed once again.
But Greta Gerwig likely has dozens more Oscar-worthy roles for her in the works — undoubtedly opposite Timothée Chalamet.
Speaking of Chalamet, his pairing with Natalie Portman was seemingly based on bone structure alone.
Billie Eilish, queen of the Zoomers, made literally everyone feel ancient.
The show began with Janelle Monáe onstage backed by dancers dressed in the costumes of snubbed movies. It was... a Choice?
Laura Dern, recently honored for being the gayest thing in 2019 films that weren't explicitly gay, blessed everyone with a new reaction image.
And then, Eminem arrived and reminded everyone that the evening could be going much worse.
Why was he there again? Idina Menzel, Eilish, and sleepy Martin Scorcese were all of us.
Give Menzel all the awards, please.
This moment was much less funny and more traumatizing sans edible.
The lack of self-awareness in celebrities praising Parasite without interacting with any of the class commentary was astounding.
E. Alex Jung said it best:
Jeff Bezos looking on as Parasite swept the awards was a strange feeling, and @lgbtkenobi imagined a the scenario that would have felt much better.
But Bong Joon Ho was out of sh*ts to give.
What else are you supposed to do with two gold statuettes? Hm?
We stan one filmmaker in this house.
He may have given Quentin Tarantino a shoutout, but this is really what everyone else was thinking.
Awards season is long for the casual viewer, but for anyone stuck in the states 'til it's over, it's excruciating.
Remember when he unintentionally threw shade at the Academy by calling the Oscars a "local" event? Well, now you can call him a local award winner.
Parasite sweeping the Oscars is really a best case scenario.
It was meant to be!
The 2021 Oscars have a lot of energy to live up to.
Joker only nabbing two wins out of its 11 nominations is almost as good as Parasite's historical four wins. Almost!
And remember... it could have been so, so much worse.