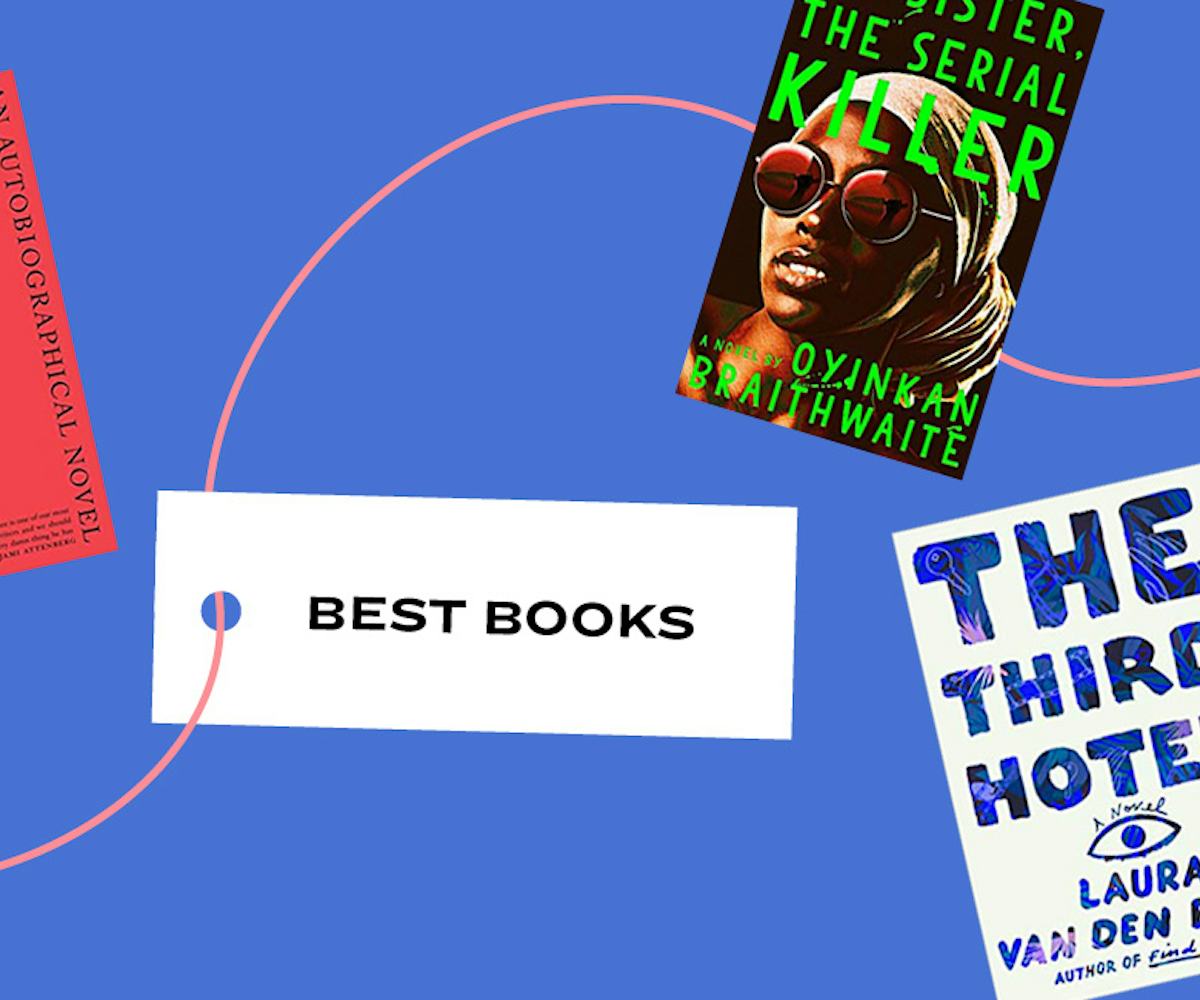 The Best Book To Get For Everyone On Your List
Including for the person who took one ceramics class and is now pretty sure she's gonna sell mugs
'Tis officially the season for gift-giving. For us, that's a full month in which we'll be providing gift ideas for everyone on your list with our Unwrapped holiday gift guides. So make your holiday shopping a breeze this season, and let us help you find gifts for all the people in your life.
Finding the perfect gifts for all the people in your life is a daunting task! Books, though, are one of the best gifts to give, because they always make the recipient happy—at least in our experience. And that's probably because we are really good at giving books! We just have a knack for knowing exactly what it is that someone will be looking for in a new read. And, this holiday season, we're sharing our gift for giving with you. Read on to see which gifts to give to which person in your life.
For the City-Dwelling Apocalypse Prepper: Severance by Ling Ma (available here)
Ma's debut novel goes back-and-forth in time, alternating between glimpses of the narrator, Candace's, Brooklyn millennial, office drone life, before a plague zombifies the global population, and then after, when she connects with a motley crew of fellow survivors as they traverse the barren hellscape that is America. It's surreal and affecting, funny and recognizable, and it will have the apocalypse-prepper in your life feeling justified for the constant stocking of their "go bag."
For the '90s Nostalgic Who Actually Lived in the '90s: Night Moves by Jessica Hopper (available here)
Hopper's diaristic memoir is actually perfect for anyone who feels a deep longing for that time in their lives when they lived with reckless abandon, saw the sunrise as a signal that maybe it was time to go to sleep, and prowled city streets on bicycles, hair streaming out behind them, arms lifted high and then higher. It's a celebration of life, rebellion, music, and friendship, and it'll make nostalgics of anyone who reads it.
For the Resolutely Child-Free: The Perfect Nanny by Leila Slimani (available here)
We read this book at the very beginning of this year, and it still haunts us! It's based on a real-life tragedy, in which two young children were murdered by their nanny in New York City, but Slimani has transposed the events to Paris and changed pretty much all the details other than the heart-breaking murders. It's a provocative, heart-wrenching thriller that has a lot to say about issues like immigration, domestic help, the guilt of working mothers, and a whole host of class issues, but the incomprehensible horror of the central crime makes it a book that is really, really hard to read if a person has children. So maybe give it to someone who doesn't?
For the Parents Who Love to Indulge in a Little Playground Gossip: That Kind of Mother by Rumaan Alam (available here)
This clear-eyed, and thus never not complicated, look at motherhood, adoption, racism, and classism, is one of the smartest, funniest (often cringe-inducingly so) novels of the year. It revolves primarily around the experiences of one woman, Rebecca, a wealthy, white poet, who's married and has a child, and who winds up, through the exigencies of fate, adopting the black infant son of her former nanny, Priscilla. Alam does a brilliant job of depicting and dissecting Rebecca's white savior complex, and he turns a mirror on all our preconceived notions of adoption and motherhood, subverting long-held beliefs about how a mother should be.
Read my interview with author Rumaan Alam, here.
For the Person Who Took One Ceramics Class and Is Now Pretty Sure She's Gonna Sell Mugs as a Side Hustle Any Day Now: The Curse of the Boyfriend Sweater: Essays on Crafting by Alanna Okun (available here)
Okun's charming essay collection traces the ways that crafting—whether knitting, embroidering, crocheting, making sweaters for rocks, etc.—has played a role in strengthening her relationships with the people around her, from family members to friends to significant others. It's the perfect choice for anyone you know who has lately decided they want to start working more with their hands, by doing ceramics or baking bread or what have you, because Okun not only makes clear the tangible benefits of getting crafty (handmade socks!), but also those that are more ephemeral, like having a better connection to yourself and your ability to produce things with your own two hands.
Read more about Okun's book and watch a video of us embroidering, here.
For the Person Who Conducts Whole Relationships Through Their Phone: Emergency Contact by Mary H.K. Choi (available here)
This novel is nominally YA, but you don't need to be a teen to enjoy and relate to the story of Penny and Sam, two eternal misfits who find solace with one another through their phones' screens. Choi perfectly captures the angst of figuring out who you are in a world that doesn't really seem to care and the difficulties of navigating those beginning years of adulthood. And while you don't need to be a teen to enjoy it, this is also the perfect gift for one—particularly a high school senior.
Read my conversation with Choi, here.
For the Person Who Sees the Beauty in a Tangle of Backyard Roses: How to Write an Autobiographical Novel: Essays by Alexander Chee (available here)
Chee's essay collection spans years of his life, going back to his years as a child, and ascending through his adolescence and adulthood. It is, in many ways, a political collection, as Chee confronts what it meant to grow up as a gay man during the AIDS epidemic, in a country where it was clear that the powers that be didn't care if he lived or died, but it's also a perfect example of how the political is personal, and how all of it is part of our universal experience of being human, and looking to find beauty in the world around, and within, ourselves.
For the Person Who Doesn't Know If Writing Heals, But Is Willing to Try Anyway: Heart Berries: A Memoir by Terese Marie Mailhot (available here)
Within this stunning memoir, Mailhot reveals a life of struggle and illness, deprivation and pain, but she is so full of strength in the face of adversity and resilience, that it is impossible not to read it and feel real hope and the possibility of triumph and renewal, no matter how dark things seem. Mailhot started writing the essays that comprise this book after being hospitalized and diagnosed with both bipolar II and post-traumatic stress disorders; through her writing, she grapples with her traumatic upbringing, her dysfunctional parents, and her own struggles learning how to love. The result is this singularly moving, poetic book, one full of rage and desire, fear and brilliance.
For the Person Who Likes to Have Their Insides Ripped Out When They're Reading: Heavy by Kiese Laymon (available here)
Laymon's essay collection is fearless in its willingness to take the reader to the most uncomfortable of spaces, into periods of his life when he dealt with racism, eating disorders, family trauma, poverty, and the general moral rot of America. But there is also a tenderness to this collection, an ability to take the burden placed on him and shift the weight around, making it possible to move forward. This book is a challenge, a provocation, and it will dazzle anyone who reads it.
For the Person Who Has Just Moved to New York City: Neon in Daylight by Hermione Hoby (available here)
This book is full of sentences as beautiful as a summer sunset viewed from a Brooklyn rooftop, and is the perfect gift for any young woman who has just moved to New York, and is figuring out exactly who it is she wants to be and looking around for answers and signs to that existential question on every street corner, in every bodega, and in the faces of strangers at every party she attends.
Read my interview with Hoby, here.
For the Person Who Is Going Through a Difficult Breakup: My Sister the Serial Killer by Oyinkan Braithwaite (available here)
This pitch-black comedic novel centers around two sisters, the beautiful, murderous Ayoola and the dutiful, loyal Korede, who has cleaned up after her sister's, um, "missing" boyfriends on more than one occasion. It's a delicious tale of twisted loyalties and the cost of keeping secrets, even for those we love. It's a remarkable debut and the perfect book for someone who wants to read about revenge—even though she would never act on it!
For Anyone Who's Been Touched by Addiction: The Recovering: Intoxication and Its Aftermath by Leslie Jamison (available here)
The addiction narrative is not a new one in literature, but Jamison does something wholly unique here in the way she contextualizes this ongoing struggle to find balance in our lives, rid ourselves of dependency, and understand why we desire the things that are most likely to kill us. The book is also a fascinating blend of reporting, history, literary critique, and memoir, and offers valuable insight into the state of the recovery and rehabilitation movement in this country.
For Anyone Who Has a Child Or Was a Child: Now My Heart Is Full: A Memoir by Laura June (available here)
In this gorgeous memoir, June recounts what it was like growing up with an alcoholic mother and intertwines it with her own experience as she has a daughter of her own. It's a moving account, both heart-rending and -restoring, about what it means to be a mother and a daughter, and coming to terms with the imperfections within these most foundational of familial bonds.
Read my interview with Laura June, here.
For Anyone Tired of Being Asked When They're Just Going to Settle Down and Get Married: No One Tells You This by Glynnis MacNicol (available here)
This frank, hilarious, moving memoir is a much-needed look at what it means to be a single, child-free woman, and how there isn't any road map to the experience—even if there are plenty of people who are more than willing to tell you what direction they think your life should go. MacNicol reveals the ways in which it can feel difficult and overwhelming to be on her own—particularly when grappling with the illness and death of her mother—but also the many ways in which it's liberating to be the navigator of your own life.
Read my interview with MacNicol, here.
For Anyone Who Is Obsessed With True Crime: The Real Lolita: The Kidnapping of Sally Horner and the Novel That Scandalized the World by Sarah Weinman (available here)
Not many people are aware of the at least partial inspiration for Vladimir Nabokov's Lolita, but what Weinman reveals with this book is the importance of recognizing the ways in which a real-life little girl was erased from the retelling of her own story. Weinman's book works as both detective narrative and cultural history; she traveled around the country, visiting the places where Sally Horner's kidnapper brought the young girl, as well as the many roadside motels where Nabokov and his wife stayed while he wrote (he composed his novels on index cards, which his wife then typed out) and hunted for butterflies. In the end, Weinman gives true insight into a tragic story, but also a nuanced, empathetic look at the young girl at its center.
For Anyone Who Wants to Kill Their Male Literary Heroes: Invitation to a Bonfire by Adrienne Celt (available here)
Speaking of Nabokov, Celt's novel is loosely inspired by the author's highly interdependent relationship with his wife Vera, and is a stunning example of the power of an unreliable narrator. Read this story of a most twisted love triangle, and lose yourself as you question familiar power dynamics, the complicated ethics of fidelity, and what horrible and beautiful things we give ourselves permission to do, all for the sake of the sublime.
Read my interview with Celt, here.
For Anyone Who Knows The Particular Humidity That Grief Holds: The Third Hotel by Laura Van Den Berg (available here)
There is an oppressiveness to grief, to loss, a distorting of reality, that is at once stifling and liberating, because it forces you to do things you might not do and go places you might not go and be someone who you might not otherwise be. In The Third Hotel, Van Den Berg captures this dislocation of self perfectly, as she follows the recently widowed Clare to a film festival in Cuba, where Clare sees someone who she knows must be her dead husband, Richard. What follows is a surreal journey, throughout Cuba and within Clare's memory, leading to a quietly explosive ending, and the realization that our lives contain endless amounts of mystery—it shouldn't only take death to get us to explore them.
For Anyone Who Likes to Hear from a Variety of Perspectives, Knowing That Leads to a Cacophonous Thrill: Welcome to Lagos by Chibundu Onuzo (available here)
The second novel for Onuzo, though her first published in America, it heralds the young writer's great talent, her ability to weave together multiple story lines into one vibrant tapestry, and her gift at inhabiting myriad perspectives while maintaining the singularity of each individual voice. Welcome to Lagos follows the stories of Chike, an officer in the Nigerian army who deserts his post rather than kill innocent civilians; Yemi, who served under Chike in the army and also wants to leave; Fineboy, who has been fighting with a rebel group but wants out of that; Isoken, a teenager who fears for her safety if she stays at home; and Oma, who has been suffering under the hand of an abusive husband. Onuzo doesn't try to make any sweeping—and reductive—statements about the state of life in Nigeria; instead, she concentrates on specific, intimate portraits, and her sensitivities toward her characters reveal far more than any simplistic generalizations ever could.
Read my interview with Onuzo, here.
NYLON uses affiliate links and may earn a commission if you purchase something through those links, but every product chosen is selected independently.