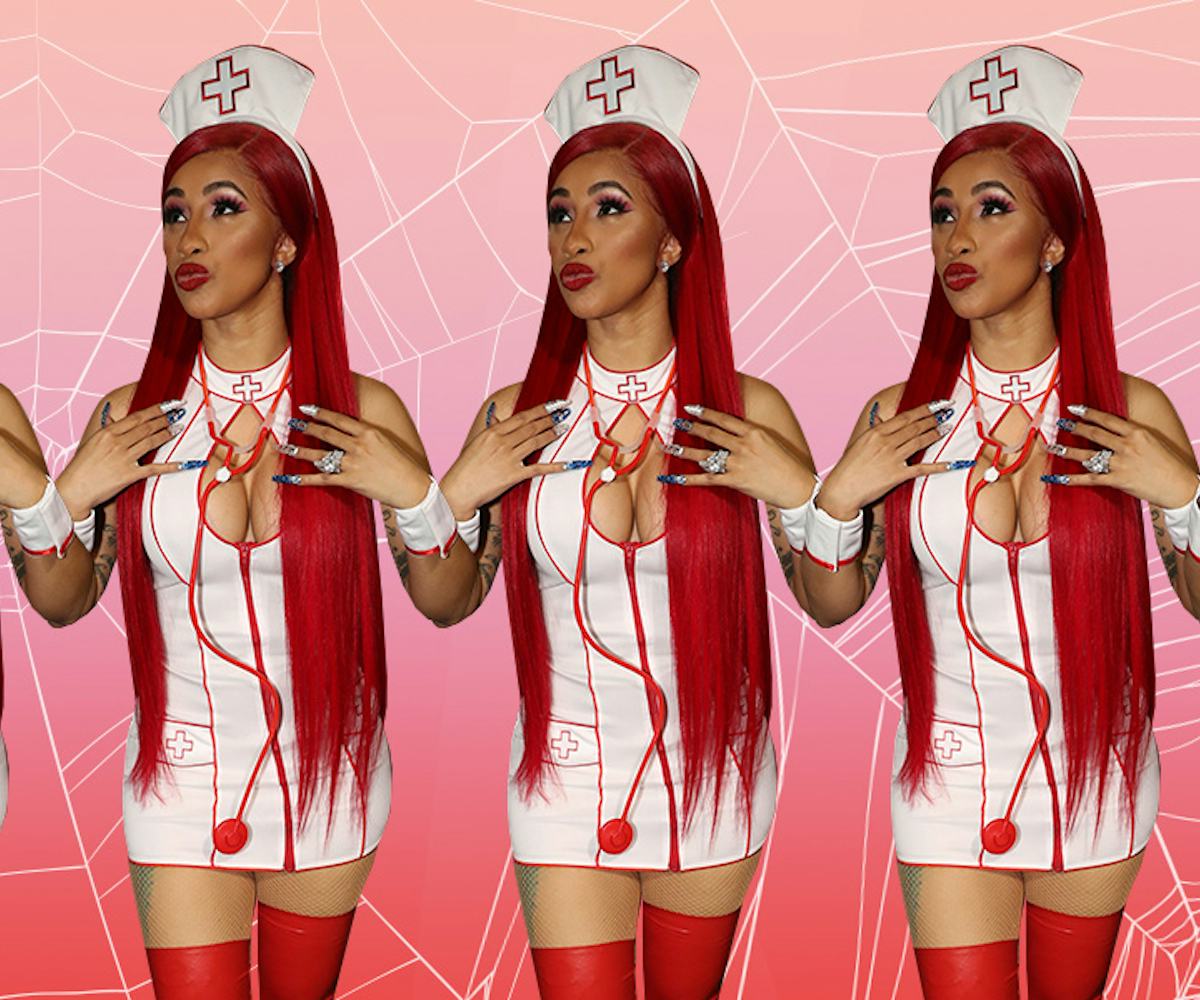 Photo by Johnny Nunez/WireImage
The Best Celebrity Halloween Costumes, So Far
From Demi Lovato to Camila Mendes and Kiernan Shipka
Though Halloween has yet to officially arrive, celebrities have already started showing off their most creative costumes for you to pull last-minute inspiration from (or just scroll past in awe). Some have already shown they take Halloween very seriously; Halsey, Nina Dobrev, Demi Lovato, and more have been spotted wearing jaw-dropping costumes on multiple nights now. Cardi B chose to keep it traditional by dressing up as a (Latex-clad) nurse, while Camila Mendes somehow found a way to make Rick and Morty's Pickle Rick fashion-forward.
Below, we've rounded up the best celebrity Halloween costumes of 2019. Stay tuned as the list continues to grow throughout Halloween week.
Camila Mendes as Pickle Rick
Camila Mendes, aka probably the only person who could pull off "Sexy Rick."
Liza Koshy as Anna Wintour
My soul left my body when I saw how well Liza Koshy transformed into Vogue's Anna Wintour.
Evan Peters and Halsey as Sonny and Cher
A sure way to make a relationship official in 2019 is with a well-done couple's costume.
Nina Dobrev and Lane Cheek as Marie S'Infiltre and Gigi Hadid
Nina Dobrev recreated the most iconic moment of Paris Fashion Week.
The cast of 'Blackish' as the cast of 'Us' 
I would like to never run into this group costume in real life, but it looks incredible a safe distance away on the internet.
Paris Jackson and Gabriel Glenn as Scooby Doo and Shaggy
Thank you, Paris Jackson, for deciding my costume for this year.
Jhené Aiko as Ash Ketchum
This costume has me as obsessed with Jhené Aiko as I once was with Pokemon.
Kiernan Shipka and Luke Cook as The Devil and Sabrina Spellman
Freaky Friday, but with their Chilling Adventures of Sabrina roles.
Vanessa Hudgens, Charles Melton, Paola Nuñez, and Alexander Ludwig
Probably the easiest last-minute group costume I could think of, but with great results for the 'gram.
Kourtney Kardashian as Ariana Grande
This costume doubles as an excuse to sing louder than everyone else once the party starts going.
Nats Getty and Gigi Gorgeous as Jack Skellington and Sally
Queue up "I Miss You" by Blink-182.
Cardi B as a nurse
An oldie but a goodie.
Gabrielle Union as Herself in 'Bring It On' 
Gabrielle Union really "brought it" when she dressed up with her daughter as her Bring It On character.
Halsey as Marilyn Manson
Halsey has me rethinking Marilyn Manson's entire aesthetic.
Stormi Webster as Kylie Jenner
Like mother, like daughter. Literally.
Paloma Elsesser as an elf
Paloma looks drop-dead gorgeous.
Demi Lovato as Marie Antoinette
Demi Lovato really didn't play around.
Vanessa Morgan as Maleficent
Can Maleficent become the new all-black-plus-a-headband costume for the next few years?
Emma Chamberlain as Paris Hilton
The Von Dutch bag really takes me back.
Ashley Graham as Jessica Rabbit
The caption makes this costume even better, if you ask me.
Demi Lovato as Pennywise
Again... not a costume I'd like to run into in real life, but I have to hand it to Demi for killing her Pennywise look.
Kylie Jenner and Anastasia Karanikolaou as Madonna and Britney Spears
Kylie and Stassi recreated one of the most iconic moments from music history.
Kate Beckinsale as Audrey Hepburn in 'Breakfast at Tiffany's'
Kate Beckinsale bringing Tiffany's to 7-Eleven. Can we also talk about her friend's spot-on Elton John?
Nicki Minaj as Harley Quinn
Petition for Nicki Minaj to star in a Suicide Squad film.
Lisa Rinna As Jennifer Lopez for Versace
Picking your Halloween wardrobe based on whether or not it's the reason Google Images was invented is always a good choice.
Jessica Biel and Justin Timberlake as Justin Timberlake and... a microphone
Using your costume as an opportunity to make fun of your boyfriend's previous Ramen-noodle shaped haircut is also a very good choice.
Ciara and Russell Wilson as Beyoncé and Jay-Z
One word: iconic.
Sydney Carlson, Nikita Dragun, and Olivia O'Brien as Playboy Bunnies
Where do I get this neon green bodysuit? I'm ready to be a slime playgirl!
Tracee Ellis Ross as Princess Jasmine
The Aladdin remake we deserve!
Tess Holliday as The Kool-Aid Man
*Kool-Aid Man voice* Ohhhhh yeeaaaah.
Heidi Klum as Something From Our Nightmares
I'm guessing she's a cross between an alien, Frankenstein's monster, and a skinned corpse.
Jaden Smith and The Weeknd as Tyler the Creator and The Joker
Ok but, I'm kind of really into Jaden Smith as a blonde
Jordyn Woods and Meg thee Stallion as Mortal Kombat characters
Finish him!!!!
Kim Kardashian West as Elle Woods
Two words: spot on.
Cardi B as Poison Ivy
Definitely the best Poison Ivy I've seen this year.
Justine Skye as Shego
So what's the sitch?
Brie Larson as Britney Spears
This looks is a classic for a reason.