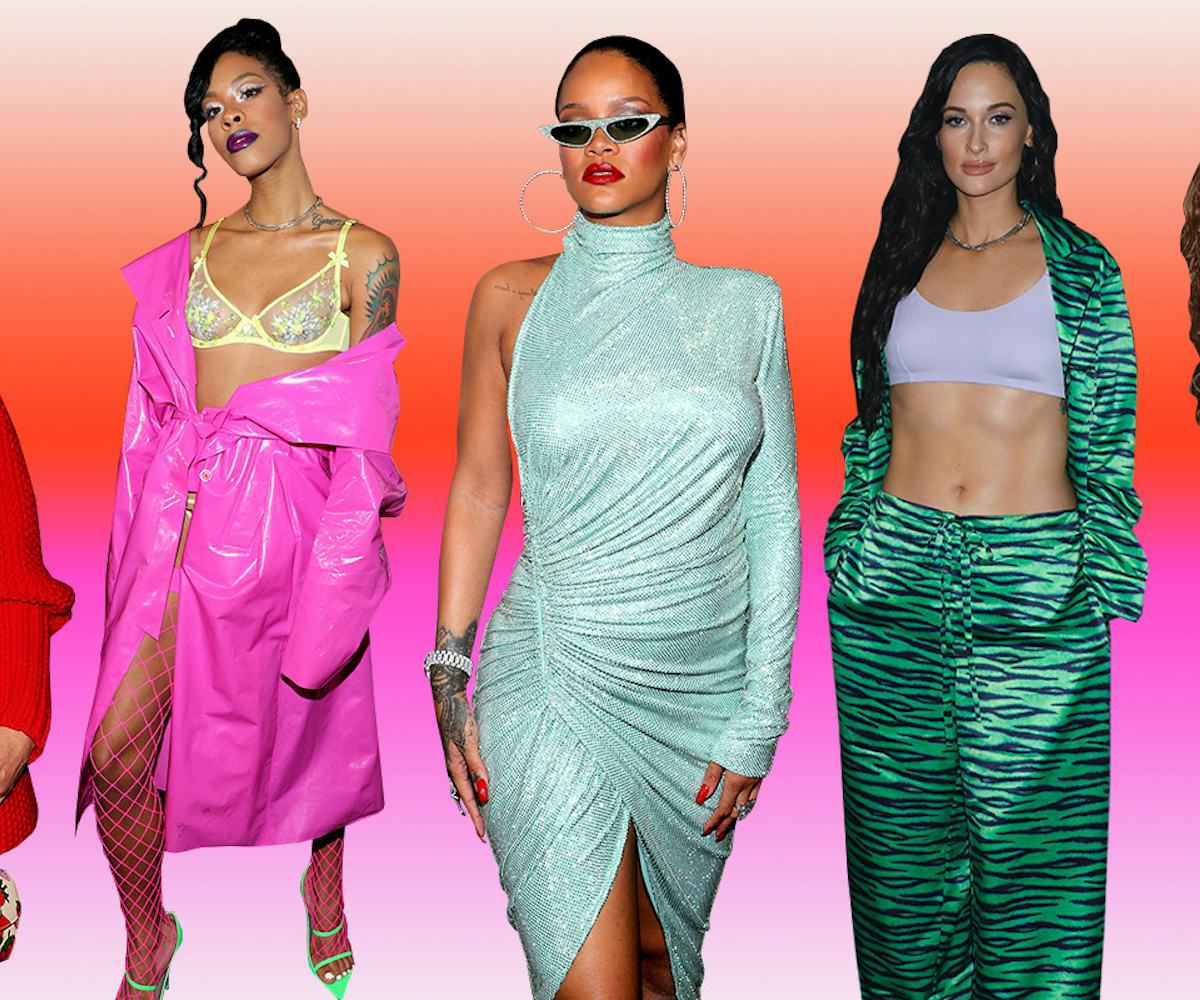 Photos via Shutterstock
These Were The Best Celeb Looks At New York Fashion Week
Featuring Zendaya, Kacey Musgraves, and more
As celebrities dashed from front row seats on the runway to some of the hottest parties of the season, we couldn't help but notice their incredible looks. While street style was ripe with trends and ideas we'll be trying to recreate from now until next season, celebs showed off all the most elaborate styles we'd be wearing if the sky was the limit (and our budget was limitless).
Some shows and events offered loads more style icons than others; Savage X Fenty was basically a slumber party to which Kacey Musgraves, Bishop Briggs, and more all wore their most chic, silky pajamas. The Harper's Bazaar party never disappoints, and this year was no exception with Kehlani and Winnie Harlow serving up larger-than-life looks of feathers and tulle, respectively. It was nearly impossible to narrow down our favorite looks from single celebs—you'll see Rowan Blanchard and Kehlani had such fierce outfits, that we absolutely couldn't limit them to a single photo.
Below, see all of our favorite celebrity fashion moments from NYFW Spring 2020.
Julia Garner looked *so* pretty in this all-over pink pattern.
Can we talk about the way Rico Nasty's ombré lip matches her trench and tights?
Of course, Kehlani could pull off this red feather dream.
Rowan Blanchard found the only knit dress I want to wear this fall.
Lily Collins took sheer skirts to a new level with this look.
Janelle Monaé's feathery bag perfectly accents this fluffy mini-dress.
Yes, I did shriek when I saw Zendaya in this suit.
Is this Winnie Harlow, or is it a cloud?
Halima Aden looking like a high-fashion Little Red Riding Hood.
Slick Woods just won the slime green trend, hands down.
Normani looked like she's suiting up in chainmail to come murder me with this look, and I'm not complaining.
I'm ready to spin through a field of flowers with Sadie Sink and this dress!
I want to go to whatever boarding school Natalia Dyer, Charlie Heaton, and Maisie Williams attended.
Barbie Ferreira officially resurrected the bandana.
Fuzzy cowboy hat and velvet trench on Miley Cyrus? Yee, and I cannot stress this enough, haw.
Kehlani had some of the best 'fits of all of NYFW. I'm wearing bike shorts and heels from this point forward, thank you.
Indya Moore channeling a grown-up Wednesday Addams.
@ Donna Karan, THIS is Halsey.
Bishop Briggs teaching us all a lesson in how to channel our inner goth, even in our pajamas.
Ready to join a jazzercise class with Erika Jayne.
Kehlani would be the person to rock an asymmetrical printed Canadian tuxedo.
Yuna is stunning in monochrome oxblood.
Priyanka Chopra's chain detailing is mesmerizing.
Rowan Blanchard is making a case for me to up the amount of lavender in my wardrobe.
Bella Hadid agrees: There's no reason to wear a shirt under your suit anymore.
With a lingerie look this good, Vanessa Hudgens has convinced me to wear mine out of the house too.
This print? That belt bag? Halima Aden rocked this.
Really glad that all the celebs (including Kacey Musgraves) agreed the Savage X Fenty show was just a really chic slumber party.
Rihanna just found my new favorite color.
Zendaya, actually the queen of perfect suits.