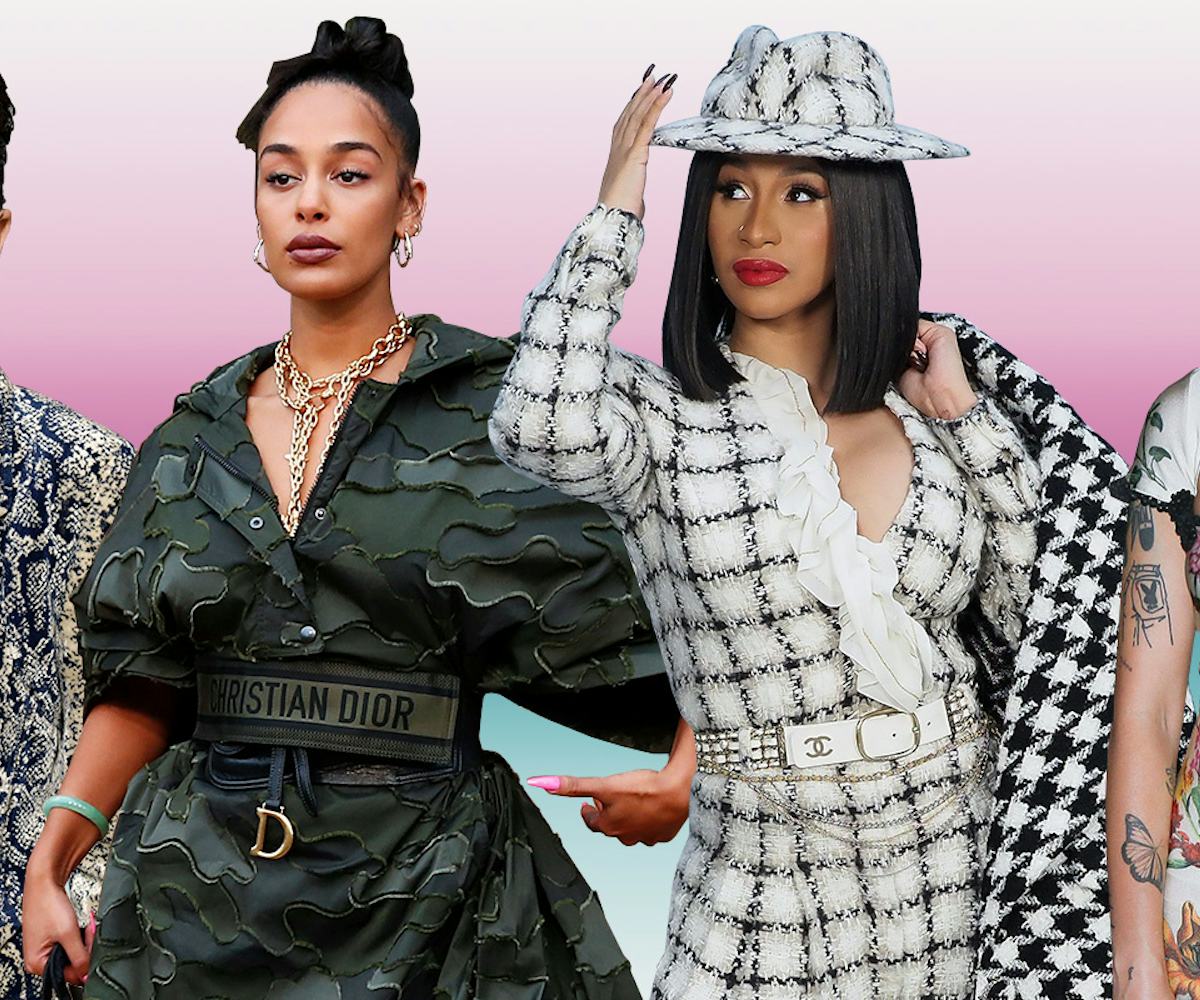 Photos via Shutterstock
These Were The Best Celeb Looks At Paris Fashion Week
Featuring Lachlan Watson, Cardi B, Halsey, and more
Fashion Month has come to an end, and before we get a little bit of rest before diving deep into the trends, we have to pay tribute to all of the best celebrity style that popped up during Paris Fashion Week. It was all-out extravagance as the final week closed out the Spring 2020 season, with big names like Cardi B and Lachlan Watson serving looks each and every day (and night). Some of our favorites from New York Fashion Week also turned heads in Paris: Indya Moore kept their goth glam style going in France, while Maisie Williams continued her lessons in perfect prep abroad.
Below, see all of our favorite celebrity fashion moments from the Spring 2020 shows in Paris. Until next time!
Jennifer Lawrence showing me how I'll be upping my witchy wardrobe this Fall.
Now *this* is how you do upscale camo.
Kelela proves that headphones are a hip accessory.
Uh, Ezra Miller, where do I get these shorts?
Halsey matched her eye makeup to these delicate florals.
The queen of coordinating makeup and outfits.
Everything about Eva Longoria's silky suit is perfect.
Now these are truly groundbreaking florals, Cardi B.
Maisie Williams and Thom Browne are an unbeatable combination.
The Haim sisters can do no wrong.
Naomi Campbell found some gorgeous feathers to help her float through PFW.
This is the first time I've ever wished I had sisters to coordinate with.
Hunter Schafer, please step on me with these Givenchy boots!
Katherine Langford found the ultimate retro suit-dress.
Lachlan Watson is a vision in pink.
And in black and white.
Cardi B won PFW celeb style, hands down.
Adding Ellie Goulding's boiler suit to my 2020 vision board now.
I want to be buried in this textured print.
Cardi B has mastered monochrome.
Shades of black is my kind of goth style inspo, and Lili Reinhart.
Kiersey Clemons giving us a lesson in how to wear socks with heels.
Cadet Kelly remake starring Lachlan, yes or yes?
I want Héloïse Adelaïde Letissier to be my pilot from now on.
Indya Moore is my favorite biker babe.
There's so much going on with Chloë Grace Moretz's outfit and I love it all.
How could we not include this final Cardi Chanel look?