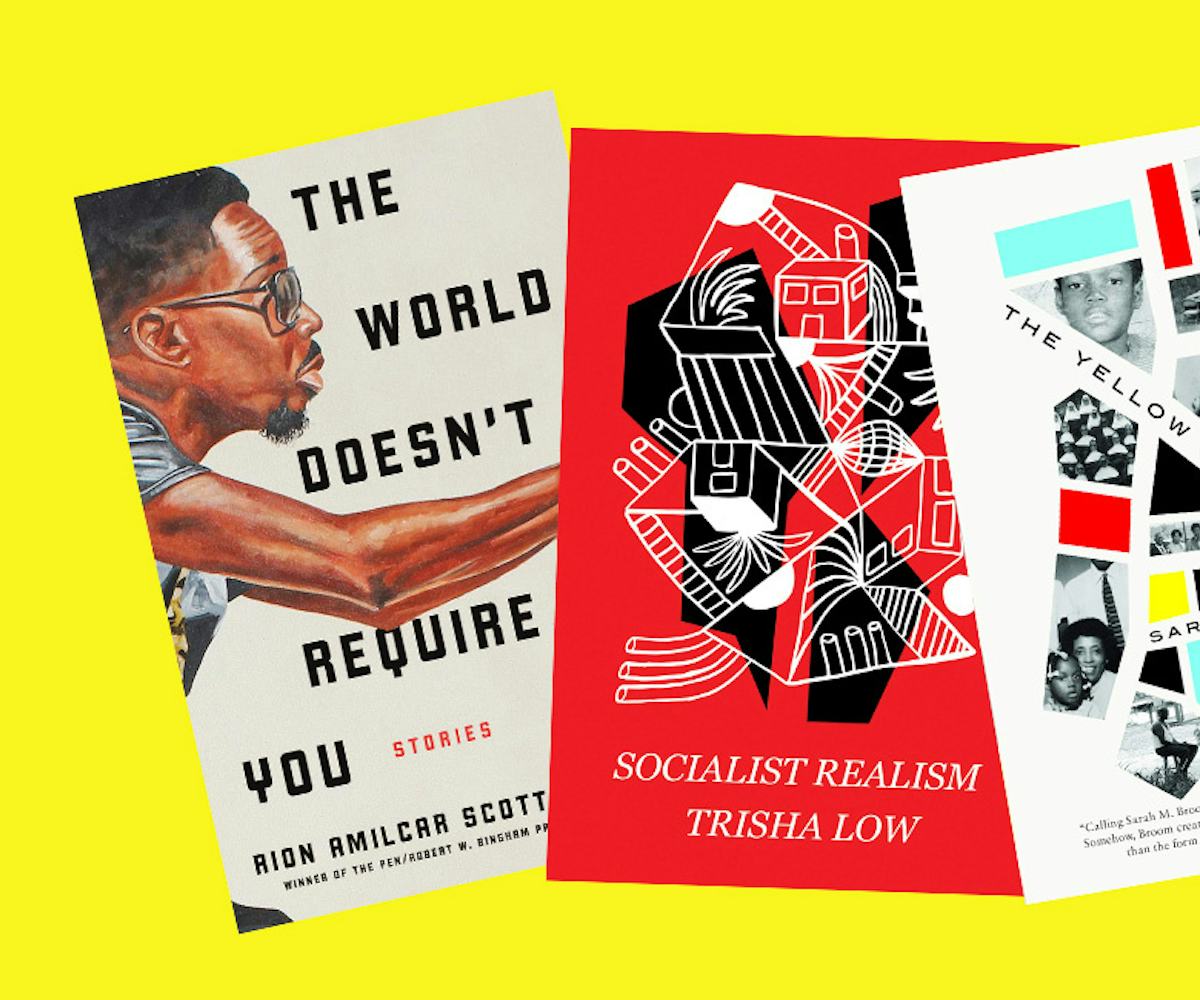 12 New Books To Read This August
At least there's something good to read
It's hot. Stay inside. Listen to sad music. And, also, read a book, why don't you?
In case you need help figuring out what to dive into, I've rounded up a dozen great books, all coming out this month. August always simultaneously feels like it's a million years long and that it's over in the blink of an eye, so you might as well add to its surreality by getting lost in one of these provocative, subversive, brilliant reads.
Marilou Is Everywhereby Sarah Elaine Smith (available now)
When I was a teenager, no fantasy was more alluring to me than that of slipping into someone else's life; reinvention always seemed fully possible if maybe I could just trade houses, families, clothes, friends, or even just names, with someone else. And while I'm now long past the point in my life when I imagine what would happen if I walked into someone else's apartment, and sat down at their dinner table, and went to sleep in their beds, I still felt a shiver of recognition when I read these words in Sarah Elaine Smith's beautiful debut novel: "I had only ever been myself, and found it lacking." This is the opinion of Cindy, a strange and solitary 14-year-old, who is palpably unsatisfied with the contours of the life she was born into; her home is falling apart, she is intellectually unstimulated and emotionally abandoned by her family, and she yearns for more. She finds it after Jude, another local girl—a popular local girl—goes missing, and Cindy becomes something of a surrogate daughter to Jude's grieving, disoriented mother. If this sounds strange, well, that's because it is, but it is also one of the most unforgettable books I've read this year, offering a uniquely haunting, but also disarmingly funny and lyrical look at loss, love, and the desire to be seen for who you know yourself to be.
A Particular Kind of Black Manby Tope Folarin (available August 6)
This searing, powerful novel is a stunning debut by Tope Folarin, offering a look into the disorienting life of a first-generation Nigerian-American. Tunde Akinola was born in America and is growing up in Utah, a place where white kids ask him why he can't rub the black off his skin; his Nigerian-born father and mother experience life in Utah in a different way—from Tunde and from one another. His father insists everything will be fine; his mother can't stand it, and eventually flees back to Nigeria, alone. Tunde can't follow her, but never stops needing her; even as he grows up, gains a stepmother and stepsiblings, goes to college, and becomes a man, he always looks for his mother, for home. Folarin has written a compelling, lyrical story about alienation and identity, the kind that sticks inside you long after you've finished reading.
White Flights: Race, Fiction, and the American Imaginationby Jess Row (available August 6)
This fascinating book explores the concepts of white flight and gentrification through the lens of whiteness within American culture—specifically fiction. Jess Row closely examines the way the giants of late-20th century American fiction—people like Jonathan Franzen, David Foster Wallace, Marilynne Robinson, Don DeLillo, and Richard Ford—restricted their work to inherently white milieus, making sure that there would be no interrogation of the issue of race within their pages. Row posits that fiction's segregation is self-imposed, often in the name of the same kind of "safety" that led whites to flee cities and settle in de facto (though sometimes literal) gated communities; he's sure that fiction can be used to start conversations, to breach the boundaries we've been told are impermeable. Row's writing is consistently compelling, a necessary read for anyone who wants their art to be challenging, not merely comforting.
Trick Mirror: Reflections on Self-Delusionby Jia Tolentino (available August 6)
You've almost definitely read Jia Tolentino before; her articles for The New Yorker, where she's a staff writer, are some of the publication's most popular. And it's for good reason! Tolentino brings a singular incisiveness and wit to everything she covers, from the rise of Juuling to the phenomenon that is the athleisure brand Outdoor Voices. So prepare to get really excited for her book of essays, which combines cutting commentary on our culture's current obsession with optimizing everything (including our own bodies) with a holistic look at our collective willingness to deceive ourselves just so we can keep the promise of a happily ever after alive.
The Remainderby Alia Trabucco Zeran, translated by Sophie Hughes (available August 6)
Short-listed for the Man Booker International Prize, this beautiful, profound novel shows trauma's lingering effects, the way that it can still be felt even by those who didn't experience it firsthand. Three friends—Felipe, Paloma, and Iquela—live in Santiago, Chile, where their lives are still shadowed by the brutality of Chile's dictatorship, and haunted by the actions of their parents. When her mother dies and the body gets lost in transit, Paloma and her friends go on a road trip to lay her—and the pain they carry within them—to rest. It's a mesmerizing, roaming look at intergenerational trauma, told in a specific and surreal style that shimmers and shifts on the page and in the mind.
The Yellow House by Sarah M. Broom (available August 13)
This memoir is the story of a house; it's also the story of an entire world. Sarah M. Broom has done a masterful job of telling the story of her mother's house, expanding it so that the narrative goes beyond its walls and encompasses the whole city of New Orleans, and probes the boundaries of what we mean when we talk about family, love, and community. The house in question was bought by Broom's mother, Ivory Mae, in 1961; she would get married there, to Simon Broom, and their families combined to make 12 children, with Sarah being the last, born just six months before her father's death. Ivory Mae stayed in the house, though, even as the world changed around her; up until Hurricane Katrina took the house away. It's a powerful tale of home, family, inequality, displacement, and love, and Broom tells it with strength, lucidity, and grace.
Socialist Realismby Trisha Low (available August 13)
I've really been enjoying phone calls lately; there's one friend I love to talk to, who lives far away, and it's wonderful to just be quiet and be inside her mind for a while. There's something so specifically satisfying about winding along someone's neural pathways with them, happily at their side. And while Trisha Low is not a friend of mine, and we've never talked on the phone, I got the same feeling while reading her slim, generous, meditative book, Socialist Realism; I was so thrilled to be along on the ride into Low's thoughts, as she contemplated and interrogated everything from her relationships to her family to the idea of home to the political landscape to desire to the concept of compromising. Reading this felt expansive and freeing, like the best kind of daydream, one I'd willingly slip into again and again.
Inland by Téa Obreht (available August 13)
Set in the desolation of the Arizona Territory in 1893, Téa Obreht's latest novel is permeated with restlessness, a low-level thrum that speaks to the wild unpredictability of the terrain and the people who populate it. One of those people is Nora, a wife and mother whose husband has gone in search of water, and whose elder sons left home after a massive fight; Nora remains on her homestead with only her youngest son, who is himself spooked by the nature around him. Another of those people is Lurie, an outlaw trying to make peace with all that haunts him. Their paths intersect as Obreht uses her prodigious writing gifts to create a new mythology for the American West, one that glimmers with the intensity of a desert mirage.
Devotionby Madeline Stevens (available August 13)
This captivating book is like if Single White Female met The Nanny Diaries (okay, I've never seen the latter, but I can imagine, right?), and it's just the kind of propulsive, lurid read I'm always craving. Ella is 26, broke and directionless; but good fortune falls from the sky in the form of a nannying job for wealthy Lonnie and James. Lonnie is also 26, but her life couldn't be more different than Ella's; filled as it is with a husband, baby, and money—lots of it. The two form a quick bond, but it becomes more of an obsession for Ella, whose envy and resentment toward Lonnie grow to feverish levels. Madeline Stevens has written a thriller that also explores the unlikely, but feverishly intense, romance between two women who are similar but forever separated by their privilege.
Black Cardby Chris L. Terry (available August 13)
Perhaps nothing can feel more elusive than determining your own identity, but Chris L. Terry does a magnificent job of dissecting all the ways in which identity both is and isn't a construct in his brilliant new book, Black Card. Centered around a mixed-race musician who distinguishes himself by his white bandmates by doing "black stuff," the novel makes clear the very real complications and dangers that come with both embracing and denying the identity America bestows upon a person based on the color of their skin. Terry employs a fierce humor throughout the narrative, but don't mistake wit for detachment—this book is deeply moving, a wise meditation on race, authenticity, and belonging.
The World Doesn't Require Youby Rion Amilcar Scott (available August 20)
His newest story collection displays the expansive creative genius of Rion Amilcar Scott, who has created a world so vivid and whole, it's hard to return to reality after spending time in it. Scott's creation is the fictional Cross River, in Maryland, a town long-ago established by the leaders of America's sole successful slave rebellion—as origin myths go, it's a powerful one, and it still echoes within its residents' consciousness generations later. Scott introduces us to a cast of finely wrought characters, all of whom grapple with issues related to power, violence, love—life. Scott's prose sparkles—it's absurdist at times, surreal, and hilarious, but it's always profoundly affecting, an essential reminder of all the people who've had to construct a home for themselves in a hostile world. That they've done so with brilliance and grace is not because of the unfriendly people around them but in spite of them.
Doxologyby Nell Zink (available August 27)
It's always an event when a new Nell Zink novel is released, and what makes Doxology feel even more momentous is that it's filled with capital-E events; think: national catastrophes, like 9/11 and climate change and Donald Trump's election. But, it all starts back in the '80s, when Pam arrives in New York City with the hopes of embarking on a musical career, and meets Joe and Daniel. They come of age together in the punk scene of the Lower East Side, though their lives take different paths: Pam and Daniel fall in love and have a baby, Flora, while Joe winds up being an indie music superstar (not an oxymoron!). The narrative shifts post-9/11 to Flora, who dives headfirst into the environmental movement, navigating an ecologically hostile political landscape, and working to, you know, make the world a better place. Zink is as razor-sharp as ever here, flaying the hypocritical veneers on our political institutions, but still allowing for a level of tenderness when it comes to portraying the myriad ways we all remain connected to one another, no matter the chaos that surrounds us.
NYLON uses affiliate links and may earn a commission if you purchase something through those links, but every product chosen is selected independently.