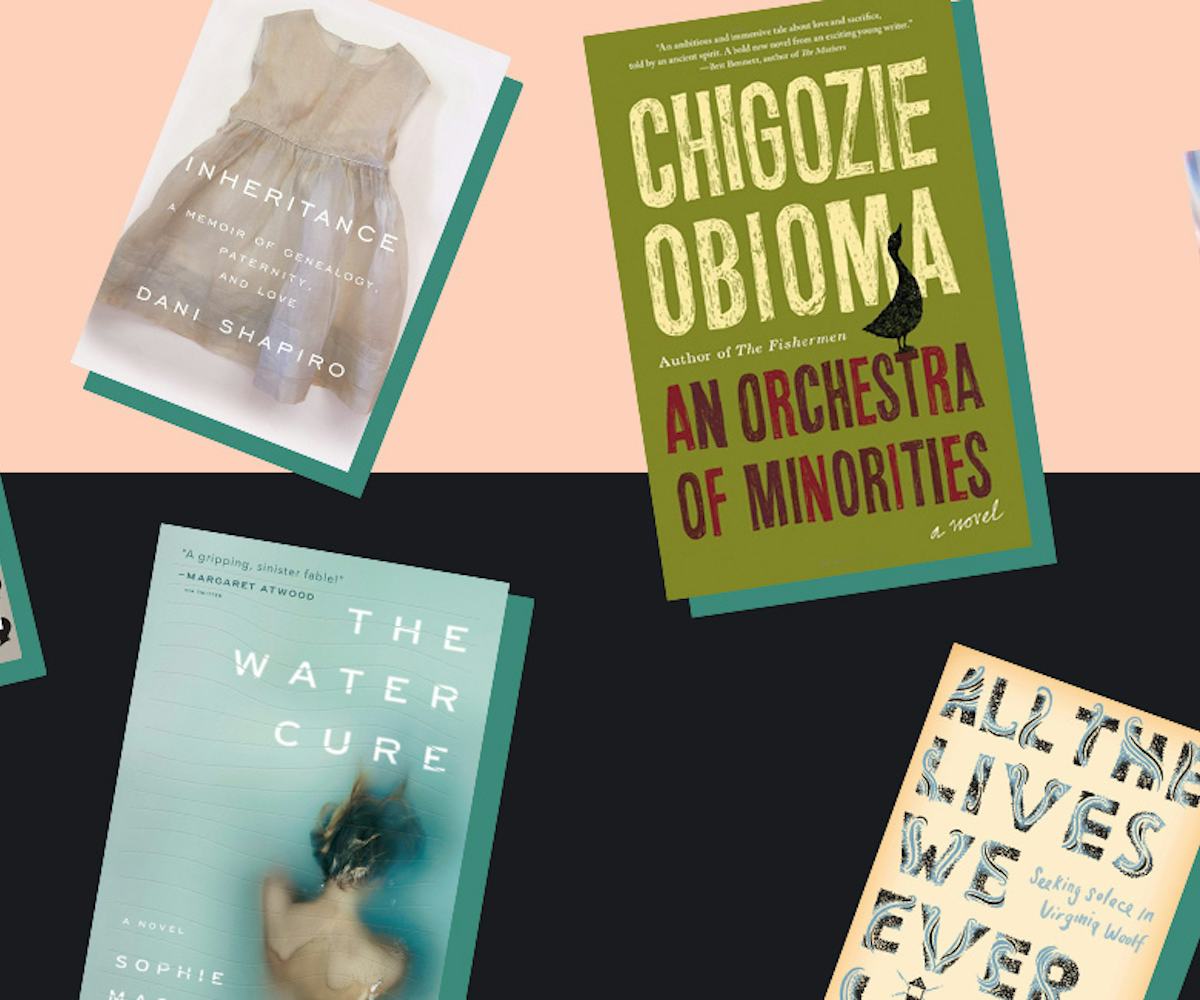 6 Great Books To Read This January
Reading is the only good thing to do right now!
While we already released a massive preview of the many excellent books coming out in the first half of 2019, we have still more books we'd like to highlight that are coming out this month: books of poetry, memoir, dystopian fiction. So, yes, do make sure to read Ghost Wall and Sugar Run and Oculus, but also make room on your shelves for the following works, each the perfect accompaniment to this time of year, when it's practically a mandate to stay inside and ignore the outside world and be alone with nothing but yourself—and a good book.
The Water Cure by Sophie Mackintosh (available now)
It certainly is an apt time to read a dystopian novel that centers around a malevolent patriarchal figure and the young women who are subject to his oppressive whims. But whereas most fictional dystopias offer visions of society post-collapse, Sophie Mackintosh's The Water Cure is more elemental, demonstrating a more intimate kind of dystopia, one created not by patriarchal figures, but by a literal father (much is super-literal in dystopian fiction; e.g., the father's name is King). Grace, Lia, and Sky are three sisters who live with their parents on an isolated island, where they are protected from mainland and population that has been "contaminated." It is soon clear that the protection the parents afford their children is no protection against the harm they themselves inflict, and, as the narration switches back-and-forth from Grace to Lia and back again, a more complete picture of just how much harm that is comes into focus. It's a haunting, disturbing look into the ways in which young women are failed by those closest to them, and how those failures echo outward, poisoning all of existence.
An Orchestra of Minorities by Chigozie Obioma (available now)
This lyrical, beautifully wrought epic has echoes of The Odyssey but is told in Obioma's inimitable voice, and through the perspective of Igbo literary tradition. Set in Nigeria, An Orchestra of Minorities is narrated by a "chi," a guardian spirit, and is a story of love, identity, and longing. It follows Chinonso, a poor poultry farmer, who saves the life of and falls in love with Ndali, a wealthy young woman whose family doesn't approve of their relationship. Chinonso sets out and away from Ndali and his hometown, in order to be able to present himself as successful to Ndali's family. As his journeys span the globe and he experiences treachery and despair, Chinonso learns about the exigencies of fate and works to maintain his tether to his home and the woman he loves.
Inheritance: A Memoir of Genealogy, Paternity, and Love by Dani Shapiro (available January 15)
Dani Shapiro's Hourglass was a moving, compelling memoir about the passage of time and her experience with love, memory, and marriage. Her newest memoir is similarly moving, each sentence cuts through you with the precision of a scalpel, and is also about family but hinges on a stunning revelation of a long-held family secret: Shapiro's beloved father was not actually her biological relative. This news came out after Shapiro took a DNA test, and led her to ask questions about identity and family and the ways in which we think we must protect each other. It's a fascinating and pertinent look into the murky world of medical ethics, as well as the kind of profound, insightful look into the meaning of love and connection that we've come to expect from Shapiro.
The Twenty-Ninth Year by Hala Alyan (available January 29)
Although the first I read of Hala Alyan's work was her beautiful debut novel, Salt Houses, it didn't take me long after finishing to read everything else Alyan had written—specifically, her poetry, which similarly offered Alyan's unique lyricism, a sensitivity to the darker currents that course through our life and our loves. There exists, within her poems, the cacophony that pervades our most intimate of relationships, a glistering sheen covering even the most banal interactions. In her newest volume of poetry, The Twenty-Ninth Year, Alyan writes about displacement and lust and marriage and heartbreak and violence and conveys the ways in which we dismantle and rebuild our identities and those of the people closest to us. Her poems feel as familiar as the prayers we make up in our own minds, as we feverishly ask for that which we're only just realizing that we want; they're a quiet triumph, sacred and profane, and, most of all, grounded in humanity.
We Cast a Shadow by Maurice Carlos Ruffin (available January 29)
This biting, brilliant satire is set in the near future, one in which a medical clinic offers patients the chance to experience "demelanization"—a process that not only means bleaching skin but also narrowing noses and thinning lips. Maurice Carlos Ruffin brings a twisted exuberance to this narrative, which he centers around a father who worries and wonders if he should seek a "cure" for his biracial son. Fans of Paul Beatty's The Sellout will recognize and revel in Ruffin's similar unflinching sensibility; this is the perfect novel for people who despair at the everyday horrors and violence of America's systemic racism, but who also want to rejoice in the beautiful art that is still being made within its confines.
All the Lives We Ever Lived: Seeking Solace in Virginia Woolf by Katharine Smyth (available January 29)
This gorgeous, moving book gracefully moves between memoir and literary criticism, as Katharine Smyth grapples with the grief she feels at losing her father, and the ways in which Virginia Woolf's To the Lighthouse offered her, if not a respite from her longing, at least a means of understanding better feelings of loss and love. Smyth's writing possesses a unique ability to wend its way into your head, traveling into all the darkest corners of your mind, triggering thoughts on love and loss and family and memory you hadn't known were lurking; it's a profound experience, reading this book—one not to be missed.
NYLON uses affiliate links and may earn a commission if you purchase something through those links, but every product chosen is selected independently.