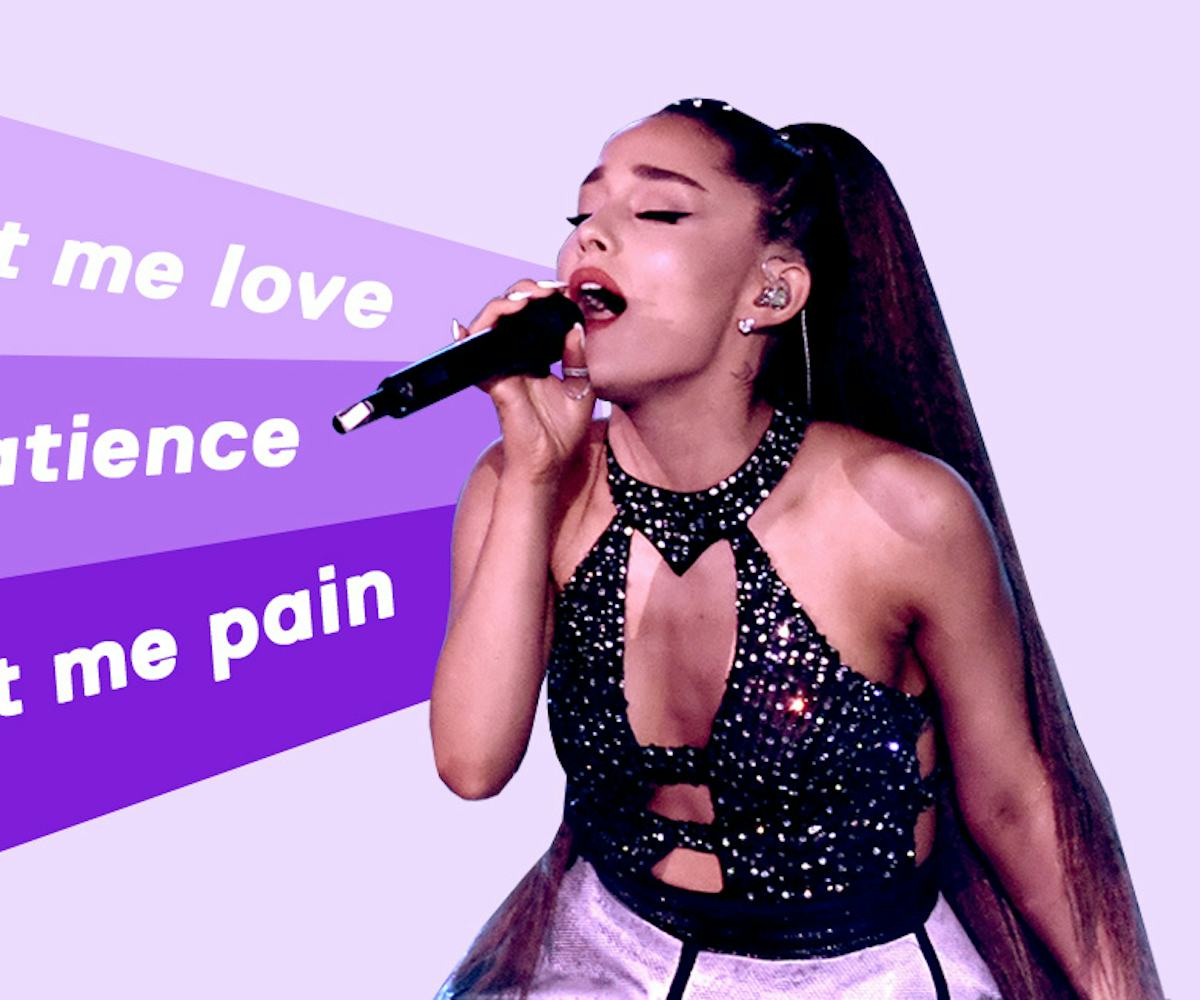 Photo by Kevin Winter/Getty Images
15 Musicians On What Lyrics Fucked Them Up In 2018
Get ready for an emotional rollercoaster, folks
You know those lyrics that hit you like a ton of bricks? This year, I felt it the most while listening to Mitski's Be The Cowboy. Plenty of her lyrics left me reeling, but "nobody butters me up like you/ but nobody fucks me like me" on "Lonesome Love" still stops me in my tracks every time I hear it. Mitski is a true lyrical legend.
But, what lyrics had our favorite musicians truly feeling fucked up? Were they pop mega-hits, or indie darlings, or maybe somewhere in between? Below, we've rounded up the lyrics that had Bishop Briggs, Kodie Shane, SOFI TUKKER, and more feeling some type of way. Consider adding them to your playlists as you ring in the new year to have peak lyricism at hand while the nostalgia runs high.
Bishop Briggs was fucked up by Ariana Grande's"thank u, next":
"I don't have a ton of exes (or so I thought), but man, this really got me in my FEELINGS. I immediately thought of who taught ME pain, patience, and love. I needed a face mask and a bath after that one."
Kodie Shane was fucked up by Juice WRLD's "Lucid Dreams":
"Realest shit man..."
Laura Jane Grace (Against Me!) was fucked up by CHVRCHES'"My Enemy":
"My favorite song of 2018 to listen to on my daily morning jog was 'My Enemy' by CHVRCHES. I think I must have listened to that song for six months straight before changing my running playlist up. The lyrics [above]hit me so hard, becoming a mantra and subconsciously seeping into my own songwriting as evidenced in the lyrics I wrote to the song "China Beach" with the line 'Are you my enemy and are we at war?'"
Steven Puth was fucked up by Jessie Reyez's "Figures":
"I wish I could hurt you back" is what everybody feels at some point—post-relationship—because they were hurt first. It's a defenseless heart trying to recover, but there's too much pain to actually give hurt back.
Pronoun and Sunflower Bean's Julia Cumming were fucked up by The 1975's"Love It If We Made It":
Pronoun: "This string of lyrics gives me goosebumps every time and perfectly encapsulates how I—and I am sure—many others are feeling in today's political climate." - Pronoun
Cumming: "I love this track, and think it's so incredibly current and encapsulates how I was feeling about this year."
Yugen Blakrok was fucked up by Dr. Octagon's "Octagon Octagon":
"Whole track is a vibe, definitely my feel-good anthem for 2018—I played it more than anything else this year without a doubt. It's Kool Keith man, what can I say?"
August 08 was fucked up by Kanye West's"Wouldn't Leave" feat. PARTYNEXTDOOR:
"Them niggas not playing, that's all I gotta say."
SOFI TUKKER's Sophie Hawley-Weld was fucked up by Maggie Rogers' "Light On":
"I really loved Maggie Roger's lyrics in 'Light On,' [and] not just because she is one of my best friends. She and I talk all the time, and it's a really powerful friendship in part because it feels like we are going through a lot of new and similar things together. The lyrics in 'Light On' are so vulnerable and brave."
Wafia was fucked up by Kacey Musgraves' "Space Cowboy":
"I know this feeling, but, better yet, I know this imagery. It's gut-wrenching and heartbreaking all at once. It's the opening line in a song, and I think this was the moment I knew I'd be obsessed with Kacey Musgraves' writing forever."
Slothrust was fucked up by Mac Miller's"Small Worlds":
"The lyrics in the outro of 'Small Worlds' by Mac Miller give me a chill. I think this sentiment of writing music to cope with life is common among musicians. Mac Miller's final record, Swimming, was an honest look at his vulnerabilities, and I hope that when people in the industry see artists they work with struggling with mental and physical health, they do what they can to reach out and offer them resources."
Willa Amai was fucked up by Brandi Carlile's"The Mother":
"That one gets me. It perfectly embodies how I worry about my own mom giving too much of herself away for my benefit."
Hop Along's Frances Quinlan was fucked up by Noname's "Window" feat. Phoelix":
"Several lines from that record knocked me on my ass. And her delivery is perfect, it's really a major part of the songs' power, to me. These powerful lines spoken-sung so calmly, knowingly. It's a great album."
Call Me Karizma was fucked up by Billie Eilish's"when the party's over":
"I think learning to take a loss and grow from it is more important than winning all the time."
Grandchildren was fucked up by Jessica Lea Mayfield's "Safe 2 Connect 2":
"Jessica Lea Mayfield's entire album Sorry Is Gone fucked me up big time fam. But the lyric from her song 'Safe 2 Connect 2' truly ripped my heart open again. I had been in a relationship that ended in a way that mentally left me so unstable, socializing or having relationships with others felt impossible. I had felt so isolated for a long time, this song speaks to my experience during that time in my life."
Ali Caldwell was fucked up by H.E.R's "Focus":
"When I heard these lyrics, I was like whoa! Something I think ALL women go through at one point in a relationship. I know I have. This simplistic statement, this subtle plead, This question... and how it was delivered sent chills down my spine. I love this!"